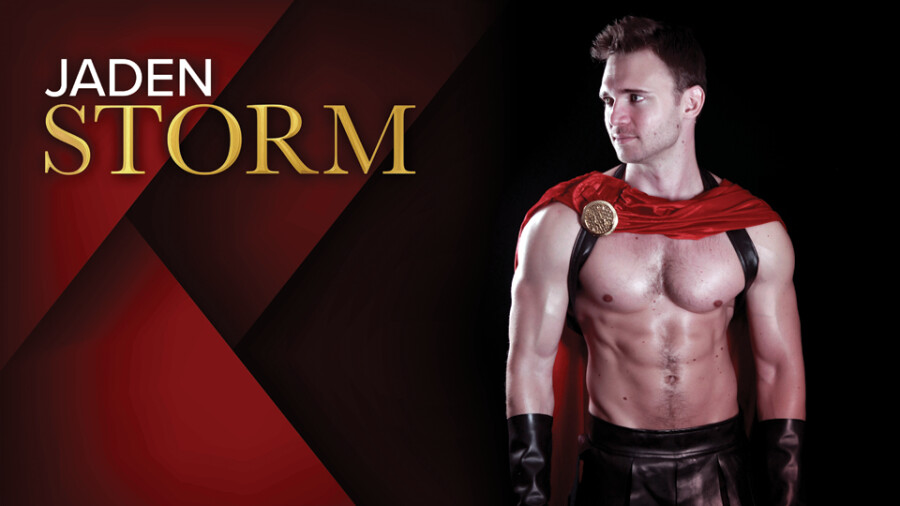 Ripped like a Spartan warrior, yet as humble as his small town roots, Jaden Storm is the kind of all-American stud that draws a crowd of admirers.
Describing himself as a nerd in a jock's body, the outdoorsy aspiring-nurse-turned-cam-model is fond of comic book superheroes, hitting the gym hard and geeking out over manga with his adoring fans.
I try to have fun in my shows, because I have the firm belief that if I am having fun, then my viewers are probably doing the same.
Such a well-rounded combination of brains, brawns, lovable boy-next-door bashfulness and badass chiseled athlete's physique bodes well for his ever-growing following on social media, Chaturbate and Flirt4free.
And when he rallied his troops for votes heading into the 2020 XBIZ Awards, they answered resoundingly, propelling him to the stage for a major win as Male Cam Model of the Year before an audience of cheering adult industry peers.
Now, bask in the crackling lightning and listen to the thunder boom in this exclusive Cam Star of the Month interview with a true gentleman and a scholar.
XBIZ: What led you to become a cam model?
Storm: I was first approached about doing a nude photoshoot in Palm Springs, CA. and I wasn't entirely sure if I wanted to accept the opportunity. I was in medical school studying to become a nurse and working at a local hospital. However, after much consideration and speaking to my mother about it all, she convinced me to take the company up on the photoshoot.
She explained to me that I would be getting paid to travel, paid for my hard work in the gym and it's not every day that you get an opportunity like this while living in a small town in Arkansas. She even reminded me that I could always go back to school if I don't like the photoshoot or the company, because I will always have my brain.
After the photoshoot, the company asked me if I was interested in working in their cam house in Hawaii, which began my long journey as a cam model!
XBIZ: Discuss your "nerd in a jock's body" brand, and how your most loyal fans might describe your personality.
Storm: Most of my fans or viewers would describe me as a nerd, a jock or a smartass. I try to have fun in my shows, because I have the firm belief that if I am having fun, then my viewers are probably doing the same. Many viewers enjoy the conversations that we have, which have a wide range of subjects and most of the time, includes everyone cracking jokes to/about one another.
I have claimed to be a "nerd in a jock's body" for years and many people would completely agree. From my love of superheroes to anime, manga, cartoons and much more, I have spent hours on hours having "nerd talk" in my chat rooms. Not all viewers enjoy it, as not all can relate to the subjects, but as for the "jock's body," that part is simple.
I have been working out since I was eight years old and have not skipped a beat because I want to be strong and feel sexy. The health benefits are nice that come along with going to the gym, but if I am to be blunt, I enjoy having a fit looking body.
XBIZ: Which camming platform is your favorite and why?
Storm: I have two cam platforms that I very much enjoy performing on: Flirt4free and Chaturbate. Both of these sites are wonderful in their own specific ways. Flirt4free is a great place to do a one-on-one private show where I can really engage with my viewer and get to know their likes, dislikes, kinks, fetishes and much more. These are the typical types of shows I would perform on Flirt4free and I really enjoy getting to make this a more personalized experience for the viewer. Flirt4free also has contests regularly for holidays, special events and just random daily contests that allow the models to participate and win bonuses. I enjoy the competition as I am a bit of a competitive person and I enjoy the extra motivation to be online.
Chaturbate is also a wonderful place as the community there is like none other that I have seen on a cam site. So many people base their daily plans around a model's show. They will plan when to be there and spend hours upon hours enjoying the chatroom and all the activities going on in the open room shows. Chaturbate allows private shows too, but the overall show is mostly done in the open room, allowing for everyone to take part and have a good time together. These are just a few reasons that I really enjoy these two sites and broadcast on both.
XBIZ: Talk about the other sources of revenue you pursue, besides live streaming. Is it tough switching back and forth or do you have a good flow going?
Storm: To each their own on this subject, but I always have advised models to do what works best for them and not compare themselves to anyone else as we all have something different to offer. I personally love camming, but I do content creation as well as a side income and something for my fans who cannot make it to all of my live cam shows.
I mostly focus on camming and the sex industry, but I also like to dabble in things outside of adult as well, as it is a nice change of pace and very refreshing. Personally, I invest into real estate, as that will eventually become passive income later on down the road. Sex workers don't exactly have a 401k, so we have to be actively thinking about our futures. In my opinion, real estate is a safe bet, as people need a place to sleep at night.
I'm not an over the top, high maintenance kind of guy. If I could have five to eight rental units that are completely paid off, I would be more than happy just enjoying my days doing whatever I want and probably still goofing around on cam!
XBIZ: What are a few of your biggest passions in your personal life, and how do you balance them with a busy work schedule?
Storm: My personal hobbies and interest vary. I am a big family man, which is why I moved back to Arkansas from Phoenix, AZ. It was a big change for me, but being around my family — who at the time was having issues and needed my support — made the move all worth it. I enjoy being outside in nature, so hunting, fishing, rafting, riding ATVs, etc. are big on my to-do list.
I like to travel and try going to new areas to go hunting or fishing, in places I have never been. Something about being outside just really helps me relax. As for trying to schedule outdoor activities, it all boils down to time management. Planning ahead is always key and making sure I have wiggle room in my schedule so I don't overbook myself and miss anything/mess things up.
XBIZ: Any regulars from your chatroom and beyond, that you want to give a shoutout to for being such MVP fans?
Storm: I appreciate all of my regulars who continue to keep coming back to my shows. I know they have to get tired of me and my goofy personality, puns, nerd references and super-hero costumes, but they just keep coming back. They are all appreciated regardless of how long they have been sticking with me. Granted, I have had some people who have followed me from day 1 as a cam model back in 2008. They may or may not want the shoutout, but they know who they are and they know I greatly appreciate them sticking with my butt for so long.
XBIZ: How do you approach marketing yourself on social media, given your solid engagement numbers and following? It's clearly working!
Storm: As for marketing, I try to keep it as real as possible and simple as possible for everyone. I promote my Twitter and Instagram in my cam shows and just post on those whenever I can. The more I post, the better. I try to respond as much as possible, but I do limit myself, as I have other daily tasks I have to get done as well. I also limit how much I promote my fan clubs. Nothing against someone promoting their business, I just know many people can get tired of seeing a promo about spending money on a model's fan club or personal website. I also try to post whenever I go online to make sure people know where to find me and I post the link for them to one-click right into my cam room.
XBIZ: Who are your best friends in the adult industry and how do you hype each other up, or support one another during slow times.
Storm: I have made some pretty amazing friends over the years in the industry and it's been sad to see some come and go over the years. Unfortunately, that happens in any line of work. Currently, I have two people that really stand out and not to discredit any of my other friends I have, whom I very much enjoy seeing at conventions and messaging back and forth on twitter, but Steve Rickz and NycGirl Nikki are two of my closest friends in the industry.
I love messaging with them and catching up on how things are going and seeing what they are up to. One of my favorite parts is we are all in different areas of the biz. I am mostly a cam model, Steve is a porn star/content creator and Nikki is a part-time cam girl, sex worker advocate, podcast host and a bartender in her personal life. These different personalities are great, because they give me insight into different areas of the industry and can really just help me see the bigger picture.
XBIZ: What was it like winning 2020 XBIZ Male Cam Model of the Year in January?
Storm: My heart felt like it was going to jump out of my chest, it was pounding so hard. I have been nominated many times for Male Cam Model of the Year for different award shows, but it still always gets to me. The appreciation from the viewers for all the hard work and long hours on cam is worth it in its own right, but being called up on stage and presented with an award is a major bonus to make someone feel amazing!
XBIZ: Talk about your goals for the coming year.
Storm: This year, I am planning to really fine-tune my cam schedule to find the perfect balance for me on my two favorite sites, to buy my first house and to find a way to travel so I can do my outdoors activities and still be able to cam at the same time. I have something currently in the works for this, so the next couple of months will be very interesting for me. I am constantly trying to progress little by little, but this year, I will be making a couple of big leaps towards the future I want for myself!