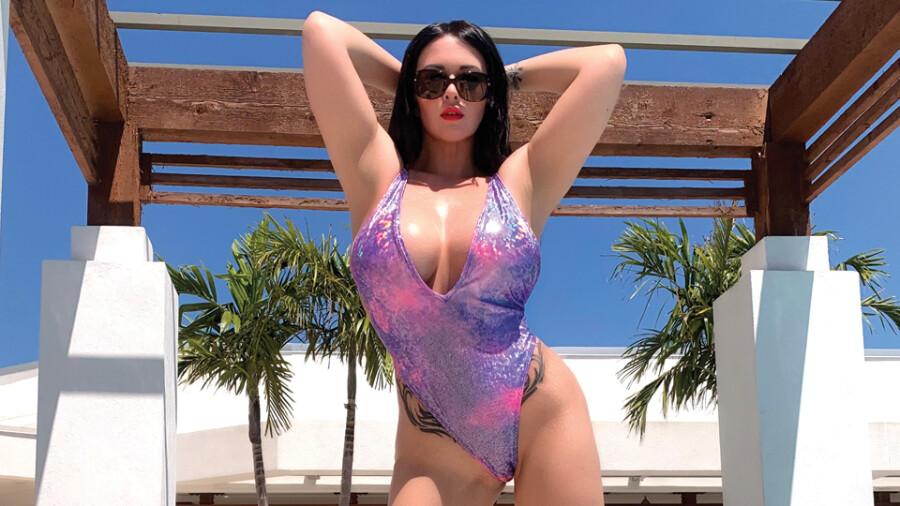 As a business developer in the adult industry, many people would think that I have a pretty incredible job — recruiting the most beautiful women in the world for FanCentro's exclusive Unikorn Squad.
But this position isn't just about finding beauty, it's about finding hard workers, dedication and individuals who know exactly how much effort goes into building a brand and nurturing a following.
It sounds counter-productive, but sharing free content is the best way to complete the first two steps of your sales funnel — making fans aware of you and getting them interested.
Because of that, I've learned a thing or two about what works and what doesn't when it comes to making it big in the industry. Make no mistake; it's mostly about hard work.
And I'd like to share some of the best tips that I know to help you get a good start in an increasingly competitive field.
1. Invest in a Professional Look
When you're starting your own business or cultivating a brand (which, if you're looking to make money exclusively by camming or clips, you are) there are some investments that need to be made in the beginning. One of the best ways to stand out and be noticed in this industry is to make your content as appealing as possible. That means putting some money into necessities: lighting, a good quality camera, reliable wifi and amazing photographs. The better your content looks, the more eyes you're going to get on it.
2. Get on Social Media
Social media is the best free advertising there is, so if you don't have accounts that are specific to your brand, make sure you make that one of your first steps. Create your account and then engage with others. You'll get what you give, so start following accounts, offering f4f and s4s with other influencers and start building your fanbase. Accounts that have hundreds of thousands of followers started out with just one, so don't get discouraged. Dedicate part of each day to social media—posting and engagement—and you'll start to see your numbers rise.
3. Choose a Platform That Offers Diverse Options
Once you have a firm fanbase on social media, it's time to tell your fans where they can find you. Here, you want to make sure you offer more than one option for finding your content, so diversity is key. On FanCentro we've rolled out some new features, and one of them is clips. This feature allows influencers to post individual clips that fans can buy. The best part? They don't need to be subscribed to that influencer, it's just another area of content that's available. Having multiple options for fans to view and purchase your content is going to open up new traffic streams for people who may be more likely to choose a specific clip than subscribe.
4. Produce Tons of Content
The more content you produce, the more fans you're going to get. It's that simple. If fans see that you're producing a lot of new content they're going to stay interested and stick around. One thing that people don't realize about the adult industry is that it's a lot of hard work and it takes a lot of time. If you consistently produce quality content, your fans are going to be much more likely to buy more from you later on.
5. Titles Count!
Properly titling and tagging your content is one of the most important things you can do. A great title will entice your fans to buy your clip, and tags are a great way to get your content in front of new eyes. Don't take this step for granted, taking time to give great titles and tags to your content is never wasted.
6. Partner Up
If you can produce content with another influencer, that's a great way to keep things interesting for fans. Talk to others in the industry and offer to collaborate.
7. Create a Sales Funnel
This is a big one. A sales funnel is a way to draw customers in by performing a series of actions. One of our top models, MelRose, recently did a masterclass on how to create a sales funnel and I'll give you the quick and dirty version here. To begin, create awareness of your brand by sharing a free piece of content. It sounds counter-productive, but sharing free content is the best way to complete the first two steps of your sales funnel — making fans aware of you and getting them interested. From there, you want to follow it up with paid content that is enticing enough for them to decide to buy. With our recently released DMs feature, which is a tool that every influencer should be using, it allows you to send free or paid content to your fans, either one-on-one or as a bulk message. Now, imagine being a fan who suddenly sees a super-hot influencer slide into their DMs with some free content. Don't you think they're going to be more likely to buy when the same influencer sends them an item that they need to pay to unlock? Trust me, they will!
Believe me, I know it can be frustrating when you're just starting out, and you'll probably hit a few roadblocks along the way, but in the end your biggest job is to be consistent. There are a lot of influencers out there, and it can be difficult to keep your motivation up, but resist the temptation to compare yourself to others. Your journey is your own, and if you put in the work, eventually you'll see the reward.
Andrea Fioriniello is the business development manager for ModelCentro and FanCentro, who can be reached at andrea@centro.team.