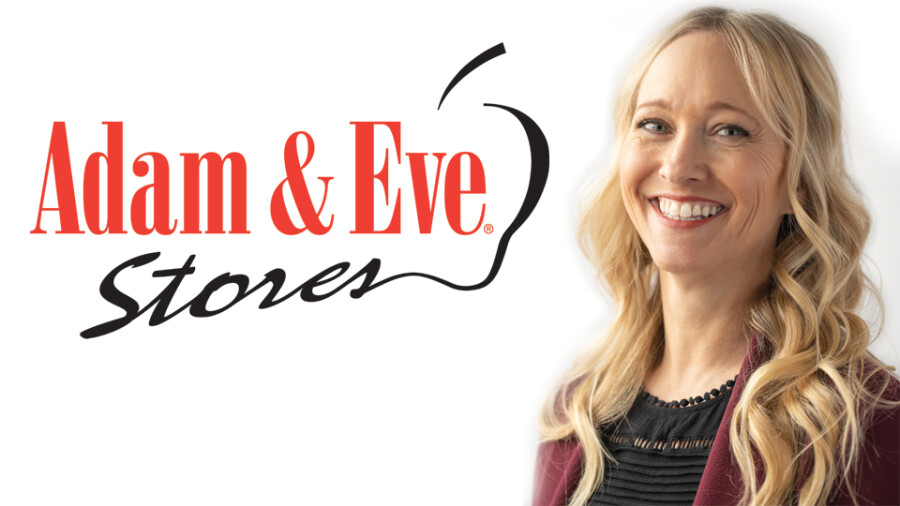 Each month, industry news media organization XBIZ spotlights the career accomplishments and outstanding contributions of Women in Adult. WIA profiles offer an intimate look at the professional lives of the industry's most influential female executives.
Kara McGee is a woman on a mission. In the past decade, she's launched 12 classy, inclusive retail stores under the trusted Adam & Eve name with her husband and business partner, Kraig McGee.
McGee's stores reach consumers in states like Wyoming, Idaho and Nebraska — typically morally conservative locations that might otherwise be totally devoid of female-friendly adult boutiques. Thanks to the McGees' modern, inviting store environment, they've brought adult retail into a positive light for folks in more rural areas.
Kara McGee credits her success to two major business decisions: strictly curated product offerings and the most educated, enthusiastic staff in the field. Even in the internet age, she trusts in the immediacy of in-store purchases backed by helpful employees to hold her brick-and-mortar chain together through thick and thin.
The McGee family is now preparing to open store No. 12 this May in Cheyenne, Wyoming. With Kara and Kraig's son and daughter now involved in key business roles, we'll likely see this power team continue to branch out across the U.S. for another decade to come.
Without leading women at every level of management and sales, the pleasure industry wouldn't be the highly evolved collective it is today. That's why we're excited to shine the spotlight on Kara McGee for this month's edition of XBIZ's Women in Adult.
XBIZ: Why are you proud to be a Woman in Adult in the modern pleasure industry?
McGee: I am so proud to be a Woman in Adult in the pleasure industry right now because the industry is growing and becoming so much more accepted as a mainstream business. I love the fact that we are helping people find satisfaction in their intimacy and that we are helping them do this in safe, healthy and fun ways. Almost everyone has sex, and we can help make it better! We don't just sell sex toys — we sell happiness.
XBIZ: How did you transition into the adult retail space, and how far has your business come over the years?
McGee: My husband, Kraig, and I opened our first Adam & Eve Franchise store in Nampa, Idaho in July of 2007. He was running the store and company full-time and I was working in the medical field as a physician assistant. We opened [stores in] Coeur d'Alene, Idaho and then Boise in the following three years. I quit working as a PA to help Kraig full-time because we were so busy! In the last 10 years, we've opened Adam & Eve stores in Portland, Oregon and Pocatello, Idaho. We then purchased an Adam & Eve in Spokane, Washington, opened two in Denver, Colorado, and opened [stores in] Omaha, Nebraska and Idaho Falls and Twin Falls, Idaho. This May, we will open a store in Cheyenne, Wyoming. This totals us at 12 Adam & Eve stores. Our son, Kraig III is now our operations manager, and our daughter, Kathryn is our buyer. It's a family business!
XBIZ: Why did you and your husband and shop co-owner, Kraig, decide to choose the Adam & Eve brand as your franchise partner?
McGee: Adam & Eve is a very popular adult retailer and owning franchise stores under this name has been fantastic. Adam & Eve is a very trusted name in the adult retail market. That is one of the reasons Kraig and I decided to open our first Adam & Eve store in 2006. We realized that the consumers' trust that had been earned by the Adam & Eve corporation would help make our stores more acceptable to any market we went into. We've had people come in just because they recognize the Adam & Eve name.
XBIZ: What are some of the biggest triumphs and challenges you've faced as a retail business owner in the adult space?
McGee: One of the biggest challenges we face as franchise owners is finding new locations that will accept our use. Since Adam & Eve is recognized as an industry leader and as being a bit "softer" than some other adult names, we've been able to get into "A" properties instead of being shoved in the industrial district. We do have to do some convincing, however. There is still a preconceived notion that adult stores are dirty, dark and draw undesirable people to them. Our stores are actually the opposite. We are clean, well-lit, generally in safe areas and draw customers from all demographics. We usually increase the retail traffic in any area we go into.
XBIZ: What mission is your store founded upon, and how do your values draw customers to your unique environment?
McGee: Our stores' mission is to provide a safe, comfortable environment for everyone to shop for their adult needs, with the help of a professional and knowledgeable staff. This may sound cliché, but it really takes some effort to meet these standards. We are constantly training our staff, constantly re-organizing and re-merchandising to make our products simple to find and easy to learn about. We also try to always have a "good, better, & best" level of every category of product. Not everyone wants to spend a lot of money on their product, especially if it's the first time trying something, but they also don't want to buy a piece of junk. We don't bring in a low-priced item unless it meets our standards of being at least "good." We then try to offer a middle-of-the-road item and then the best of the best.
XBIZ: What aspects of your stores have contributed to the name you've built for local adult product shoppers?
McGee: Our staff is so great. They love learning and helping customers learn about the products we sell, about sexuality and about health and wellness. We couldn't do what we do — we couldn't achieve the success we do — without our superb staff. I think they are what will keep adult retail stores strong in the years to come, and what will separate us from online stores and sales. We offer education and instruction with our products and also the ability to buy it and take it home immediately. That can't be replaced by an online store.
XBIZ: Which industry women have been your biggest inspirations?
McGee: There are so many strong women in this industry. Several women own their company and are industry leaders. Bonnie Feingold is a good friend who owns a large distributorship, Honey's Place, and is a strong, intelligent woman who is very successful in the adult industry. Susan Colvin is another example of a powerful woman. She started and runs one of the largest adult product companies, CalExotics. Both of these women have inspired me in my own business practices and have been excellent examples that a woman can own and run a business. Just seeing another strong woman working hard and achieving success is inspirational and makes me want to continue to grow and expand our company.
XBIZ: What keeps you motivated and excited to continue working in the pleasure space?
McGee: As a Woman in Adult, I feel very lucky. I'm fortunate to be in a wonderful industry that promotes such happiness. I'm fortunate to be able to work with the people that I do and to love what I do every day.