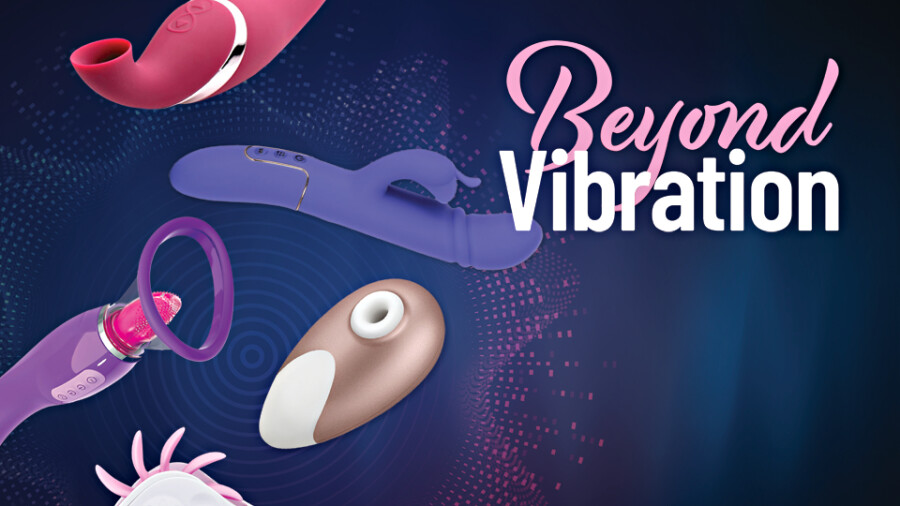 The quintessential of pleasure products — the vibrator — has come a long way to bring us a modern selection that we know today of super-powerful options in corded and rechargeable styles, in a variety of shapes and sizes, for the stimulation of all intimate areas of the body. Thanks to the ever-evolving nature of technology, along with progressive toy designers, the world of powered pleasure products has sprouted a number of new sub-categories that go beyond vibration to introduce consumers to thrilling, new sexual sensations.
If you're thinking that sexual pleasure can't be re-invented … well you're half-right, because much of today's sex toy innovation is based on recreating the stimulation that happens manually during sex (both alone and with a partner) through automated functions.
Clitoral stimulators have become widely popular for women of all ages and are an especially powerful way of promoting sexual health for women during menopause.
"Standard vibration is always popular, but more 'lifelike' functions are all the rave," XR Brands sales representative Josh Ortiz said. "Thrusting, thumping, swelling, sucking, tickling — all things that vibration, alone, cannot provide."
Exploring one's sexual desires is "what's hot right now," according to Andy Duran, the education director for Good Vibrations, Babeland and Camouflage stores.
"It's less about buying a product if it's going to do exactly what you expect it to do, and more about trying something that maybe you haven't done before," he said. "Right now, customers are the most excited to try something new! E-stim toys and interactive toys like Kiiroo create opportunities for couples to try out these sensations together."
While the toys of the sex toy industry's past mostly consisted of battery-operated devices made of plastic and other questionable materials, the market's modernization has increasingly made pleasure products more acceptable for mainstream consumption. With more consumer needs and desires to fulfill, the more advanced sex toys are getting — and thus, here we are with an ever-growing selection of toys with more functions than we ever thought possible.
"We've been in business for 25 years and looking back over the years, there's been a dramatic increase in products that function beyond vibration," ECN Vice President Lynda Mort said. "Whether it's automated stroking, thrusting, pulsation, suction, or app-enabled connectivity, sex toys offer so much to the end user and it's been a pleasure connecting retailers with these innovative new releases."
With the ubiquitous vibrator now considered among the most basic of toys, new sex toy technology is making it possible for consumers to experience pleasure in many new and exciting ways. Without further ado, let us give you a tour of some of today's most popular sensually stimulating creations.
The Draw of Suction Toys
About five years ago, the world was introduced to what would become a widely acclaimed, pervasive category of pleasure products — it was the birth of suction toys, with Womanizer serving as the pioneering brand with its Pleasure Air technology.
"In a very short amount of time, nearly every manufacturer has come out with an item or multiple items using this technology," says Megan Swartz, general manager and buyer at Deja Vu Love Boutique.
Suction has become widely popular in the pleasure products industry, with just about every manufacturer putting its own spin on the technology. While some brands have proven themselves with innovative designs, Swartz warns about suction toys that are more powerful than necessary.
"Most will demonstrate that the suction on these items are so strong they can literally hang from your fingertip," she said. "These are the items that you want to stay far away from. These items cause broken blood vessels and bleeding… not what you want out of clitoral stimulation! If they don't suck and then release, I do not recommend putting them on your sales floor."
Calling Pleasure Air technology "one of the most exciting innovations to hit the market," Duran says that consumers are constantly looking for toys that "don't just focus on vibration but on creating unique and pleasurable sensations," and suction toys are currently fulfilling that desire.
According to WOW Tech head of communications Denny Alexander, Womanizer's Pleasure Air technology has resulted in millions of sales for retailers worldwide. WOW Tech's group of brands also includes We-Vibe — a brand that's renowned for its couples toys, which have also been upgraded with the latest tech.
"Great sex is all about intuition, and so the best innovations hitting the market keep that in mind," Alexander said. "Things like squeeze remote technology and touch-sense in products like We-Vibe Chorus that allow people to control stimulation with natural human responses and movements is a great example of this. Other things like Smart Silence technology, where the product will only switch on when there's skin contact, lets people truly focus on themselves and their pleasure with fewer distractions or worries about surprise noises."
Suction can now be found as a function for clit stimulation that's been incorporated into various pleasure product designs for added stimulation along with vibration and other automated movements.
"Over the last few years, we have built pleasure products that are equipped with multiple function options to give consumers all-in-one variety, allowing them to purchase one product with multiple ways to enjoy it," said Kristian Broms, Pipedream Products' chief design officer. "Whether it's the unique tongue-like sweeping action that can be found in our Fantasy for Her collection — most notably the multi-award-winning Her Ultimate Pleasure — or the lifelike interactive Dirty Talk function we've incorporated into PDX Extreme masturbators, Pipedream works hard to be a thought leader and trailblazer for interesting and exciting functionality."
When Satisfyer came onto the scene, it introduced the world to another option for clit stimulation through suction.
"I'm really impressed with the Satisfyer Brand — they're providing toys that are really popular right now at a really accessible price," says Sophie McGrath, the head of customer satisfaction for New Zealand-based AdultToyMegastore. "Satisfyer Partner Multifun 3 is a really interesting toy — it can be used on any part of the body, for any gender. I think that's incredibly innovative. Nobody can get enough of the Satisfyer Pro 2.0 — it's a runaway train in terms of success. You just can't stop it."
As a somewhat essential part of reaching an orgasm, clitoral stimulation is consistently at the top of the list of must-have functions among consumers. Megwyn White, a sexual wellness expert and Satisfyer's director of education, says that its focus on developing products for clitoral stimulation continues to inspire its newest innovations.
"Our Satisfyer Connect App, set to launch in the spring, will not only expand functionality of the products by making them customizable," White said. "Our new products like the Curvy 2 + and Curvy 1 + will be Bluetooth-enabled devices that allow remote play, and also enhance sensorial feedback using haptic touch and voice responsive technology to create unique programs which will ultimately support a new dimension of play."
Satisfyer's newest releases provide dual stimulation that combines the company's patented Air Pulse technology with vibration.
"Thanks to the app, both vibration and Air Pulse can be easily conducted by a partner, and also respond to musical inputs by mirroring sonic frequencies and translating them into vibrations," White said about toy's app controller.
Not only is Satisfyer committed to helping customers enjoy sexual pleasure, the company aims to empower women in all life stages.
"Clitoral stimulators have become widely popular for women of all ages and are an especially powerful way of promoting sexual health for women during menopause," White said. "These toys have been seen to greatly support lubrication, blood flow, and enhance sexual confidence, without the need for internal stimulation."
With just about every pleasure product manufacturer jumping on the suction toy bandwagon with their own take on the bestselling sex toy style; consumers are enjoying having a wide selection of designs to choose from.
Among the choices in the suction toy category, there's XR Brands' Shegasm Intense from its INMI line. XR Brands' Josh Ortiz explains how the stimulator is made to please every body.
"Its suction feels amazing for clitoris owners who enjoy suction toys, and it's versatile enough to give pinpoint kisses to any area of the body," Ortiz said. "It will light the underside of a penis up like a firework if you let it! The strong vibration on the opposing side of the suction can be used solo or with a partner and internally or externally. For singles, couples, men, women, and every human in between, something about this toy will bring them to orgasm."
Thrusting Into Action
Although thrusting toys haven't made as big of a splash as suction toys, their technology has definitely made its mark in the biz with designs that pack the thrusting action and power of a sex machine into a handheld device. Among the latest collections that come to mind are CalExotics' new Shameless line and XR Brands' Thump-It collection of dildos and anal plugs.
Among the pioneer brands to dive into thrusting toys was Fun Factory with its Pulsator — the Stronic One — that debuted in January 2013. Since then, the company has continued to revamp its original design with updated iterations such as the Stronic Real.
"An item I believe to be underrated for its functions is Fun Factory's Stronic," Swartz said. "While most thrusters thrust in the tip, this has a magnet in it, creating what they call 'Pulsator Technology,' though the name doesn't live up to the feeling that this item creates. It is much more advanced than a pulsation, with this feature basically mirroring a shake-weight."
At January's ANME CalExotics' latest releases included multiple toys boasting innovative functions, such as the Shameless collection of thrusters. According to CalExotics director of marketing Nichole Grossmann, Shameless thrusters deliver an impressive 850 thrusts per minute.
"The California Dreamin collection is also filled with technology," she said. "We have items that thump — the Santa Monica Starlet, items that suck — the Malibu Minx, and an item with a swinging teaser, the Valley Vamp. This entire collection offers unique and pleasurable functionality that consumers love.
"Thrusting technology is on the rise," Grossman added. "Consumers love the realistic feeling they get from products that thrust, and the intensity of that feeling that these powerful products provide."
Innovation Continues
Inventive pleasure product purveyors haven't stopped there. The marketplace is continuously being refreshed with creative new designs and functions to introduce us to fun, new ways of experiencing pleasure — with or without a partner.
The innovation of toy functions has made such an impact on the business that Florida-based adult retail chain Fairvilla created a Pleasure Innovation of the Year category for it at its annual F Awards.
"In our inaugural year, this was awarded to the Trinitii by Nü Sensuelle, which features two of the most notable innovations we've seen lately (flickering tongue and suction) … plus the addition of vibration," said Jacki Mick, Fairvilla's social media manager.
Just like clit stimulation served as the inspiration for the many types of suction toys that are available today, G-spot stimulation is another area of focus for many sex toy engineers.
"I am loving all of the different types of stimulation styles that are coming out, moving beyond vibration to other types of tactile interaction with the body," said Sarah Brown, the director of sales and marketing for Lora DiCarlo. "Of course air movement has been popular in recent years, but the sheer amount of physical movement has been really inspiring. I would say the most popular I have seen lately has been physical movement over the G-spot — either stroking, pressing, or rubbing."
Another impressive innovation is the Thermo-Reactive Technology found in the Squeeze It by XR Brands. The temperature-sensitive line of dildos and anal plugs can be cooled in a refrigerator to make them chill and firm, or heated in a microwave or hot water for 30 seconds to make them warm and soft.
"This is a great toy for temperature play, especially for those looking for something with a more realistic feel," Deja Vu's Megan Swartz said. "Though glass is great for temperature play, it can be very intimidating for newcomers."
Swartz also recently unveiled a sex toy innovation of her own as the creator of the Together Vibe, which features a patented Echo function that allows partners to receive real-time feedback of their partner's state of arousal and vice versa.
"Admittedly, I created it, but I do believe this will be a great revolution to our industry, specifically for lesbian couples, an often forgotten demo-graphic," she said.
Innovation Inspiration
Sex toy inventors gather inspiration from a variety of sources — particularly focusing on what is missing from the marketplace and consumer needs that have yet to be fulfilled. Swartz said that it took years for her idea for the Echo function to come to fruition.
"I decided to narrow my thoughts down to which categories that had limited options for pleasure," she said. "An inspiration of automated stimulation may be due to disabilities that prohibit the user from using the item manually. Another inspiration would be the ability to use items hands-free so that your hands may be wandering elsewhere."
The groundbreaking Pleasure Air Technology used in Womanizer toys was developed by German inventor Michael Lenke and his wife Brigitte with the feedback of countless women, WOW Tech's Denny Alexander said.
"Perhaps our greatest inspiration of all are real bodies," he said. "All our new functions and products are designed for and inspired by real bodies, and we work with sexual wellness experts, doctors, and of course, consumers to ensure the best possible experience. Programs like our MasturbaTEAM, a group of nearly 17,000 volunteers who test our toys and provide feedback, let us connect directly with real people to get a sense of what's working and what could be improved."
The pleasure product designs and technology that WOW Tech incorporates into its products are also always based on scientific research around pleasure, sexual response, and sexual stimulation, Alexander adds.
"From there, we look for ways that technology can be applied creatively to address it," he said. "We take inspiration from all around us, keeping close tabs on the tech industry as a whole, and integrating the trends that will help us produce the most innovative new functions and products."
Similarly, Lora DiCarlo's Sarah Brown says that the brand's product development and engineering teams are constantly tinkering and innovating — but consumer research is always at the heart of the operation.
"How do people like to be stimulated and how do we find a new way of achieving that sensation? Brainstorming and tackling those questions with a super diverse team from many different backgrounds and perspectives is also crucial," she said.
XR Brands' Josh Ortiz credits consumers — which he says are becoming more open and vocal about their sexual preferences, as well as more knowledgeable — with inspiring some of today's sex toy innovations.
"I truly believe it's a more 'woke' consumer base," he said. "Customers aren't as ashamed of sex toys as they once were. They are reading up on materials, functions — trying to find ways to bring their fantasies to life. As a manufacturer, we must have our fingers on the pulse of not only our industry, but also the consumers using the products we make."
Feedback from consumers is collected through a variety of mediums — most often, nowadays, consumers are making their opinions known online via social media.
"Direct lines of communication to the end user seems to be helping drive product development — we try to pass along product requests and improvements to manufacturers whenever possible," Fairvilla's Jacki Mick said.
Manufacturers aren't just concerned about whether a sex toy is functioning properly; they want consumers to share their experience with a product.
"Consumers are looking for new experiences, sensations, games rather than specific functions," Lovely Planet Sales Director Anne Meunier said. "If a function can evoke positive emotion, that is important — through design, texture, material, an ergonomic design and technical functions. Our new functions are mainly driven by user experience. We are really focusing on creating products that are ergonomic to provide pleasure and bring about positive emotions."
Pipedream Products has long been an innovator with the development of many popular toys, such as the current bestseller Her Ultimate Pleasure from its Fantasy for Her collection.
"It has been exciting to see how toys are more supportive of women's pleasure beyond traditional clitoral vibration and we have explored and educated ourselves on the various ways that the body can enjoy external and internal stimulation," Pipedream's Kristian Broms said. "We also are finding increased demand in the male category, products made for penises that offer more than a snug squishy tube. Personally, my mission is to better understand what we don't know about sexual pleasure, erogenous zones, and trigger points and build products that go beyond the status quo."
Putting Toys to the Test
According to Swartz, doling out sex toy recommendations to shoppers inside an adult store feels a lot like working at a restaurant as a server.
"Though we all have different taste, we trust in our customer service representatives to ask the right questions in order to find the right fit," she said. "All in all, recommendations are always subjective, whether it be for food or sex toys. We alleviate the intimidation by offering personal testimony on new sex toy technology or by insisting that consumers read specific reviews from other guests. If you are able to make a guest feel comfortable about opening up, you are likely to find an item that's a fit."
While sex toy shoppers may be looking for new kinds of stimulation toys, there is a large subset of people that are happy with the basics because they haven't been introduced to other possibilities, Lora DiCarlo's Sarah Brown said.
"That's our responsibility in marketing and product development — to find ways of describing new technology in ways that make sense to the average user while still exciting them about the uniqueness of the sensation," she said. "In Lora DiCarlo's case, we set out to create something that feels like a human partner, but we also were creating a product that allowed for so much new exploration of the body and the sensations the body is capable of experiencing. So there's a balance of relatability and adventure."
In order to get brands' messages across, adult retail staff receive lots of product training from vendor representatives, but nothing really compares to being able to see a sex toy in action for oneself — and for that purpose, many manufacturers provide retailers with in-store tester units.
"Fairvilla's sales teams receive ongoing training from our in-house educator and directly from the manufacturers themselves," Mick said. "Having an approachable and knowledgeable team really helps when it comes to explaining new tech. A tester is one of the most important selling tools our staff has for teaching Fairvilla's customers about new pleasure technology. Being able to walk them through the functions of a new toy in real-time is invaluable."
According to Ortiz, testers are just about essential when it comes to introducing consumers to new sex toy functions.
"Clitoral suction, to a person who may have never experienced having their clitoris sucked, can sound terrifying," he said. "If a shopper can touch and feel, they are far more likely to buy. Technology drives us in every other aspect of our lives, and sex is no different. We don't feel intimidated with the newest phone after we get to fiddle with a few functions in store before the big purchase. There is no difference with the sex-toy buying process on a psychological level."
Another option to showcase unique product features is with an interactive display — particularly for those items with Bluetooth connectivity. "Minna did this with their K-Goal kegal exerciser where customers could squeeze the device in hand and watch the response on an iPad featured on the wall," Duran said. "We see this with products like Lioness as well, where featuring the app in the display is important."
ECN's Lynda Mort calls demo units "game-changers" when it comes to products with unique functions. For products that require more education to help make the sale, displays can help to explain how unique or less-conventional functions work.
"These kinds of products are investments, just like any other kind of technology, so it's important to help shoppers make confident buying decisions — especially with higher-priced items," she said. "And when there isn't a staff member available to answer questions, testers and demo units are especially valuable."
Once a consumer gets their hands on a premium sex toy that boasts fascinating, never-before-seen features, the chances of them falling in love with it — and ultimately purchasing it — increase.
"They make an emotional connection to the product, which translates into a sense of ownership," CalExotics' Nichole Grossman said. "This emotional connection can then lead to a sale. Retailers can achieve this with testers in the store. For online retailers, replicating that in-person experience can be difficult. I recommend using video to showcase the technology. This gives potential consumers a chance to see the item in action, which can be helpful."
Sophie McGrath of AdultToyMegastore confirms that it is indeed difficult to sell toys that seem complicated online; and the company has gotten creative with how to overcome that obstacle.
"Customers do feel intimidated by new tech," she said. "What we're doing is actually bringing the toys to our customers and letting them play! We've started to hold sex toy speed-dating events where our customers can hold toys and play with them. They want to see and feel toys; they want to know how quiet they are. They want to do that in safe environment where they don't feel like they're pressured to buy. We're about to embark on a tour of New Zealand and it's really exciting. We're selling out 100-seat venues. People want to hear about sex toys!"
Eyeing the Future
Sex toy innovation never stops; and as long as designers and engineers keep their ears to the ground, they'll continue to keep rolling out new and exciting functions. A lot of the focus is currently toward the rapidly growing camming biz.
"I definitely think we will see be more items made available for guests that are in the camming industry, as these require technological advancements to serve their intended purpose," Swartz said.
Sex toy innovation definitely isn't what it once was. Good Vibes' Andy Duran remembers when even just 10 years ago, big moves in the biz were as simple (by today's standards) as whether a toy was waterproof, or more impressive touches like making toys that glow in the dark.
"I think more companies are thinking on a larger level when it comes to modern engineering," he said. "As we consider the impacts of climate change, sustainability is always a growing concern. As technology advances, I envision more Bluetooth and app-enabled products on the rise. One of the things I saw at trade shows recently was the growing demand for interactive toys for the cam industry and I'm really excited to see where that goes and how that can support sex workers."
A lot of the pleasure products industry's modernization has been in part due to the work of trendy brands. Lovely Planet's Anne Meunier credits LELO and Bijoux Indescrets as those that have taken the reigns in terms of design, marketing and communication.
"We're definitely changing the standards of the market and of the industry," she said. "It's a natural progression if the market becomes more professional and end-consumer-oriented."
Mick says there's an avalanche of progressive engineering in this industry now, as new companies and creative entrepreneurs step out onto the scene to answer to the needs of today's consumers.
"As we become more tech-savvy as a society, with enhanced communication and entertainment devices, this absolutely feels like a natural progression," she said. "It applies diversity of product into the industry."
Looking toward the future of sex toy engineering, Satisfyer's Megwyn White foresees app connectivity to be a major trend. The upcoming Satisfyer Connect app will feature functions that will allow users to connect with others through texts, images and video calls.
"We see personalization through the app as a bridge towards sensual introspection, which is a huge part of gaining confidence in sexuality," she said. "In addition, sensorial feedback features like voice responsive technology — (users can speak into their smart phones to create personalized programs) as a means of provoking expression, and a deeper connection to the surrounding environment."
Innovation in the pleasure products industry isn't just about technology — as the biz continues to focus on sexual wellness, consumers can expect more variety when it comes to fulfilling their needs.
"Overcoming the taboo of talking about health as a whole, but also particularly women's health, has had the biggest impact on sex tech engineering," Brown said. "As we've normalized conversations around health, that has also bled through into other areas of wellness. We've seen more openness about menstruation, pregnancy, illnesses, menopause and finally pleasure. Again, now we see these areas as worthy of innovation, worthy of investment and business for their own sake. There's always a natural give and take relationship with innovation across sex tech and other types of tech, so as one grows, so do the others.
"I think material innovation is the next step for sex tech, we're predominantly stuck on silicone and plastic, what's the next material they can find to really take texture and stimulation to the next level?"
The future of pleasure products also will be driven by a push towards inclusivity, Ortiz predicts, noting that we'll be seeing toys in more colors, less gender, more functions and the ability to be used across long distances.
"Pinks and purples will always sell, but there's a very large demographic that does not feel affirmed by the toys they buy," he said. "Being inclusive is what will make or break the future of our industry as humanity moves farther away from the binary."
The evolution of pleasure products has gone from large, bulky vibrators to light, versatile devices that seamlessly blend into one's sexual activities.
"Toys have since been refined, becoming smaller, lighter, and more diverse," WOW Tech's Denny Alexander said. "The material and product quality have continuously improved, and engineering has embraced all kinds of creative technology. The incorporation of smart technology has also contributed to the evolution of sex toy engineering, a natural progression we've seen in other products as well.
With increasingly sophisticated engineering, design and packaging, we've also seen sex toys starting to move into the mainstream, being marketed as wellness and lifestyle products in response to a society that is increasingly receptive to the importance of sexual well-being to overall health and quality of life."