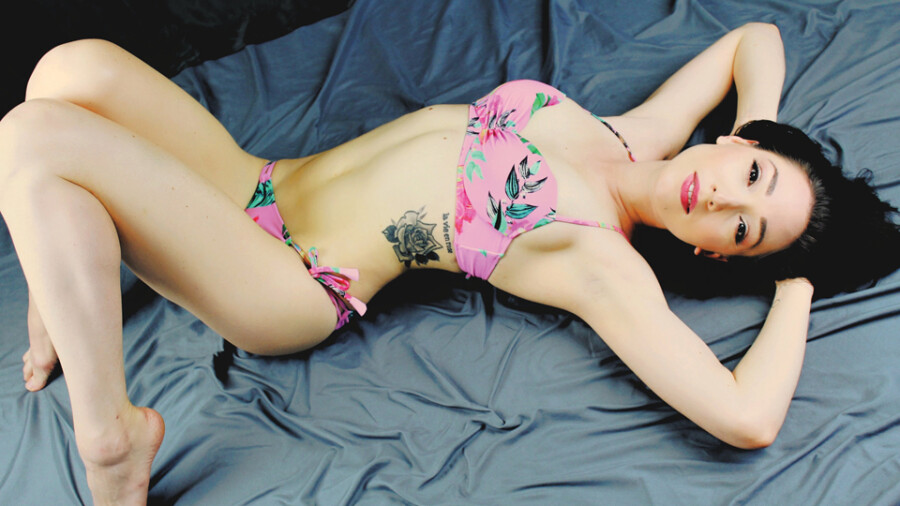 Lily LaBeau is a real sweetheart whose evolution from adult stardom to camming greatness is a testament to the fiercely empowering freedom that comes with independence.
The many thousands of fans she amassed from her days of performing in studio-shot movies and the multitudes of adoring followers she has gained from camming on Chaturbate, fuel her continually ascendant career.
With more than 500 scenes under her belt for top companies and a legion of loyal token tippers, LaBeau has unique insight into many facets of the industry, as well as a network of warm colleagues she can count on.
And one of the most powerful secrets behind her craft is her willingness to be authentic and vulnerable, as she dares to share both her happiness and her melancholy. She is human, after all, utterly raw and gorgeous.
Now, as XBIZ Cam Star of the Month, she shines radiantly and invites readers into her vibrant heart, inquisitive mind and resilient spirit.
XBIZ: From small-town life in Payson, Arizona to nude modeling in New York, tell us about your earliest steps into full-time adult industry work following that first Dare Dorm scene.
LaBeau: Going from a small town, to modeling life in NYC, and then diving into the porn industry in Los Angeles was a whirlwind few years to say the least. I remember after my Dare Dorm scene thinking to myself, if I'm going to do this, I'm going to do it full out, no looking back.
And that's what I did. It took a year to understand the job and the politics of everything, taking any offer that was given, but soon I had the right mindset, the right attitude and opportunities came one after the other.
Traveling to Japan and turning 19 there was a major highlight of my early days, and after that trip, when Mark Spiegler became my agent, life really got exciting! And busy!
XBIZ: Over the past decade, you've starred in more than 500 studio-shot scenes, amidst many other projects. When did you start camming and what are your main revenue streams these days?
LaBeau: I started camming about two-and-a-half years into my career. The cam world and the porn world have so much in common, but really they are two very different things. I think porn is about creating a fantasy, and camming is about allowing fans to know who that fantasy actually is, the human behind the dream!
I love to have a lot of variety in my life, so camming is a main revenue stream, which I am so thankful for! I love that I can set my own schedule, which allows me to rest when I need and cam when I'm feeling sexy. I also produce custom videos through my ManyVids site, and I have recently found a lot of success on OnlyFans. In two months, I jumped into the top 5% of creators. Wow!
Shoutout to my awesome fans that no matter what platform I choose to go on, follow me there. I appreciate your loyalty and support.
XBIZ: Is there a particular camming platform you prefer to stream on, and if so, why?
LaBeau: I cam exclusively with Chaturbate. I love the way it's designed; the backend is really user friendly for models. They also have these apps and bots that models can use, which make things really easy.
Seriously, there's an app for everything and I think it's cool models can even create their own apps. I am blown away with the talent of some of these cam models. It's really inspiring.
I also love that Chaturbate takes care of us; they are responsive and kind and I feel like a human, not just a money-making source. I know I'm biased, because I've seen personally how great Chaturbate has been while working with the team for our new web series, "Cam Girlfriend"! But hey, if you're someone interested in camming, give them a try and decide for yourself.
XBIZ: Discuss your strategies for time management, as well as balancing your professional and personal life.
LaBeau: Oh man … in some ways, I look at my character on "Cam Girlfriend," Chloe, as the cam girl I wish I was. She embodies for me all the positive qualities I see from other girls, like consistency, creativity and a strong dedication to her fans and camming. She knows her fans better than her boyfriend sometimes (and vice versa) and her fans are fanatics in their love for her because they have created that trust over the years.
I'm really lucky to have built my fan base through my adult film work, so when I go online, my fans show up and new fans are made. I often get the comment, "Omg, I can't believe I'm actually talking to Lily LaBeau!" And that feels really good, because I have been doing this for so long that I am a little jaded.
I have a really hard time with time management and balancing professional and personal. I struggle with my mental health and I always feel like I'm not doing enough. But when I do go online, my fans always cheer me up and I'm really thankful for their understanding and love. My strategy is to do my best, whatever that looks like that day.
XBIZ: Given your experience and multi-faceted stardom, how has your marketing strategy evolved over time on social media to engage fans?
LaBeau: When you first begin in the industry, there is a feeling of needing to be bigger than life … to get attention, to get noticed and to be the best. Now that I'm almost 30 and approaching my 12th year in this business, I feel that what's even more powerful is to be authentic — to be open and vulnerable.
It's scary, because you think people want to jerk off, that they don't want to hear your sob story. But that's shame talking, that's fear saying that, trying to keep us small. Stepping into our power can feel unnerving, like our soul getting exposed for the world to see, but the response I've witnessed is 98% pure love!
There will always be haters, but after sharing my story, people have opened up to me in such beautiful ways. My strategy is, screw the numbers, focus on the message, focus on my core values and create positive change wherever I can. I have a platform, so why not use it for good?
XBIZ: Beyond adult, there are several safe-for-work avenues for bringing in traffic and reaching out to a wider audience. Can you talk about your new series on YouTube and any other campaigns you've undertaken?
LaBeau: As far as taking on campaigns, I'm more of a pacifist than a warrior spirit, so I rely heavily on my intuition. The producers for "Cam Girlfriend" had hired me as a story consultant, but I just knew in my heart the role of Chloe Cables was meant for me. I almost didn't get it and I actually had to fight for it, with a heartfelt and passionate email!
I told them, look, a lot of people come to our industry and ask us for our stories so they can capitalize off them and then they never do anything to actually help our industry. They hire mainstream models in place of adult actresses because it's more palatable for the general public, but in doing so they erase us from our own narrative! I said to them, don't be like that. Let's create something that the public and the adult industry can be proud of and enjoy together.
And I'm so proud to say, I think we did it! My own personal campaign right now is to be authentically myself, to inspire others to be OK with being different, to accept who you are with love and not let others shame you for any reason. The world needs the sensitive people. The world needs us to heal our own wounds and then help others heal if we can. Laughter is healing.
XBIZ: What advice would you give to aspiring cam models and porn stars, that you wish someone had shared with you?
LaBeau: Find what you love and profit the heck off of it. I've seen this a lot with friends, when they finally decide to stop "trying" to be what they think people want and they decide to do what they love.
Maybe you're bisexual or maybe you're a nerd (said with love) who loves Dungeons & Dragons and comic books; everyone has something special and unique about them, and that quality is what the fans really love. This industry isn't just about sex, it's about connection, it's about pleasure in a sometimes dark and uncomfortable world, and also … it is about sex!
Find what you love sexually, find what you don't love, set healthy boundaries for your health and happiness, explore your sexuality without judgement and observe how you feel while doing so. Have a good support system of people you can turn to that don't judge you for your work. Take care of your body, find a good nutritionist and don't wait to take care of yourself, because burnout is real and happens to all of us.
Trust me, from what I've seen, it's a lot easier to be proactive with our health and wellness as opposed to waiting until burnout hits and you're unable to literally function. I also tell people when they ask me how to get into porn, that they should start by camming. It gives you such a good foundation for learning the ropes of the business with the added protection of the internet as a buffer.
Once you have an audience, you can come into the porn industry if you so choose, with more wisdom, more power and the ability to advocate for yourself much better than if you were to jump right in naive and hopeful. Also … financial advisor … get one, now. No, like right now.
XBIZ: Who are your closest colleagues in the industry and who do you look up to the most for inspiration?
LaBeau: That's one of the hardest things you can ask a performer! We are having intimate relations with so many amazing people, you get attached and have crushes all the time.
I do have people that I feel I connect with on a soul level and continue to talk to today. I was really excited to meet Lena Spanks on set for "Cam Girlfriend" and I've followed her since and am in love with the content she produces! I also have a huge girl crush on Mary Moody, whom I've never met but who I think is one of the most beautiful women on this planet.
Of course, I also have to mention my Spiegler Girl sisters. Our agency is really small, but we are close and super supportive of each other. I love seeing the girls' success during their careers in the business and after as they become business moguls, mothers and successful entertainers! I'm so inspired and proud.
XBIZ: How has the adult industry changed over the years as far as talent empowerment?
LaBeau: Back in 2009, when I began, if you wanted to be independent you had to either make your own WordPress solo girl website and know how to code, or you had to sign with a network of solo girl sites and be managed by someone else.
Now, it's a whole new world! It's amazing how much power has been placed back in the hands of the performer, exactly as it should be. It's the performers who face the stigma, it's the performers working their bodies to the bone, it's the performers giving their heart and soul to the world for entertainment and they should have the power.
Only a few years before, porn stars and cam models were really separate and often talked smack about one another, but now you see cam models getting awards and even hosting major shows. There is so much more respect for sex workers in general, which, I mean, we are all on the same team, we should support each other.
People are speaking up now because they don't have to fear being black-listed; they have so many other ways to make money and don't necessarily have to rely on companies who don't respect their boundaries. I see so much positive change, and it's beautiful.
XBIZ: Give us a glimpse of the coming year and what your biggest ambitions are.
LaBeau: This year, I have really taken stock of where I am at, as a person, a cam model and a performer. I want to dedicate myself more to regularly camming, inspired by all the men and women I see on Chaturbate daily. I plan to get all my debts paid off and in September I will be applying to a French language school for one year in Switzerland, where I will live with my girlfriend Lou!
I will continue on my healing journey to be more authentically myself every single day. And fingers crossed, this year will bring with it many big successes, like the premiere of "Cam Girlfriend." I am also writing my autobiography, because I really feel this is the closing of one chapter of my life, so that another chapter can open. I am currently finishing my Yoga Doula Diploma (to become a non-medical woman's companion before, during and after birth) and I am working on my Personal Training Certification.
I want to help men and women heal from trauma and shame and empower them to fully embrace all parts of themselves, to love themselves and to honor this journey of being human with all its mess and imperfections! This life is a gift, and I am so thankful to be alive.