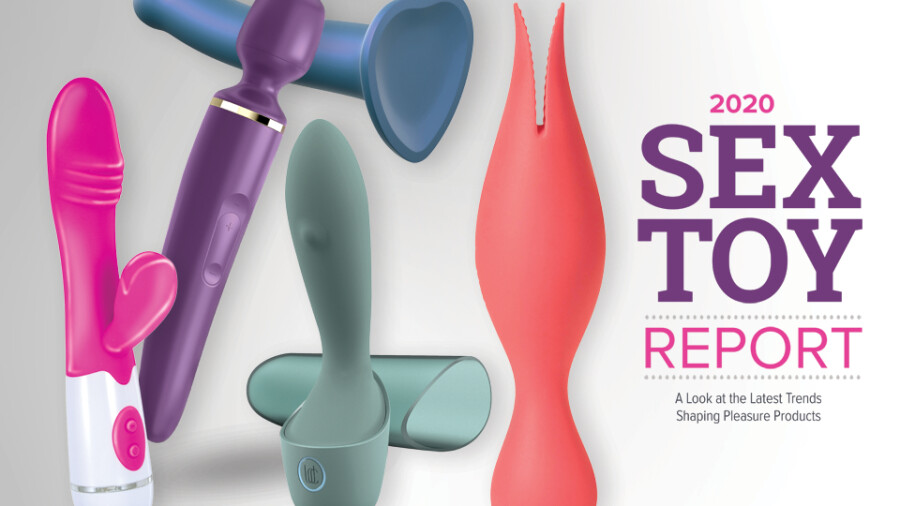 This year has shown us how resilient the adult retail industry is with its recovery from the mass store closures due to the global COVID-19 pandemic; and while buyers won't be able to shop this summer's latest releases at ANME this July, manufacturers are still forging ahead with new innovations in pleasure products.
Adult retail stores are still adjusting to their new normal consisting of social distancing, limited capacity and a lot of cleaning; however, as reported in last month's XBIZ Premiere special report, many consumers are ready to go back to in-store shopping. An even greater number of shoppers are playing it safe and are shopping for pleasure products online.
As more brands are coming out with full-body massagers that have a more modern look and functionality to then, we are seeing a big increase in demand for them.
In these unprecedented times, having spent a significant part of the year thus far at home, pleasure products brands and retailers are continuing to see trends that are driven by the pandemic. Whether couples are adapting to quarantining together or alone, sexual pleasure and self-care have become a top priority.
"Before the stores started to close due to COVID-19, we saw heavy interest in the couples toys, whether it was teledildonics, couples rings, or just toys that couples felt comfortable using together," said Anthony Pingicer, the director of marketing for Xgen Products.
Couples and singles at home also experimented with rabbit vibes, Shibari rope and butt plugs, Voodoo Toys' Sally Cotching said, noting how the company has seen an increase in customers since the pandemic started.
"I think this is reflective of people having time to be more explorative with their sex lives and try something new that maybe they hadn't thought of before, or hadn't made time for," she said. "People are stuck at home and looking for ways to get creative with themselves or their partner."
Lovely Planet sales director Anne Meunier credits the media attention on alleged skyrocketing sex toys for sparking more sex toy sales.
"[They were curious] to learn about this universe and the associated products, the [news] has documented a lot on the internet and social networks," she said. "Instagram accounts dealing with sexual pleasure, couples' practices, orgasms, etc, have multiplied. The search for information and products has exploded."
As far as the most popular product categories of the year so far, Meunier says kits have been popular, and the more selection that they offer, the better. She says that Lovely Planet has coupled books with toys, lube, and other accessories. Other items that have been popularly bought together include lingerie, accessories, as well as body care and massage fluids.
EngErotics, a pleasure products brand offering a selection of vibes and CBD-infused intimate body care products, also reports seeing an increase in couples' toys, as well as clit and wand vibes. Raven V. Faber, founder and CEO of EngErotics, says that as other intimacy brands have reported, she too saw an increase in sales.
"Rechargeable, multi-speed, quiet toys are in demand now more than ever," Faber said. "People don't want to have to remember batteries and they like having lots of variety in one toy along with a certain level of discretion. Also, safe, non-porous materials are taking center stage."
Faber credits consumers' increased knowledge surrounding the safety of sex toy materials. Consumers' concerns with safety are intensified by the pandemic, which is also driving the popularity of remote-controlled toys.
"App-controlled sex toys have been of particular interest for people who can't be with their significant other because of COVID," she said. "Some people have even been using remote-controlled toys for no-contact fun within the same room."
Coincidentally, Satisfyer is currently preparing to launch an app, which will allow for the long-distance remote control of its collection of enabled vibes. In the meantime, Satisfyer's Stephanie Trachtenberg says that the company has seen a vast increase in sales being reported by its retailers.
"We have recently seen a 200 percent growth among all online retailers in U.S. and Canada, with Air Wave stimulation items among top-selling items," she said. "Additionally, we've seen a rise in anal toys with a growing curiosity of consumers wishing to explore new types of stimulation, along with the added benefits of releasing stress tensions often stored in the rear of the pelvic floor.
"Consumers are searching with a large number of keywords, with the No. 1 still being sex toys, No. 2 dildos, and No. 3 vibrators," Trachtenberg added, "but we are seeing a huge increase in the search for 'sexual wellness' as well. Our Air-Pulse technology is in high demand right now, as well as the newly released Satisfyer Wand-er Woman, which is a large wand with a pivoting head perfect for relieving full-body tension. It's also an excellent 'go-to' product for couples seeking extended foreplay stimulation in lockdown."
In-demand products for Nasstoys included dongs, as well as its classic anal numbing lubricant Anal-Ese. Nasstoys' Kathryn Hartman said that the company's USB-rechargeable rabbits that are in the Energize-Her are growing in popularity for their upgraded features.
"We are seeing healthy volume sales in our luxury silicone collections like Vibes of New York and Touch and Devine because of the in-demand features and functions," she said.
Because sex can only take up so many hours of the day, and to connect with friends of course, consumers have also turned to games for entertainment while they're at home.
"We definitely see a lot more online shopping and even a large chain, Spencer Gifts, appears to be selling our bestselling game almost as much online per week as they were in their 600-plus stores before the mall closures," Kheper Games CEO Brian Pellham said. "We were honestly shocked to see this steep of an increase. The same is true for other online customers of ours like AdamEve.com."
Among the most popular games during the pandemic are those that people can play via video-chat or on Facebook, Pellham noted, adding that Kheper's Sexy Surprise Inside Bath Bomb that includes a vibrator inside, was also highly sought out as consumers tended to self-care during isolation.
On the retail front, Hart's Desires' co-owner Shani Hart says that online reviews and other media coverage that sex toys receive such as being featured in magazines also effectively drive sales.
"The biggest craze so far, still running off of steam from last year is the Fantasy for Her Ultimate Pleasure," Hart said. "The popularity of this toy gets more requests every time one of the videos resurfaces on social media."
Deja Vu Love Boutique General Manager Megan Swartz also reports that couples' toys are at the top of the list of product categories that are currently trending, along with anal toys and full-body massagers — which she says are making a comeback.
"For a while, full-body massagers seemed to be an item of the past," she said. "[But, they are] still great sellers with the older clientele though. However, as more brands are coming out with full-body massagers that have a more modern look and functionality to them, we are seeing a big increase in demand for them.
"In 2020, we are doing well with some of the obvious staples which are We-Vibe and Womanizer products," Swartz added. "Other bestsellers for us currently are realistic items — particularly the FemmeFunn realistic items. The FemmeFunn Vortex Wireless Turbo Shaft is our most popular."
The Latest in Tech
While the last time that the adult retail industry gathered to showcase the latest pleasure product releases was back in January, the development in sex toy technology has not slowed down.
"I'm seeing some very promising progress towards creating a wearable vibrator that's actually comfortable and that will actually stay in place while doing its job well," EngErotics' Raven V. Faber said. "Personally, I find Petl by Come Play to be extremely impressive. It's a wearable vibrator for vagina-owners that clips onto the pubic bone. I've been looking forward to its release since it debuted at CES earlier this year. I think it could really set the standard as far as wearable vibrators go."
Dame Products, a leader in the sextech space, says that based on its customers' feedback, shoppers are looking for toys that are extra customizable, with varying intensities or vibration patterns.
"This year we came out with our first internal toy, but found that 72 percent of people (via a survey of our Dame Labs community) would want to use this toy both externally and internally, so providing that versatility was essential," Dame Products' Alexandra Fine said. "And when it comes to technology, so much is becoming digital that wasn't before, and many of us are separated from our partners — so we're seeing a resurgence of phone sex and virtual sex. People are feeling a bit more creative in their exploration, and discovering how to adapt to a new age of digital pleasure."
Shani Hart from Hart's Desire also believes that the demand for long-distance app-controlled partner toys has grown due to the pandemic.
"One [innovation] that I've been in awe of since first trying it, is the Lovense Max 2 and Nora combination," Hart said. "By simulating actual partner bodily reactions, and controlling movement of the toys through the app, you have to use less of your imagination, and it takes intimacy up a notch whether you were quarantined from your partner across town or across the globe."
As more people turn to pleasure to pass the time in isolation, Hart says that shoppers are on the lookout for toys that won't be noticeable to others that might be quarantining in the same home.
"One of the most popular questions we've been asked this year is, 'What are your quietest toys?' More people are experimenting with toys but still want to be discreet during the quarantine," she said. "It takes a little fun out of the pleasure if you have to worry if your roommate can hear you getting your swerve on. We tested our most popular toys in each category and reported back which items we found were low on noise levels."
Svakom's Alex Feynerol also believes that customers are currently in search of customization for their pleasure devices.
"I'd say people want mostly simplicity in the vibrations but with intensities that can satisfy the majority," he said. "I've seen brands creating toys that allow you to design your own type of vibration and I believe that giving the consumer this type of control over their own toys can only bring positivity in someone's experience with toys."
In addition to good ol' vibration, pleasure product shoppers are also exploring items that offer other sensations, such as effortless penetration from a thrusting toy.
"Thrusting vibrators such as our new Happy Rabbit Curve Power Motion Rabbit Vibrator are also incredibly sought-after right now," Lovehoney's Ellie Ford said. "The thrusting motion combined with vibration offers a feeling you won't find in any other toy. The travel lock function on our Happy Rabbit range is another really big selling point for our users and we do offer online training to retailers on this functionality."
Interactive toys continue to intrigue shoppers with their ability to connect lovers long-distance or in-person, as well as with oneself during solo play. The Together Vibe — which was created by adult retail industry vet Megan Swartz — features patented real-time-feedback technology that makes one end of the couples toy vibrate when pressure is applied to the other end.
"I do believe this technology to be a must for this industry, so much so that I spent a small fortune to patent it," Swartz said. "I think consumers are more interested in technology and value rather than design and shape. They are more interested in taking the advice of a sales associate on what items offer value for the price tag that usually accompanies them. Our goal is never to make the easy sale and it is not necessarily to make the most expensive one either. Our goal is for guests to leave with something of value that we feel will be satisfying in the bedroom and money well spent in the guest's eyes."
In our tech-driven world, consumers seek out the latest innovations in all of the products that they use. Lora Haddock DiCarlo, the founder and CEO of sextech brand Lora DiCarlo, says that her brand aims to continue to push the envelope with cutting-edge technology. Designed to mimic human touch, Lora DiCarlo's products employ micro-robotics and biomimicry to stimulate the erogenous zones.
"Vibration may never go out of style, but we're pushing the envelope on pairing vibration with other biomimetic movements and we can't wait to show off our next generation of designs," DiCarlo said.
Designs in Demand
Because pleasure is experienced in so many different ways, the most popular sex toys of today come in shapes that are just as diverse. Pleasure products offering the most versatility are often the best received among consumers.
"Non-gendered shapes, as well as creative and quirky designs that mimic non-sexualized shapes but inspire play like our Sweet Treat have been very popular with consumers," Satisfyer VP of sales Jerome Bensimon said.
Among the most popular sex toy designs are those that allow for different kinds of stimulation and can be used on more than one erogenous zone.
"Our latest release and Dame's first internal toy, Arc, was designed specifically to stimulate both the clitoris and the G-spot, as 72 percent of our Dame Labs survey respondents wanted a product that could be used for both," Dame Products' Alexandra Fine said. "We also gave Arc a 'beaked' ridge for targeted stimulation and a squishy head, as those were two features that were incredibly popular with one of our bestsellers, Pom."
Crediting Dame Products' multipurpose designs, Hart's Desire's Shani Hart agrees that shoppers want products that offer more bang for their buck; and it's essential that these items are easy to hold and control.
"Toys that are ergonomically pleasing to hold in your hand during solo play — and if you enjoy penetrative sex with a partner — are extremely beneficial, especially to people with vulvas," Hart said. "One of my favorites is the Kip by Dame. Pinpointed pleasure with a great handle to hold in your hand whatever way you choose to use it. "
In order to produce a toy collection that effectively offers something for everybody, Hot Octopuss turns to guidance from customers and bloggers. The company also recently appointed Joan Price as its senior sexpert who will work with the manufacturer to design new items.
"We consult with her on product ideas to ensure that we have considered how new toys would work for older people, for example post-menopause, or for penis owners who experience erection problems," Hot Octopuss CEO Julia Margo said. "As well as having non-binary, queer and disabled team members, we consult with some key voices in the trans and disabled communities, and we regularly seek feedback from outside the company to ensure we are on the right path to help us achieve our mission."
According to Lovely Planet sales director Anne Meunier, customers are all about aesthetics, and are looking for products that match their style — including their home décor, perhaps to be fashionable or to be discreet.
"The design can be diverted to look like a decorative object or an everyday object," she said. "Middle-aged couples love accessories that blend in with the decor of the bedroom or bathroom."
Nasstoys' Kathryn Hartman also sees this year's trending toys are those that appeal to women either through non-anatomical designs or in softer colors like mint.
"These consumers look for higher-end functions like USB charging and suction; and are willing to spend a little extra for our silent powerful quality components and beautiful packaging," she said.
No matter what unique new designs manufacturers come up with, a significant amount of shoppers are simply looking for the tried-and-true styles.
"'Fundamental designs,' as I like to call them, always seem to be in high demand because they often fit all of these criteria and they're appropriate for beginners, advanced users and everyone in between," EngErotics' Raven V. Faber said. "Fundamental designs would include things like bullets, wand vibrators, basic plugs and G-spot vibrators. Many people look for sex toys that are ergonomically designed too. For every person that loves a fancy, 'techy' sex toy, there are a bunch of people that just want a simple, well-engineered toy that they can just grab out of the drawer and go to town with."
Pleasure Products to Watch
July typically marks the release of a new slate of products from manufacturers that are usually presented at the semiannual ANME show. With this year's summer show canceled, manufacturers are carrying on with their new releases.
"We just released the new Bodywand Luxe 2-Way Wand that features a wand massager head on one end and a G-spot vibrator head on the other," Xgen director of marketing Anthony Pingicer said. "Whipsmart is finally adding to their product collection in 2020, with 10 new fetish pieces. And The Rabbit Company recently released a mini rabbit vibrator, along with their first harness toy, the Rabbit Peg."
With the suction toy craze not showing signs of slowing down, Voodoo Toys is expanding its Beso line with three new additions.
"Each of the three toys has a unique shape to target your pleasure zones and is available for pre-order," Voodoo Toys' Sally Cotching said.
Lora DiCarlo, which made headlines last year after receiving a coveted robotics innovation award from the Consumer Technology Association for its first product, the Osé device, which was rescinded and then re-awarded to the company. Osé — which went on to win various other awards including TIME's Best Inventions of 2019, Popular Mechanics Editor's Choice Award CES 2019 and IHS Markit Innovation Awards CES 2019 — is now available for sales online and will arrive in retail stores at the end of September.
"We're going to be launching several exciting new products this summer, all focused on microrobotics and biomimicry," Lora DiCarlo's Lora Haddock DiCarlo said.
Also coming soon from Lora DiCarlo is the Carezza clitoral massager that uses patent-pending PercussionTouch technology to create gentle, finger-like tapping against the body and crescendos with deep drumming vibrations.
Also bolstering the sextech category this year will be Satisfyer's Connect App, which will expand the sensorial features of the company's newer Bluetooth products while offering further customization, and also support remote play at a distance.
"The app is the first of its kind to integrate a host of high-touch features under the umbrella of a single app technology, while also bridging over 200 Bluetooth products set to launch over the next two years," Satisfyer's Jerome Bensimon said. "We see this launch as a turning point in the sexual wellness movement where users will have the opportunity to optimize their user experience based on personal preferences with features like haptic programming, ambient sound, music integration, motion-sensing, optional community sharing of personal play settings, and remote play at a distance under one app."
Satisfyer's app is set to feature protective measures to ensure privacy and safety.
"We intend to utilize these expanded features to invite new users into the fold of the fast-growing sexual wellness movement while introducing many new app-compatible products with innovative features like heating, bio-electrical stimulation, kegel training, and a whole new line of prostate-focused products, just to name a few," Bensimon said.
COTR brands Le Wand and b-Vibe came together for a collaborative set called the Anal Massage & Education Set, which is a curated kit made for anal exploration that includes a Le Wand Petite massager, a wand head for prostate or G-spot stimulation, a Snug Plug 2 weighted butt plug, a cleanup towel, a lube shooter, an enema bulb, nitrile gloves and finger condoms, a storage bag and an informative booklet on anal massage. "We've also had a tremendous response to our first b-Vibe x Le Wand collab," COTR founder and CEO Alicia Sinclair said, noting that Le Wand's new stainless steel collection also "has been doing exceptionally well."
With Hot Octopuss' latest release Pulse Duo Lux released in June, company CEO Julia Margo says that many other new products are also in a late stage of development. When the items are unleashed to the public, Margo says Hot Octopuss will be on the lookout for feedback.
"Customer feedback is extremely valuable to us," she said. "There have been many moments when a customer has written to us to complain about how a product worked for them and that feedback has ended up with our designers redesigning the next version of the toy. We are committed to listening as much as possible to what our customers tell us and this approach has served us very well to date."
ANME founder Nasstoys would typically be showcasing a variety of new releases at the long-established trade show; however, this summer the company will be meeting with its customers via the internet.
"We will be virtually marketing 40 new items," Nasstoys' Kathryn Hartman said. "These new releases feature additions to existing successful collections, and the debut of two new branded collections, Lustful and Luv."
Lovely Planet will fulfill the desires of many pleasure-seekers with a diverse mix of new releases.
"We are going to launch a beautiful range of faux leather and lace harness panties to be used with the dildos of our Strap on Me line," Lovely Planet's Anne Meunier said.
"As the demand for prostate stimulation is high, we will be launching new soft dildos designed to enhance both the P-Spot and the G-Spot — and new intimate couple toys in the Dorcel range but I can't say more for the moment."
Kheper Games saw an opportunity to pivot its adult game concepts and marketing to be more social distancing-friendly.
"We quickly reacted early this year to realize that party games were going need to be easy to play via video chat and virtually," Kheper Games' Pellham said. "Two games, 'What If…?' and 'More Extreme Personal Questions,' can be played with one person asking the question and other players competing to offer the most humorous or personal answer. Our third game, 'I HATE,' can be played as a dating game, drinking game (easily online) or as a couples' game."
With social distancing likely continuing for the foreseeable future, Pellham says that games involving physical pieces may be a thing of the past.
Retailer Tools
While adult retailers have begun to re-open their doors following closures due to COVID-19, in-store trainings led by traveling brand ambassadors are still on pause for many manufacturers. Nevertheless, companies have adapted and are now supporting retailers virtually.
"We still need to keep in contact with our retailers, and train them on the latest Xgen releases," Xgen's Anthony Pingicer said. "To that end, we are launching 'Xgen Live,' a dedicated virtual training platform, where stores can log in and get trained on the latest products without having to leave their store, or have an outsider come into the store. The trainings will be live, interactive and can be accessed on both mobile devices and laptops or desktop computers."
Voodoo Toys has started hosting webinars regularly on its social media channels. "Brand Evangelist" Danielle Seerley and marketing specialist Aspen Spellman provide product education on Voodoo Toys' collection, while allowing the brand to connect with its clientele on a personal level.
"It's been a nice way to check in with our partners, help get them the knowledge they're looking for, and share some laughs in this uncertain time," Voodoo Toys' Sally Cotching said.
Dame Products adjusted its product training strategies, and like many others, is utilizing Zoom for open weekly live trainings, as well as dedicated and tailored trainings for retailers and their sales teams.
"Turnout has been strong and feedback has been positive, so we look forward to incorporating online trainings into our future operations, even after the pandemic," Dame Products' Alexandra Fine said. "We do believe it's important to meet with retailers in their spaces, so we plan to continue traveling again as soon as it's safe for all parties."
Dame Products' expanded programming also includes a workshop series with a suite of courses, exercises and materials developed by experts such as sex therapists, yoga teachers and massage specialists.
"These workshops will center around different themes in the world of sexual health and wellness, with subjects like relationship help, communication, breath work, and re-igniting the spark," Fine said. "The workshops are developed and led by experts in wellness, health and therapy, and all include resources to explore after the workshop ends. We're excited to help our community enhance intimacy in this new way."
During their at-home isolation, the Hot Octopuss team utilized their time to create digital tools, virtual platforms and interactive educational programs and events to stay connected to retailers, staff and end-consumers.
"We're not certain how 2020 travel looks for our team, or if there will be any in-person trainings during this year, so we are making efforts to ensure retailers have all the tools necessary to continue the growth we experienced before the pandemic," Hot Octopuss' Julia Margo said. "We're positive our strategy will be effective and sales will continue to trend upwards."
Sliquid's Erik Vasquez says that out of an abundance of caution for the safety of staff and retail partners, the company is refraining from booking any in-person trainings for the foreseeable future. Michelle Marcus, Sliquid VP of sales and merchandising, has begun conducting virtual product education trainings.
"We feel that it's too early to tell what is going to happen as states begin to reopen their businesses," he added.
Svakom's support for retailers included discounts as well as useful freebies such as masks for retail staff.
"On a lighter note, one of our greatest sales reps, Kate, started her own web series called "In Bed With Kate" where she creates instructional videos that can be used for trainings or workshops," Svakom Sales Manager Alex Feynerol said.
Lovehoney has long offered a B2B website (LovehoneyTrade.com) offering high-quality product images, video content, web banners, and social media-friendly images and GIFs that are readily available. According to Lovehoney's Ellie Ford, the website's resources are now more useful than ever.
"We have also been running online training sessions via Zoom as well as Facebook Live, which we are excited to continue with," she added.
In addition to virtual training, Wicked Sensual Care is among the few brands that have started to venture back out on the road.
"We know face-to-face trainings and meetings are irreplaceable and our team has started to travel again — with precautions and procedures in place," Wicked Sensual Care Marketing Director Cassie Pendleton said. "We miss our beloved industry family and we look forward to connecting with everyone, whether it's virtual or in person. Beyond training, we're here to support and help customers just getting re-opened or opening soon however we can."
As manufacturers weigh their options for delivering product education to retailers, Lora DiCarlo is also going virtual with media partners, writers, influencers and industry experts to offer extensive product coaching and demos via Zoom.
"Shifting to virtual demos has been both fun and challenging, but ultimately it also helps us drive more interest at the store and web level for all of our retail partners," Lora DiCarlo's Lora Haddock DiCarlo said. "The more visible we are to B2C customers, the more they look for us in retail stores and web shops."
Bijoux Indiscrets' Elsa Viegas also says her company has no plans to return to in-person trainings in the near future, and beyond meeting with its retail partners virtually, Bijoux also hopes to bolster retailer sales with incentives for shoppers.
"We work closely with our retailers to offer solutions to diversify sales, especially online," Viegas said. "We have offered several promos such as gifts with purchase and other ways to support customers in these difficult social times we are living."
According to Lovely Planet's Anne Meunier, the company took a more personal approach with its retailer support.
"The key words to describe our support can be summarized like this: presence, empathy and initiative," she said. "We called our partners to find out how they are doing, listen to them and offer them ideas to facilitate their business. For example, we already have a digital library they can connect to, but, we got into the habit of sending them WeTransfer files with our lifestyle and product images to save them time on the creation of web banners."
Bath & Body Care
With the introduction of CBD and other trendy ingredients, bath and body products are constantly being refined to deliver luxury in a bottle. Among one of the top trends in bath and body products is the infusion of skin-softening oil.
High On Love is introducing the latest addition to its collection of CBD-infused sensual body care products — a luxurious new soy-based Sensual Massage Candle that's made with cannabis oil and coconut oil.
"Not only does it promote relaxation and soften your skin, but it's the perfect excuse for some romance and skin contact — which we could all use more of these days," High On Love's Renee Morrison said. "Another pandemic-era favorite has been our lavender and honey Sensual Bath Oil (also blended with cannabis oil). Baths are a self-care staple to begin with, but this oil really elevates the experience and leaves you feeling extra-relaxed and pampered."
Exsens' Rebecca Pinette-Dorin agrees that body oils "are really hot right now," pointing out that customers are more aware of ingredients and potential allergens.
"They are looking for all-natural alternatives and body oils, unlike lotions, don't require artificial preservatives and allow for simple, pure formulas," she said. "Plus, they are certainly more sensual and versatile as well!"
Exsens also is keeping things natural with its new Intime Balance Intimate Cleansing Gel, which will be out later this month. It's organic Aloe Vera-based, pH balanced, soap-free and like all Exsens products, it is vegan and paraben-free.
With salons closed because of the pandemic, consumers were left to fend for themselves when it comes haircuts, manicures and waxes. Perhaps that's why Shani Hart reports her store Hart's Desire has seen an increased demand for shave cream — specifically, Coochie by Classic Erotica.
"It's an awesome product that makes shaving a more enjoyable experience when maintaining your pubes yourself and it also moisturizes the skin after," Hart said. With all of the salons and spas closed due to the pandemic some of our customers still wanted to keep their hairy parts in the same manner that had them feeling their sexiest just like when the world was normal."
To cope with the stress and anxiety of the world, people are treating themselves to at-home spas more these days.
"The added stress, in conjunction with the extra time people find themselves with, are both responsible for this uptick in the need for self-care," Sliquid's Erik Vasquez said. "We knew our customers were dying for a day at the spa so we launched a Self Care 'N' Chill giveaway where one of our social media followers, and two of their friends, could win product from our Balance Collection."
With cleanliness becoming a priority in everybody's lives nowadays, intimate washes and cleansers are also being highly sought after.
"I am seeing a new type of category emerging that I like to call 'men's intimate care,'" Sliquid's Erik Vasquez said. "From butthole scrubs that taste like coffee to ball sack wash, the grooming of men's nether regions seems to be up-and-coming."
Self-Care in a Pandemic
As one of the more mainstream-friendly pleasure product categories, bath and body items have been particularly popular this year, as people indulge in self-care during quarantine.
"Some people found themselves with a little extra in their budget because they weren't spending money on dinners out or going to the movies — it makes sense that they'd take that extra money and spend it on body care products just to make themselves feel good and alleviate tension," EngErotics' Raven V. Faber said.
Because self-pleasure — aka masturbation — has so many stress-reducing benefits, the rise in sales of vibes and lube could also be attributed to self-care.
"At chez Bijoux Indiscrets, masturbation items and massage related products were the top sellers: vibrators, masturbation gels and all our Slow Sex cosmetic range were top sellers," Bijoux Indiscrets' Elsa Viegas said. "We see more people buying, more people coming back and the average purchase amount kept stable."
With COVID-19 and nationwide protests against racism, Lora DiCarlo decided to amplify the importance of self-care with education around the mental health benefits of orgasms and pleasure.
"But we also have to be very clear that a lack of sex drive is also a completely valid reaction to everything that's going on in the world today, so creating more resources for people across a wide range of self-care — how to improve communication in both your sex life and beyond, and how to make an impact in your community while still taking care of yourself," company founder Lora Haddock DiCarlo said.
Having been diagnosed with COVID-19 herself in March, DiCarlo said that she knows personally how important it is to take care of oneself.
"It was one of the scariest medical experiences of my life, so I know firsthand the effect stress like that can have on your life," she said. "It's part of why I felt it was so important during this time to lean into messaging around self-care."
Voodoo Toys also is encouraging its social media followers to engage in self-care during this stressful time. The company also is urging people to stay home (and stay safe.)
"We felt it was important to support the 'stay home' message to our customers," Voodoo Toys' Sally Cotching said. "Voodoo's products are based on creating a pleasurable experience for the user, so we also advocate to use them for stress relief in this stressful time. Our social media messaging has been to use campaign images of our beautiful models enjoying time at home, with the messages 'stay home, get off', 'solo sex is safe sex', 'stressed spelled backwards is vibrator/masturbate', and 'stay bzzzy, stress less.'"
To encourage customers to "take the edge off isolation," Hot Octopuss gave away 1,200 AMO vibrators.
"It was one of the most satisfying campaigns we have ever done to help folks prioritize self-pleasure during very scary and uncertain times," Hot Octopuss' Julia Margo said. "The ROI was way bigger than we could have ever imagined, not just in terms of the physical sales after the campaign, but also an invaluable return in the form of loads of messages of gratitude from people who were (and are) in the midst of a global crisis and needing a pleasurable distraction.
"We've also written a series of blogs suggesting ways to navigate sex and relationships during the pandemic, from recommending 'aural sex' in the form of sex podcasts you can listen to on headphones when privacy is hard to find, to looking at why your sex drive might increase or decrease during a crisis like this, and what you can do about it," Margo added. "In terms of customer service, we've changed our approach for the pandemic to make it easier for customers to get replacement products if they have problems, given difficulties with the mail."
Lubricants
With more time at home, couples that were quarantining together had a lot more time for sex.
"I think more than anything, they were trying out new stuff," Exsens' Rebecca Pinette-Dorin said. "In normal times, busy with work and social life, it's not always easy to find the time to plan a scene, role-play or try anal. With COVID, everyone had only time! Speaking with my online retailers, they noted a serious uptick in grouped purchases: vibrator + handcuffs + lube or blindfold + harness + lube … Clearly, folks were looking to mix it up!"
Before sex, there's always foreplay — and Pinette-Dorin says it's obvious that people were investing more time in their pleasure.
"We saw a huge boost in our flavored warming massage oil sales through our web retailers, for example," she said. "That could certainly be interpreted as more people taking time to be romantic, rather than just a quickie or masturbation."
According to Erik Vasquez, at Sliquid, lube sales have been through the roof.
"Couples are definitely exploring intimacy more often because what else is there to do when you have an entire week of time to fill and absolutely nowhere to go except on walks and to the grocery store," he said. "It's also no secret that orgasms help relieve stress and, let's face it, aren't we all a bit stressed? Our Sliquid Naturals Collection takes the top place in terms of sales. H2O and Silver rank in at No. 1 and 2, respectively. It makes sense because together, they cover a wide range of customer bases. A lot of people are either water-based lovers, or silicone lovers, and they tend to be loyal to that type of formula."
Although initially imagined to be a trend, Wicked Sensual Care's Cassie Pendleton said that she continuously sees ingredient-particular consumers looking for high-quality lubricants made with certain ingredients, and without others.
"Our newest line, Simply, released in February 2020 in direct response to this growing demand," she said. "We continually listen and respond to the evolving needs and wants of our customers and Simply is the latest embodiment of that. Each of the four Simply formulas is made without glycerin or propylene glycol. We have also enhanced each product with our signature olive leaf extract, a natural biostatic that offers additional peace of mind by helping to curb the spread of any harmful bacteria and microorganisms."
Although recent statistical research has shown that the pandemic is impacting people's sex lives in different ways, Pendleton reports hearing from online retailers that sales during "stay at home" orders have greatly increased.
"We also see a lot of content geared towards both singles and couples, touting the benefits of sex and intimacy during this time," she said. "From solo to partner play, the self-care and connection aspects of pleasure seem to be welcome tools or perhaps coping mechanisms during this time."
BDSM Gear
It's been a few years since "Fifty Shades of Grey" took the world by storm and brought global mainstream attention to the world of bondage play. Already an adult retail staple category, new BDSM products have continued to roll out with designs that appeal to all levels of bondage players.
Bijoux Indiscrets credits "Fifty Shades" with introducing a softer, more romantic way of looking at BDSM.
"Historically BDSM was always associated with something edgy, dark, niche, suitable for some people and especially not something that you talk over a coffee with your friends," she said. "Fifty Shades made it OK, something that you might give a try with glam. Also the fashion industry became inspired by BDSM aesthetics, incorporating harnesses in their catwalks and bondage-ish looks on red carpets. Just think about the slick red carpet look of [American figure skater] Adam Rippon wearing [a leather harness by] Moschino."
For Bijoux Indiscrets, their BDSM-inspired best-sellers include handcuffs followed by chokers. "Our harnesses represent a different type investment and personality, but are very popular both in and out of the bedroom," Viegas said.
Among the most popular materials for BDSM gear at the moment is vegan leather, Viegas added.
For Lovehoney, which manufactures the official collection of Fifty Shades-branded pleasure products, the company says that the erotic love story of Christian Grey and Anastasia Steele continues to draw customers.
"We always receive a lot of demand from customers asking when something new will be released from this collection," Lovehoney's Ellie Ford said. "So many will be pleased to know we have a new toy and bondage collection to look out for in October 2020.
"Our Fifty Shades Of Grey range has been a real winner during this time — we saw a 36 percent uplift in sales year-on-year in April alone," Ford added. "We owe this to the fact that more than half (54 percent) of couples have been enjoying more adventurous love-making during the COVID-19 crisis according to our recent survey — which we love!"
While the pandemic initially turned the adult retail industry upside down, companies are entering into the second half of this eventful year a bit more optimistic and a lot better prepared. With trends showing that customers are embracing sexual pleasure while in quarantine, this summer's new releases are sure to find a welcoming home.