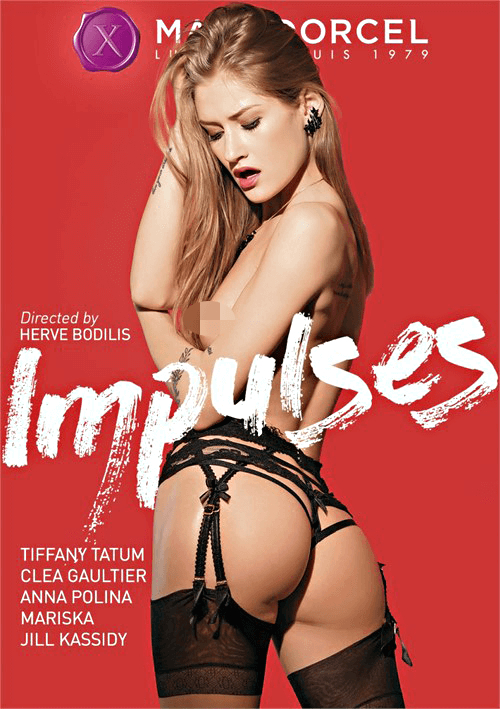 Dorcel contract director Herve Bodilis brings another stunning mini feature to the consumer with his latest project. Held aloft by a dynamite cast that includes current and former Dorcel Girls Clea Gaultier and Anna Polina, this film follows an enticing theme and delivers some of the most scintillating sex to come from the European studio in 2020.
Jill Kassidy and Kristof Cale:
Lady of the night Jill Kassidy dons a black wig, lacy undergarments and a tan trench coat before venturing into the dark streets looking for a partner to satisfy the lustful urges she's been holding at bay all day. When frequent customer Kristof Cale pulls up to her street corner, she happily brings him back to her place (one of the few to whom she affords such personal treatment), for some sexual shenanigans. I did quite enjoy the moment where Jill doffed her wig in response to Kristof's tongue lashing on her pussy, as it showed her willingness to shed her facade and give in to her pleasure. It's particularly evident when she's riding Kristof and he cradles her close; Jill's face is awash with pleasure.
Clea Gaultier, Lutro, Rico Simmons and Joss Lescaf:
Excited to spend a sexy evening with her partner Lutro, Clea calls him to confirm their plans, only to discover he intends to spend the night hanging with some old college buddies who came into town unexpectedly. Disappointed, Clea pleads her case, reminding Lutro that they only get to see each other once a week, but Lutro reminds her that while he enjoys her company, they're nothing more than fuck buddies.
Undeterred, Clea decides to crash their party because no matter what, she intends to get fucked tonight, and if she has to share Lutro with his old pals, so be it. Some might see this as Clea simply taking charge and getting herself some dick, but I really think Gaultier showed some genuine vulnerability at the idea of being cast aside by Lutro. What follows in an incredibly raunchy four way with every one of Clea's holes getting drilled as she sluts herself into a night of debauchery. It's almost unfathomable how easily Clea can draw the audience into her lust with her eyes. Watch her face as she lays back-legs splayed wide-with two cocks in her face as the third slams her asshole. She is beyond loving how slutty the entire encounter is, especially when Joss Lescaf stuffs her arse full.
Mariska and Maximo Garcia:
With her husband delayed out of town on a business trip, and craving the satisfaction of a cock inside her, Mariska finds herself purposely teasing the young Maximo Garcia who routinely jogs by her home. One day after letting her massive mammaries burst forth from her flowered sundress, Maximo motions for her to come down from her balcony to meet him in the garden and when she does, Maximo nearly inhales her. Worried they'll get caught, Mariska takes him inside, and Maximo proceeds to give her the fucking of a lifetime.
The story Mariska tells through her body language is a testament to the strong performer she is. This is not just Mariska getting fucked, this is a woman who hasn't felt the true pleasures of the flesh in so long, being reminded just how blissful sex can be. Mariska is in near shock the entire time Maximo is pounding away at her, but the audience can tell by the look on her face and the intensity in her eyes that she never wants him to stop. When he tells her he's going to fuck her in the ass, she practically begs him to do it and my God is it hot. When sex is accompanied by a strong narrative like this, it really comes to life.
Tiffany Tatum and Ricky Mancini:
Wrapping up some business on the phone before a planned date with someone from a popular app, the delicious Tiffany Tatum meets the suave Ricky Mancini for evening drinks and the two hit it off. Tiffany tells Ricky to meet her at her flat later, instructing him to come in without questions and use her. Ricky obliges in the filthiest way possible and absolutely rails Tatum to pieces. At one point, Tiffany nearly explodes off the bed in a rocket of ecstasy as Mancini fucks her while rubbing her clit furiously, and another instance has Tatum literally trembling in the throes of orgasm as Ricky slams himself into her while she sits atop his cock. It's all very nice.
Anna Polina, Lutro and Maximo Garcia:
Against her better judgment, Clea drives her friend Anna to meet two online strangers who have promised her intense, unforgettable, sex through a series of raunchy, online messages. After swearing to call if she needs anything, Anna finds herself alone with these two horny studs and she gladly lets them have their way with her. Oh my word, does Anna have a wonderful set of tits! I really could look at them all day. Absolutely loved the fact that Anna kept her panties on the entire time, and I loved the finish all over them as well.
There is some really great sex in this movie coupled with some predictably stunning visuals as Bodilis shows once again why Dorcel made him a contract director. Clea Gaultier is her typically sensual self, but the standout here is hands down Mariska who delivers a helluva performance.