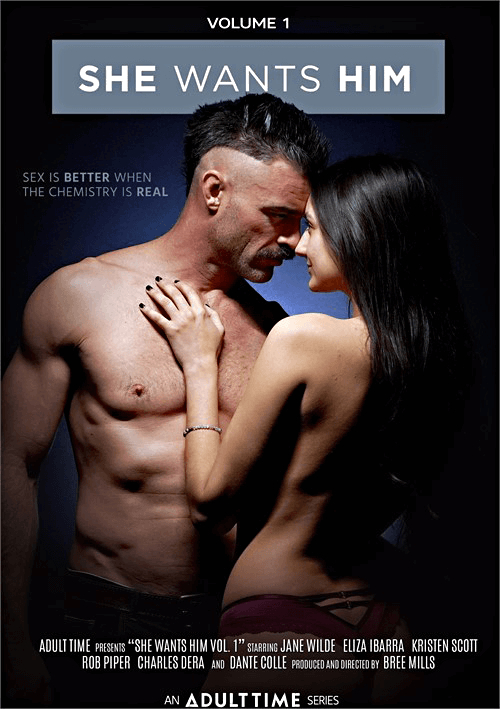 She wants him — and he absolutely wants her! And I don't blame him one damn bit! That is, thanks to the scrumptious looks and amorous talents of Jane Wilde, Eliza Ibarra and Kristen Scott, Adult Time's "She Wants Him, Volume 1" is a winner of a couples' title which'll get off viewers in no time at all.
Lovely brunette Jane Wilde begins the high-energy action, as she's paired with big-pricked, heavily dick-dunking Rob Piper. As with the other two all-sex episodes included here, performers Wilde and Piper initially (as prompted by behind-the-camera questions from director Bree Mills) talk about why they're turned on to one another, until they're/we're soon ready for some serious sucking and fucking. Wilde quickly gets majorly face-fucked (during which she emits wonderfully obscene sounds), soon burying her tongue up Piper's ass (good girl!). Jane-baby is terrific during cowgirl, putting all of herself into it. There's also some split-screen action, where we sometimes see the licking and sticking simultaneously from two (even, at times, three) different angles. The sweat and moans from Jane really begin to roll during some Wilde doggie, with Rob ultimately blasting off onto her tight little butt cheeks.
Next Eliza Ibarra (looking highly humpable) gets it on with Charles Dera (sporting a Mohawk), with Ibarra giving her usual superb deepthroating, my favorite positions being cowgirl, showing off that incredible butt, as she energetically rides Dera-dick; doggie, which is killer in that it similarly spotlights that delightful derriere as her equally scrumptious-looking tits dangle; and missionary, as it's way-deep while also showing off her meaty thighs.
And we end on a scalding note, with Dante Colle taking on cutie Kristen Scott (now with short hair). 69 is pretty damn arousing, as Scott sucks to the balls, while visibly loving her pussy getting well-eaten. Kristen, of course, has always been excellent in the cowgirl position, grinding down on that dick oh so expertly. She also gives a fine upside-down bj that's thoroughly slick, successfully hitting that boner's baseline numerous times; while doggie is another way-passionate segment, as Dante drills as far as he can go, during which time Kris seems to lose it (those inverting eyes are definitely the keys to her soul/hole); and check out how crazed Kristen becomes during piston-pumping reverse-cowgirl, going absolutely bonkers while showing off that tasty spinner's body; Colle blowin' boy batter up her twat, with Kristen lickin' his stick clean, as well as hungrily Hoover-ing up whatever cum has spilt onto him. Scott's a good lil' slut. Love her!
This one's definitely a choice pick for couples, as the performers show intimacy between themselves before the spirited slurping and slamming begin, none of which is too off-the-scale in terms of kinkiness and nastiness; while all three ladies are truly tasty and perform superbly in that they quite obviously dig their work; and, yes, the multiple-angle camerawork/editing adds another unique dimension to the gonzo which couples might additionally appreciate.