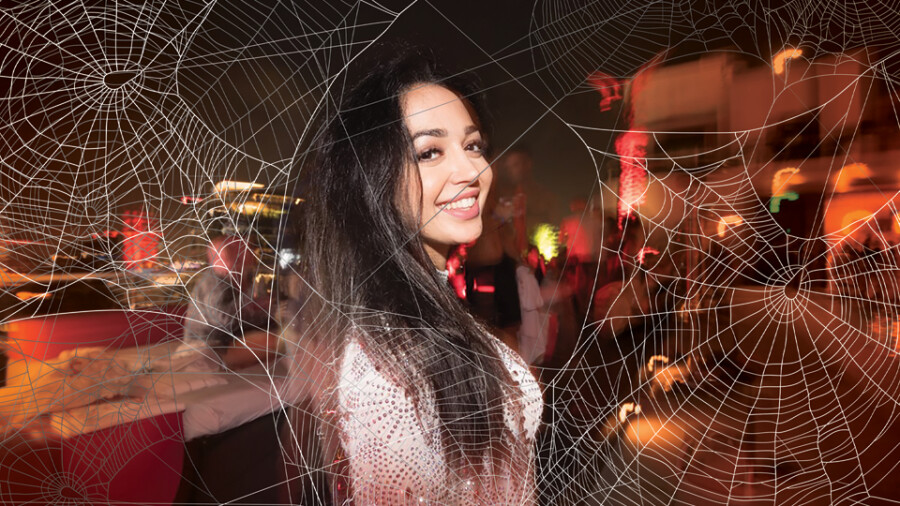 It's almost midnight, October 31 to be exact, and it's time for your annual Halloween cam show — so you get those cat ears on and start your show as you typically would. Suddenly, there's some ruffling in the background and viewers ask if it's a roommate or a pet, but you let everyone know that you have neither. The show must go on … that is, until you hear the faint sound of nails tapping — viewers tell you it must be a neighbor, but it slowly gets louder and then silence — it stops. Your phone begins to ring. Sadly, it's not a friend — it's just a random number and you let your viewers know that all you can hear is heavy breathing on the other line before it cuts out completely and the tapping starts again.
As anyone would do in any great horror classic, it's time to check out what's going on, so you let your viewers know to stay put for a minute while you do some investigating — everyone's feeling some light goosebumps at this point … and then the tapping starts again. The screen is suddenly filled out by a terrifying monster mask, a scream … and here comes the big reveal!
Are you getting ideas now for an extra spooky October?
Halloween practical jokes bring some creepy variety to your show and can get viewers hooked if you start your show in such a way, and then after a surprise twist of your choosing at the end, things can get a little sexier.
You may want to start considering all the ways you can get spooky with your viewers, and maybe even let them watch you getting ready for the scariest night of the year, making them part of the process. This season also presents a great opportunity to tell scary stories while you're dressing up, or just chatting with your viewers as you let them know what you have planned for the rest of the evening.
And keep in mind, Halloween contests and shows don't need to only be reserved for the one night. It's great to take advantage of the entire month of October and lead up to a grand finale on the 31st. A great idea for a contest that I stumbled upon and have since then always recommended to performers is a "Fan Favorite Scary Story Contest." This is simple to pull off, can be a ton of fun and viewers hearing their favorite broadcaster reading their story out loud can be such a special and intimate experience. At the beginning of the month, make an announcement every show that viewers can submit scary (yes, they can be sexy too!) stories and on the night of Halloween you will read your favorite two to four stories and let the viewers pick the winner. It's interactive, creative and a great way to make sure viewers come to your room on Halloween to find out who the lucky winner is.
Viewers on cam sites love the month of Halloween just as much as broadcasters, let me tell you. It's a month filled with exciting shows and viewers love seeing just how crazy and creative broadcasters can get. The effort you put into the Halloween shows does not go unnoticed and the tips will start pouring in.
Another great way to take advantage of the entire month is by putting on themed shows weekly. An idea that I will definitely be suggesting to broadcasters this year is to pick their favorite horror films to feature in their themed shows and get your costume inspiration there! It's a great conversation starter with the audience and a fun way to showcase your personality and interests.
During the September slump, do some preparing for the crazy month of Halloween. The CAM4 platform for instance provides broadcasters with a "MYSHOP" space where they can upload clips and content for sale. It's a great idea to prepare Halloween themed clips in advance and post them all throughout the month of October. Things tend to get hectic, so getting this out of the way in advance will be worth it and will leave you more time to focus on your live content during Halloween. You can even use clips you made as prizes for fans!
Another way to make money other than through live shows and selling content during the month of October is by participating in Halloween cam contests! Pretty much every site puts on annual Halloween contests that can make you more money and get you additional exposure. Last year, we put on the annual "Freaky Halloween Contest" to award the performers with the most creative costume and theme. Make sure to keep yourself up to date about what contests will be happening this year for Halloween.
If you have always had a curiosity for cosplay or any niche content, Halloween is a great time to explore it! You can check out other models to see what they are doing and experiment. Camming is an art and getting creative can play a huge role in your overall success.
Vicki Gray is a CAM4 account manager, who can be followed @VickiGrayxxx on Twitter and contacted by email at Vicki@CAM4.com.