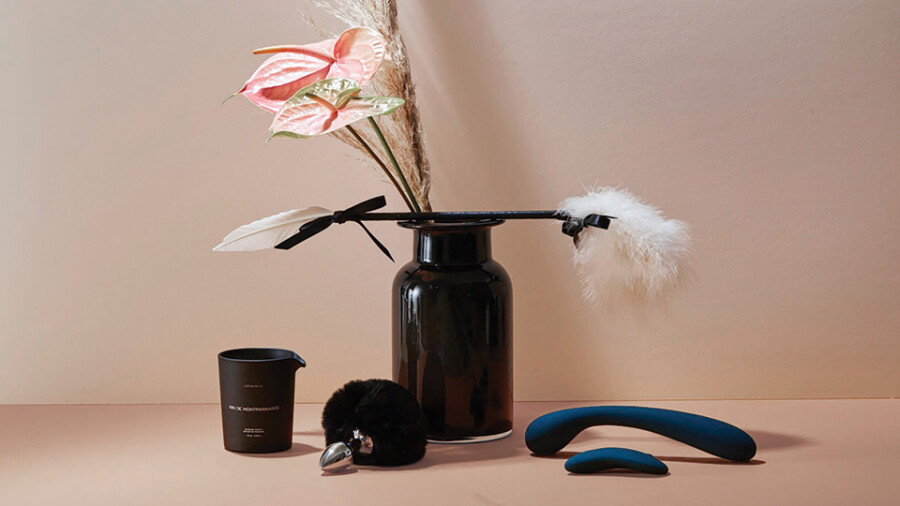 Luxury needs no bells and whistles to attract the most discerning eyes. High-end pleasure brand Kiki de Montparnasse has created an entire sensual experience that begs a cliché question: can one ever truly have too much of a good thing?
Like choosing a fine wine or expensive chocolate, purchasing a Kiki de Montparnasse work of sex toy art, lingerie or sensual accessory is an act of pure indulgence and decadence. Though the company is a known name in the lingerie world, their team of intimate experts has revealed a new side to the business' brand identity.
We wanted to create something that meets all the sexual wellness standards of quality and body-safe materials but has an indulgent, luxurious feel.
Molly Murphy is the co-founder and managing director of the recently established Kiki de Montparnasse pleasure products division. An industry staple, she's best known for her decade-plus work with pioneering luxury sex toy brand Jimmyjane, where Murphy oversaw e-commerce and sales, PR and marketing. She's lectured at the famous Kinsey Institute of human sexuality research at Indiana University and is an active member of the Women of Sex Tech professional collective.
"I love the fact that I get to pair my experience in the industry with this brand that I had admired for years," Murphy gushes. "While there is a wellness-driven sector of the premium market developing, I still felt there was room for another luxury brand."
In 2018, Murphy and Kiki de Montparnasse founder Brian Cytrynbaum jointly embarked on a mission to create new luxury offerings in the sexual wellness category. The high-end Kiki name and reputation provided the perfect backdrop.
"I have followed the company for more than a decade and always felt their presentation was unparalleled in the lingerie category," recalls Murphy.
"When they had boutiques, they were almost like a study in sexual exploration and curiosity, and they really pushed the boundaries, particularly for a fashion and lingerie brand," she describes. "That is what drew me to them initially, and then I was given the opportunity to co-found this division and really build a line from the ground up."
Murphy is responsible for product and business development, and under her direction, Kiki de Montparnasse has developed 18 SKUs across a range of pleasure categories, including couples' products, luxury sex toys, massage oil candles produced in France, and bondage jewelry.
Appropriately enough, the original Kiki de Montparnasse was a French artist's model, literary muse, nightclub singer, actress and painter. Born Alice Prin in 1901 and later nicknamed the Queen of Montparnasse, Kiki was a flourishing cultural figure in the Montparnasse region of southern Paris in the 1920s. She helped define the liberated, artistic culture that still draws bohemian dreamers and fashionistas to the City of Lights.
"Not only beautiful, Kiki was also known for her self-confidence as a sexually liberated woman, especially at a time when so many women faced societal sexual repression," says Murphy. "I find the name really empowering. Kiki was so ahead of her time, yet perfectly represents women today."
Established in New York in 2005, the modern Kiki de Monteparnasse company is (or was, as of now) first and foremost a luxury fashion and lifestyle brand. Much like its French namesake, the brand thrives on creating art out of the naked, female form with lacy, Parisian-inspired lingerie designs and ready-to-wear street fashion that leaves little to the imagination.
With Murphy's expertise and guidance, the company unveiled an in-house pleasure products collection in 2020. Elegant vibrators, stainless steel and crystal wands and eggs, massage oil candles and lubricants, and kinky gold jewelry are now at the forefront of the brand's identity. "With the new pleasure line, we really wanted it to be competitive in the pleasure product industry, and so it is priced accordingly with the premium market," says Murphy.
The Flexi Vibe, a slim, leaf-shaped vibrator made to fit in the palm and boasting of eight vibration modes, retails for $135. The Dual Warming Wand, a double-ended, silicone wand with both heating and vibrating capabilities, sells for $160.
Similarly, a cashmere bralette sells for $275, and it can cost upwards of $75 for a black thong panty.
"The typical KIKIDM customer is a luxury customer who is willing to pay for quality and originality and he or she isn't necessarily price-sensitive," Murphy highlights.
While many sex toy brands now aim for a broader market through the affordable luxury route, Kiki de Montparnasse heads straight for the top of the consumer food chain. This brand preaches the true luxe lifestyle every step of the way, from the price right down to the un-boxing experience.
"We wanted to create something that meets all the sexual wellness standards of quality and body-safe materials but has an indulgent, luxurious feel that really reflects the Kiki de Montparnasse brand," says Murphy. "Everything from the packaging to the sculptural shapes of the products is premium, thoughtful, and feels decadent."
Currently, the Kiki team is highlighting the aforementioned Flexi Vibe and Dual Warming Wand, both in full, flexible silicone and focused on deep, rumbly vibrations.
The brand also launched an air stimulation device, the Cloud Massager, which aims for compact, clean design with an approachable look. Murphy says the Cloud is selling quite well after receiving rave reviews from several influencers on Instagram. Other pieces in the collection include massage oil candles from France and a gold bondage jewelry collection that includes a collar, cuffs and leash, which have been featured frequently in the press.
"All of our items come in premium, keepsake packaging as well as luxe travel pouches," says Murphy. "The customers have responded really well to the look and presentation, which set our products apart from a lot of items out there."
However, for retailers assuming their low-to-average income clientele could never work a Kiki objet d'art into their bedroom budget, Murphy and her team have assessed and proven otherwise.
"What we have found since launch is that it is drawing a lot of new customers — people who have already admired the KIKIDM brand, but couldn't necessarily afford some of the lingerie or other pieces," says Murphy. "Similarly, we are seeing a lot of longtime KIKIDM customers explore toys for the first time, because of their trust in the brand."
While Murphy and her team are undoubtedly proud of the brand's initial success, Murphy feels the brand's growth has yet to be fully explored due to the difficulties of B2B marketing during COVID.
"We launched in January and while the response to our products has exceeded expectations, it has been a tough year for connecting in person with retailers and other potential partners," says Murphy.
Team Kiki has mainly worked with social media influencers on marketing campaigns to spread the word, and the company says that it is still seeing results from a summer promotion with a beauty influencer from last July.
In addition to a new product launch slated for the holiday season, Murphy reminds us of the true power behind the Kiki de Montparnasse name: a connection to the sought-after mainstream luxury market, and a route to success for those just dipping their toes into the sex toy space.
"I think KIKIDM gives more mainstream personalities permission to present these items to their audiences without feeling like it's too much of a risk to their personal brand," concludes Murphy.