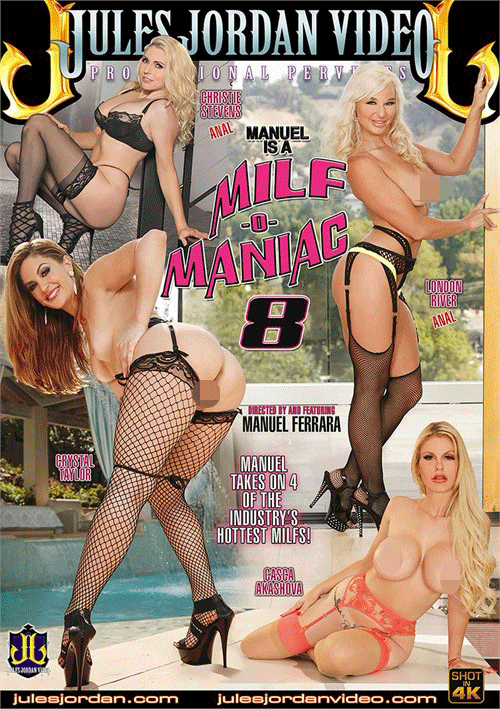 Three randy blonde MILFs and a red-headed older-bolder babe get the Manuel treatment, with some truly sizzling results!
The ridiculously sexy Casca Akashova (I dig her unique name) has magnificently augmented mammaries (they're truly incredible to view) and one juicy-as-hell butt (a pretty face, too), making her scene a fantastic opening, as Manny bangs her silly. After some arousing glam footage, blonde Casca materializes upon on bed, with Manuel soon magically appearing, as well. Our busty girl is particularly marvy in the cowgirl position with that stupendous butt rockin' and rolllin' all over the place. I also like it when filthy Ferrara sticks a thumb up her anus during doggie. And you're in for a treat during reverse-cowgirl, with those cantaloupe-sized orbs bouncing like crazy with their ever-erect nipples (on Casca, not Manny). Akashova also likes having her big fanny slapped. Love this chick. She even eats Ferrara's ass just before he blows Manny-paste all over her well-made-up face.
Red-headed Crystal Taylor has much smaller tits than Casca, and not as big an ass, but she's definitely in the same lusty league as Casca in terms of enjoying her helping of raging hard-on. While Casca is more of a traditional (as in slow and easy) cocksucker, Taylor goes to right to the friggin' base o' that baseball bat: It's loud, wet, nasty. I especially liked seeing Crystal squirt, while her squatting technique during cowgirl is a truly rewindworthy moment.
One of my favorites MILFs here, next to Casca, is big-bootied, platinum-blonde London River, who's simply pure porn, from face to feet, with huge all-natural boobs and a very retro-looking 1950s face (check out those giant head-givin' lips, too!), soon getting heatedly hammered via Ferrara-rod, including her anus. I like how she so willing to get totally face-fucked, eventually screaming with meat in her mouth as Manny fingerfucks her sopping twat. London likes to kiss, too (they all do; guess it's in their respective contracts). While ass-fucking London spoon then missionary is choice, Manny also gets our lusty London lady to squirt. Doggie-anal is a movie highlight, with Manny later sticking four fingers up her ass, and London gasping to him, "Thank you!" Such a great slut. She loves getting her ass slapped during doggie, her asshole soon gaping for the world to view. I even love seeing her big ass up in the air as she eats Manny's ass. And those butt cheeks really undulate during reverse-cowgirl-anal shot from Manny's perv-spective, leading to a molten ATM that's balls-deep. And we end with missionary-anal, London diddling herself to climax just before Ferrara fills her asshole with boner butter; London impressively pushing it all out. Such a horny tramp.
Christie Stevens is a pretty blonde who ends this gnarly gonzo on a high note with her molten mouth and muff antics — and her asshole! And on top of all o' that good stuff, she's a super deepthroater! It's quite nice seeing her anus bounce on dick during reverse-cowgirl, as she lowers herself back to kiss the lucky Manny, while it's fun hearing her groan and grunt during doggie-anal. Christie also likes being spanked (guess they all do; but all o' those spankings are sincerely appreciated by the ladies). It's fun seeing Christie's pretty face while Manny hammers her butthole missionary style while fingering her twat. You'll dig her big all-natural knobs, too, while she takes a pop shot in the mug oh so well.
These older women know how suck and fuck with relish, particularly the anal-minded London River, while it's a true joy to behold the wildly curvy Casca Akashova getting her vagina blasted out via the freaky Ferrara technique.