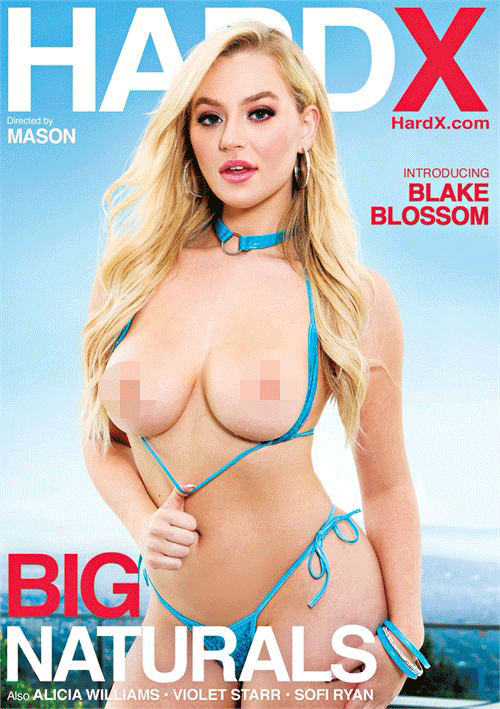 Boob-a-licious blondes and brunettes show off their heaven-sent hooters — as well as their fine fannies — whilst getting heartily hammered orally, vaginally and (in one case) anally in this hellaciously horny Hard X hump-a-thon!
Here's an underrated star if ever there was one: brunette Sofi Ryan, and that includes her face, ass and naturally, her tits; getting the Hard X treatment from reigning XBIZ Male Performer of the Year, Ramon Nomar. Sofi's tits are so big, she and Ramon can both suck on one of her nipples at the same time. Love it! She's also one helluva cock-choker, going down to that Nomar base with her gullet. Good girl! Sofi produces so much spit, her cleavage is totally slick for a good boob-bangin', which Ramon thoroughly enjoys — a few times, in fact, throughout this torrid titty tittle. "You like how my titties bounce while you fuck my pretty little pussy?" she asks him (as they bounce… while he fucks her pretty little pussy). I also like how Ryan's breasts undulate even moreso during reverse-cowgirl, as her eyes disappear into her skull from unbridled ecstasy, while her ass cheeks have a mind of their own during cowgirl, Ramon-rod ultimately making a mess o' those mams after some serious Sofi-screamin' (she does scream quite a bit, so you've been forewarned).
Next, DVD cover babe Blake Blossom shows off her delightful chest orbs before this bodacious blonde gets slammed by grizzled veteran dick Michael Stefano, returning to the fuckfold after quite a hiatus. Again, Blossom's boobies are big enough to suck herself, as well as allow a dick to successfully titty-fuck 'em. Blossom's boobs beautifully blossom during reverse-cowgirl, while they crazily circulate during missionary (where you can enjoy her curiously turned-on expressions). Blake can suck dick quite deeply, too; Mikey boy blowin' ball-batter all over Blake-boobs after some heavy duty mish rammin'.
Brunette Violet Starr (an all-time fave of mine) has big boobs, and while not as large as her predecessors, they're damn nice; and she has one cute-as-hell face and a choice ass. Hell, I even adore the little dark bush covering her pussy; as another grizzled veteran vine swinger — none other than (surprise!) Mick Blue — has his way with another "Big Naturals" honey. Vi's tits are definitely big enough to fuck, which Mickey most certainly does, followed by some animated standing doggie, while she really works her pussy and breasts during reverse-cowgirl; and wait until you see those ass cheeks wobble during cowgirl. Vie is killer. And when Starr says she's coming with Mick during missionary, yes! This chick is totally sex-crazed. With any guy, Vie is simply insatiable. Mick eventually whitewashes her boobs with goo after some potent missionary plowing. One of this gonzo's absolutely best sequences!
We conclude our boob-fest with Alicia Williams, whose headlights are also not as large as those on Sofi and Blake, though (like the treasures on Violet) they're big enough to enjoy, with Alicia getting her anus blasted out in her scene via Michael Stefano's sword. He goes for that anus quickly, too; first during missionary, then doggie, then spoon, though my favorite (when Stefano moves his hands off the goods) is cowgirl, with Ally's squatting action letting you really appreciate that round, wet, shiny butt. Stud Stefano eventually creams all over her chin (when she finally smiles!) after missionary anal — where you absolutely see her boobs swirl the most!
All of the girls rock in this all-natural-boob-a-rama; but get it especially for brunettes Sofi Ryan and Violet Starr, both of whom truly shine in terms of their all-out passionate performances in my view.