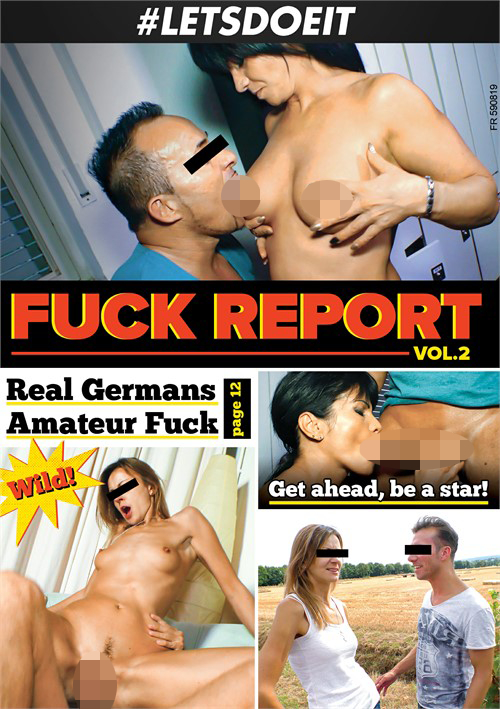 European studio LetsDoeIt presents a collection of scenes from the popular Deutschland Report amateur German series. Each scene is filmed from a combination reality/amateur perspective which means everything is presented in a less polished but more realistic manner. Each scene is also presented in German as all the stars are themselves German, but it's not hard to follow the action.
Georgina G. and Jungle:
Jungle and his cameraman pick up Georgina as she's walking through the park. After a quick conversation, the stud convinces the hot-to-trot vixen to come back to his flat for a good time. Georgina wastes little time sliding Jungle's cock down her throat, and she alternates between riding him and sucking him like a famished vagabond.
This woman loves to give head and I think if Jungle would have let her she would have spent the entire time sucking him dry. He does get a good go at her pussy though and he takes full advantage before dropping his load on her perky tits and chin.
Teresa Lynn and Olli:
Olli runs across a strolling Teresa near the train station and convinces her to come back to his place. Teresa's got huge tits and a fat ass and the cameraman captures both with an abundant number of shots.
Teresa is a pretty sensual sex partner as noted by the way she teases Olli's cock with her tongue while raking her fingers along his legs. the camera gets a naughty shot of Olli pounding Teresa's plump pussy from behind and more than once she has to change positions to keep Olli from blowing his load. After a nice ride on the couch she strokes his seed into her hand like a proper slut.
Simona J. and Andreas J.:
Andreas coerces Simona into his apartment after telling her his car has inexplicably broken down. After checking the bed for bugs, Simona decides an afternoon fuck wouldn't be the worst thing in the world and starts gobbling Andreas's meat hungrily.
There's something satisfyingly slutty about the way she raises her shirt to expose her tits while hiking her skirt up to do the same for her pussy as she swallows Andreas. It's quite frankly the most arousing moment in the scene. There's a very fun cowgirl that is captured nicely by the camera before Andreas jacks himself to a naughty finish in Simona's waiting mouth.
Judith S. and Toto:
The voluptuous Judith finds herself comparing tattoos with Toto in his flat and that leads to the inevitable carnal encounter. Judith is very sexual and the more Toto pinches, smacks and fingers her, the more into the sex she gets. It doesn't take long for her to completely smother Toto with her sexual hunger as she urges him on with her moans, groans and dirty talk.
She responds to his every thrust by pulling him deeper inside her and urging him to fuck her harder. He eventually strokes his massive load onto her as she gapes her pussy for him.
Evelyn S. and Frank S.:
Evelyn is a slow burner lover. She really takes her time sucking Frank's cock, using her mouth to take him from nearly flaccid to full mast methodically. It's honestly quite erotic. She's also very deliberate in the way she enjoys Frank fucking her. There's no wasted movement in her body; it's like she channels all her sexual energy into her loins so she can fully enjoy Frank's cock sliding in and out of her pussy. When Frank flips her over into doggie, she reaches underneath her pussy to caress his balls in a move that's just slutty enough to push him over the edge.
This compilation offers a good sample of what the Deutschland Report scenes have to offer. There are 41 scenes in this series so if fans like what they see here, there's plenty more where that came from.