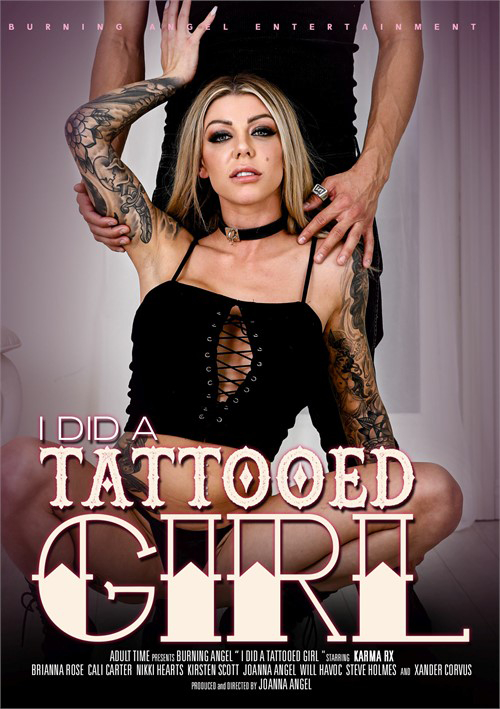 Burning Angel presents a collectin of scenes from the mind of studio founder Joanna Angel, encompassing some of their most popular titles.
Brianna Rose and Xander Corvus:
This scene is a one-shot showcase featuring voluptuous vixen Brianna Rose. She sports some fun tattoos including a flock of bats on her shoulder accompanied by a tribal beetle, two portraits, a ribbon and a Star Wars rebellion tattoo coming together to form a sleeve. She also has the words "keep calm" decorating her hamstrings. The theme of the scene is clearly hardcore BDSM play and Xander delivers exactly the fucking you'd expect. He hammers Brianna hard, fast and long, raining pinches, slaps and choke-holds upon her relentlessly. Brianna looks great in her corset and she endures Xander's sexual ravaging lustfully.
Karma Rx and Xander Corvus:
From Burning Angel's film "Cum on my Tattoo," this scene features the sultry Karma Rx alongside Xander Corvus. Karma's coolest tattoo is arguably the massive Medusa portrait on her ribcage, but the gothic sleeves that connect to the massive castle on her shoulder blades definitely gives the portrait a run for its money. I have long loved when women leave their panties on during sex and that fantasy gets served big time here alongside the kink of fucking a hot chick full of body art. As usual, Xander is aggressive and really puts some work on Karma as is evident by the way he repeatedly forces her face into the sheets as he pounds away. He eventually chokes her into a slutty side-spoon position and pounds his way to a messy finish all over her thigh and pussy. No matter how you look at this, it's hot.
Cali Carter and Will Havoc:
Hard-bodied Cali Carter takes the stage in a scene from the same 2017 Burning Angel film: "Cum on my Tattoo." This woman has an absolutely killer body with curves and muscle tone in all the right places. Couple that with her impressive rack and the intricate koi fish on her rib cage and you've got a literal vision. She shines in the reverse cowgirl and piledriver, and I could legitimately spend the rest of this review waxing poetic about her incredible physical form.
Nikki Hearts and Will Havoc:
Pulled from Joanna Angel's 2017 comedic love letter to the horror/slasher genre "My Killer Girlfriend," this scene is a bit of a departure from the first three because it incorporates some of the narrative beats from the film. This snippet should really work to whet the appetite of those who appreciate feature porn and if that's you, you should definitely go find "My Killer Girlfriend" after you finish this compilation. That said, Nikki's body canvas sports a wealth of impressive art including an intricate flower right on her larynx and a huge vulture splayed across her abdomen. The intensity of this scene is enhanced by the narrative of the film and without it, the audience definitely misses some of the impressive nuance in Nikki's performance. Still, she looks great (especially in cowgirl) and the way she caresses Will in reverse cowgirl as the scene culminates is really awesome.
Kirsten Scott, Joanna Angel and Steve Holmes:
The final scene is from Joanna Angel's comedic 2018 feature "Dirty Grandpa." Joanna's ink needs no introduction as her iconic back tattoos help her stand out in any film. Kirsten's almost inkless canvas contrasts nicely with Joanna's art and they fit the theme of the compilation nicely. I love the way Joanna rams Kirsten's throat onto Steve's cock with reckless abandon. Kirsten gets fucked into oblivion before Joanna settles in for a thoroughly satisfying go of her own. It's really good stuff.