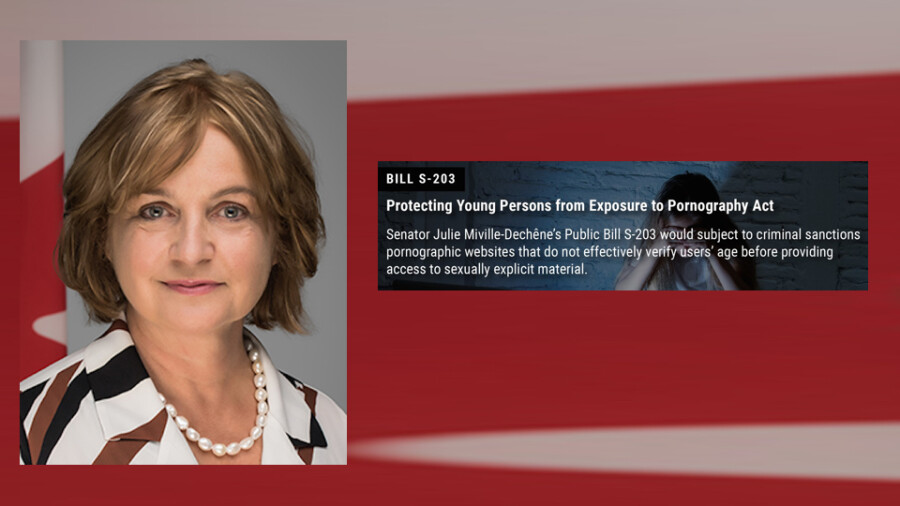 OTTAWA — Canada's federal privacy commissioner warned that a proposed age verification bill for adult content online could increase the risk of revealing adults' private browsing habits.
The bill, S-203, was introduced last fall into the Canadian Senate by Sen. Julie Miville-Dechêne (Independent, Quebec/Inkerman) under the name "Protecting Young Persons from Exposure to Pornography Act."
Miville-Dechêne's bill "doesn't specify what that verification would look like," the National Post reported today.
"Options under consideration include presenting some type of ID to a third-party company or organization or the use of technologies such as biometrics or artificial intelligence to estimate age," the report continued.
Privacy Commissioner Daniel Therrien testified today before the Senate Legal and Constitutional Affairs committee, noting that most existing digital age verification systems will result in the user ultimately being required to provide some amount of personal information, which may not be secure.
As for the possibility of using biometrics or facial recognition to verify or estimate a user's age, Therrien explained, it would raise "unique privacy concerns."
Therrien, Canada's top privacy officer, referred to biometric technology as "generally very intrusive" and, at the moment, inaccurate as a tool to ascertain the actual age of the person measured.
"There's a considerable margin of error, and an error of two to three years could be significant depending on the age of the person," the National Post reported.
Miville-Dechêne's bill, which was promoted with a presentation that included a stock image of a cis female blonde child covering her eyes in a darkened room before a computer monitor, asserted it would "subject to criminal sanctions pornographic websites that do not effectively verify users' age before providing access to sexually explicit material" and gave the Minister of Public Safety and Emergency Preparedness — an unelected official and political appointee — the power to "order internet service providers to block access to sites that contravene provisions of this bill."
Miville-Dechêne is also an unelected official: Canadian Senators are appointed. She is a former journalist and broadcaster proposing a peculiar form of state censorship and yet she does not appear to have specialized knowledge of universal technical and systemic issues regarding third-party content moderation on the internet.
Her official Senate website brags that Miville-Dechêne, following her appointment in 2018, has introduced two Senate public bills: Bill S-216 on modern slavery, a bill that would require more transparency from businesses on the use of forced labor and child labor in their supply chain; and Bill S-203 that would require the implementation of age verification methods online to protect minors from exposure to online pornography.
Last month, Miville-Dechêne spoke to the francophone CBC outlet Radio Canada for an in-depth piece on the religious motivation of the current anti-Pornhub crusade spearheaded by Alberta Conservative Arnold Viersen with the support of U.S. anti-porn crusader Laila Mickelwait from the Exodus Cry ministry.
She told Radio Canada that although she does not share the ideology of "that American group [Exodus Cry]," she tackles the issue of sexual exploitation "under a feminist angle."
"The issue of children watching online porn as well as the presence of illegal content on porn sites have gathered a large coalition of Canadian citizens who are ideologically different, but who agree with each other on these two precise objectives," she added.
However, in April, Miville-Dechêne said that "protecting children against pornography is both a health and a public safety issue," echoing terminology about a supposed "porn addiction" that has been repeatedly debunked, as well as the NCOSE and Exodus Cry myth that there is a "public health crisis" around watching porn.
"Exposing minors, especially boys, to online porn is associated with a number of harmful effects: addiction, aggressive sexual behaviors, fear, anxiety and an increase in sexist beliefs that particularly affect girls and women," she told the committee.
Mickelwait was also invited to testify before Canada's parliament in support of Miville-Dechêne's bill, although the Senator alleged to Radio Canada that she had never "worked alongside Exodus Cry."
Main Image: Senator Julie Miville-Dechêne (Source: Canada Senate)