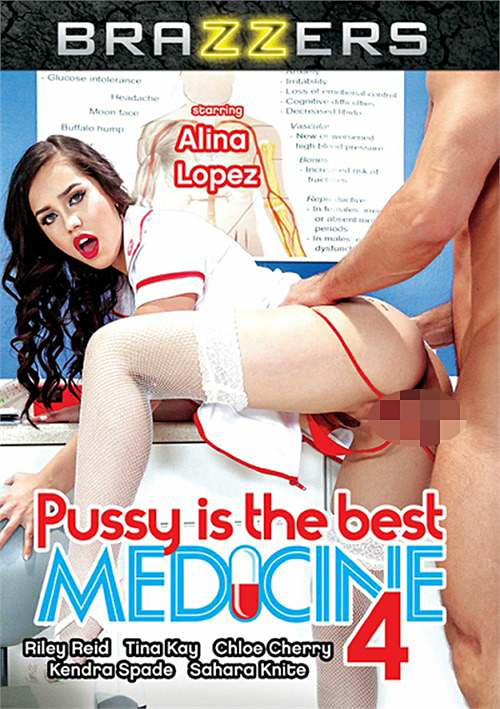 Here's a great Brazzers comedy title that's not only fun, but also, intensely erotic — actually, make that way horny! — involving stories based around doctors and nurses getting embroiled in sexual shenanigans while "caring" for patients in six (!) scenes. Hats off especially to the all-around-incredible Kendra Spade and the downright delectable Sahara Knite.
When blonde cutie Chloe Cherry goes to the doctor to get her bad foot checked out, one helluva tryst quickly unfolds between doc and patient in the exam room. Cherry is way perky, really bouncing on boner during reverse-cowgirl, cowgirl, and doggie (she's especially animated in the latter two stances, doing all of the work herself), with doc (who reminds me of Willem Dafoe) eventually feeding his prick to Cherry while her head is upside-down. Nasty.
Riley Reid has laryngitis and goes to her doctor, played by Johnny Castle, with Reid receiving a "homeopathic" cure from the good physician; that is, he tells her to suck his boner to the bone, with Reid delivering one hellacious blowjob (as you'd expect). And by the time Castle and Reid have just started with missionary, her tight and flat tummy is shimmering with sweat, making the pumping all the more hard-on-inducing — while Reid rides him oh so well during cowgirl. Does her voice come back? Check it out and see. Or rather, hear.
The intensely alluring Tina Kay plays a doctor seeing a concerned patient, Danny D, who wants a "cock reduction"; yet, while Danny calls his behemoth side of beef "monstrous," Kay says that he's been "blessed" and wants to see just how big it really gets from a medical perspective (yeah, right), ultimately giving Danny the exam of his life in one fiery suck/fuck fest. I love Kay's breathy chatter as Danny doggies her. And check out how expertly Kay squats and bounces on him during cowgirl. She's a true cock gobbler, too! Spoon lets you really enjoy Kay's succulent ass, with her delicious tits revolving like mad. And, yes, she swallows his sperm down whole, with both Kay and Danny doing a terrific job in the comedy department.
Tantalizing Alina Lopez plays a wonderfully slutty nurse who takes damn good care of patient Johnny Castle's health needs; Lopez shines during effervescent reverse-cowgirl (love her just-big-enough tits and marvy ass bouncing up a storm). Castle eventually feeds her his cock while she's upside-down — and what a great gagger she is! But it's the last two scenes with Spade and Knite which are the best ones to me. Spade simply looks perfect and fucks like no other woman on the small screen, here doing her usual magic with the lucky Keiron Moore. From head to toe, Spade is totally scrumptious; Spade gives her typical world-class deepthroat, and for a good long time. She exhibits pure juiciness in the missionary position (such succulent thighs!), during which she digs getting choked; ditto for cowgirl, with her luscious ass cheeks jiggling every which way (a movie highlight). Meanwhile, spoon spotlights Spade's superb tits, and doggie zeros in on her (once again) phenomenal butt. And what a grand load of cream Moore sprays across Spade's still-pretty face. Love her to death!
Tasty brunette Knite is also fab, here playing a doctor who gets it on with fellow doc Danny D.; Knite looks awesome during doggie (love the white garters), with that crazy-fine ass of hers (you can almost smell her vadge vapors!); ditto for spoon, reverse-cowgirl (shot from Danny's perspective) and cowgirl — though missionary might be the best, with Knite's wildly tasty body, rippled stomach, fleshy thighs, and ever-horny/-responsive face all there for us to slurp up. And check out the slo-mo pop shot across Knite's happy face! Damn!
Each one of the fresh, attractive, insatiable ladies here is worth viewing in this thoroughly entertaining anthology; but your cock will leave its socket upon viewing Knite and (especially!) Spade in action. Highly recommended for veteran hardcore viewers — and even dabbling couples.