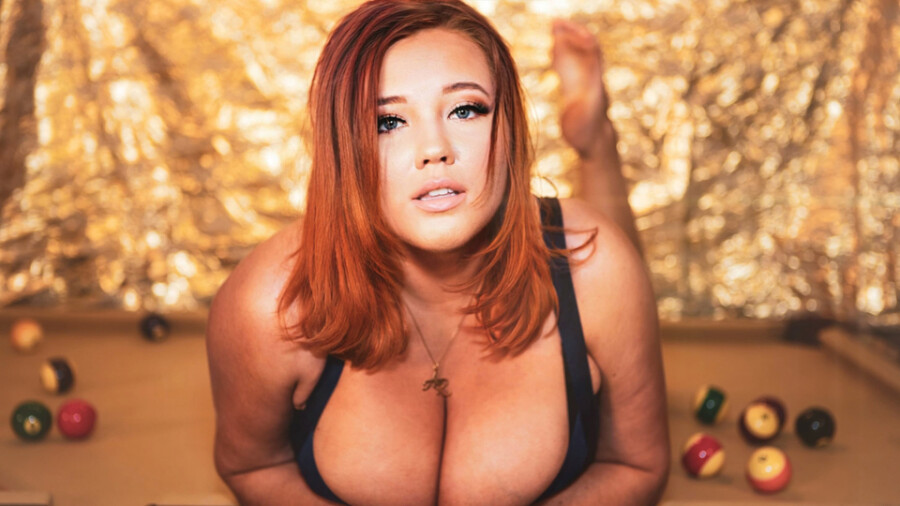 Annabelle Rogers is the kind of MILF that'll give you whiplash when you're scrolling through your phone, when those genuinely loving fuck-me eyes, womanly curves and soft lips fill the screen with rapid heartbeat-inducing perfection.
If you happened to be driving a car while she passes you by on the sidewalk in a sundress, looking all summertime-fine and rainbow-bright, well, I hope you have damn good insurance — for the car and for your health! Drinking in the sight of her would be worth the wreck.
I'm first and foremost known for my mommy taboo videos and that's certainly what most of my fans associate me with, but I also like to think of myself as wholesome and funny.
And with so many content platforms graced by her pornographic presence, by her utterly innocent-looking yet sinfully seductive spirit, by her bake-you-some-cookies with oven mitts on vibe and her Mother I'd Like to Fuck fire, you'll be hitting the video play icon, smashing that subscribe button and buying up those clips like hot cakes. And I do mean the hottest of hot cakes, with the creamiest of creampie fillings.
The best part of it all is she's so goddamn pleasant, professional and courteous, so long as you show her respect and kindness in turn. So come on over then and sit by the fireplace, while momma takes you in her arms and presses your head against those blessed breasts, in this exclusive Clip Star of the Month interview.
XBIZ: Tell us what inspired you to enter the world of adult entertainment?
Rogers: At the time, I was living in Germany, trying to find an online job where I didn't have to speak German and working as a nanny for English native speakers. I then discovered the world of camming and was hooked. If you ask who inspired me, the answer is Angela White; I am not ashamed admitting that I'm obsessed with her.
XBIZ: How have you evolved professionally and personally since becoming a content creator?
Rogers: Well, the most obvious sign of my professional evolution would be a peek into my studio room, I (we all) just have a gazillion sex toys, but also lots and lots of camera/lighting/filming equipment which all got upgraded over time. So, no more lamps without a shade and using my phone to film.
I love constantly learning about new fetishes and growing my sexual knowledge. Personally, this job gave me more confidence than I know what to do with and made me realize that there is nothing and nobody to hide from anymore.
Also, not only my family, but everyone in my hometown found out. It was hard, since I come from a conservative small town. However, I am proud and happy with what I do and no one can take that away from me. The income changed drastically as I grew my brand and I've found many amazing friends in the industry.
XBIZ: Describe your brand, both in terms of the way your fans have come to know you and the manner in which it reflects your inner self.
Rogers: I'm first and foremost known for my mommy taboo videos and that's certainly what most of my fans associate me with, but I also like to think of myself as wholesome and funny (some would call it sarcastic) person and believe that parts of that shine through in some of my videos, mostly in the ones where I did not have to stick to a strict script.
Someone commented on one of my videos once calling me "The Meryl Streep of Taboo," and I really love that. I may look sweet, but I have a very vulgar mouth. Perhaps, some would say I'm the MILF next door? I have a very down to earth Midwestern presence, so I am very easy to talk to.
XBIZ: What platforms are you most active on for selling video content and why?
Rogers: The order would be ManyVids, OnlyFans, Pornhub, FanCentro, Clips4Sale and can we count Cameo? I just think it's very important for us performers to diversify our stream of income, hence the outlets we use. And if things go wrong, most of the mentioned sites have exceptional customer service and usually resolve issues or answer questions in a very timely manner, so that of course is a huge plus. ManyVids has such an amazing community and I feel very close to my supporters on OnlyFans.
XBIZ: Discuss your main sources of revenue beyond clips and your time management strategy for balancing work.
Rogers: As I mentioned above, Cameo! It's an app for paid shout-outs, birthday wishes and the like and it's a lot of fun to do. Other than that, I love to squeeze in camming every now and then and I constantly invest, mainly in stocks and cryptocurrency, to diversify my passive income, which also is fun if done right.
The question about time management is actually a very good and interesting one and I discuss it a lot with friends and models, but unfortunately the answer to it is quite complex and boils down to "it's just a lot of work." I find myself powering through the daily inquiries, tasks and shoots, then reward myself with quality time which I spend with my dogs at the dog park, inviting friends over or watching a good show on TV.
But yeah, it can get extremely time consuming and I strongly advise every (new) model to make sure to always have a good support system in place, whether that means family, friends, co-workers or counselling. Make time for yourself. Burn out is the main reason people leave this industry. Balance is important!
XBIZ: Talk about your approach to shooting top-quality content, be it customs or general clips, when it comes to outfits, planning, filming and editing.
Rogers: One thing is key: communication with your customers. Sometimes, little things might not turn out 100 percent perfect, but if you find good common ground and a professional relationship with your fans/customers/clients, it's half the race. Other than that, I just try and stay on top of new technologies and equipment and how to use it, but also know my limits and hire other professionals if I feel like my work could further benefit from it or that I simply would not be able to fulfill requests otherwise.
Same goes for the editing part; I do know my way around the basics and things like fixing sound quality, but some things are better left for the pros. Rule of thumb, which also goes in the general direction of time management: If you're not good at it or just simply dislike it, delegate the job; everyone will be happy in the end this way.
I constantly keep up to date with content being put out. If it is a custom, I really try to encompass the feel and storyline of the video. If I need to get in character or memorize scripts, I do so in the mirror while getting ready. If it is a fetish I am unaware of, I do lots of research ahead of time. I plan my look as much as possible and of course, my makeup skills have gotten much better due to trying new looks often.
XBIZ: How do you go about marketing yourself to fans?
Rogers: I'm again trying to stay on top of things, venture out to new outlets (the latest for me personally being TikTok) like the aforementioned Cameo and discover new fans by collaborating with other performers and getting my name out there. I am also very lucky and grateful to get opportunities like this every now and then, which is obviously great. In general, I try (and hopefully succeed) and always stay polite and professional with my fans. It's a lot of fun, but you do have to make sure everybody knows their boundaries, which isn't always easy but is just part of the job. I also run a free Snapchat, Twitter and Instagram, and post regularly on MV Social.
XBIZ: What was it like attending XBIZ Miami last year and what categories are you campaigning for at this year's Cam Awards?
Rogers: Oh, it was fabulous! Where do I begin? The location is gorgeous and the panels very informative and fun, but to me the best thing about it is how easy it is to make friends and meet new people. My highlight probably was meeting Korina Kova and shooting content with other amazing models, it's definitely time well spent. It's an amazing energy to be around. It also inspired me on how I can do things better.
The first video I filmed after attending XBIZ became a bestseller — coincidence? I think not. Plus, I couldn't get enough of all the boobs and twerking. It just reminded me how much I love the industry I'm in. This year I am going for BBW Clip Artist of the Year so I need a lot of fingers crossed!
XBIZ: Who are a few of your closest friends in the adult biz and which of your peers do you most admire?
Rogers: I really look up to Korina, her beauty and quality of content is just off the charts. She is an amazing example that you don't have to do boy/girl to make it to the top. Korina is known as the queen of plastic dicks. A lot of performers feel the pressure to go hardcore to make more money and please fans. Korina stands firm on her boundaries and I think it is so inspirational.
My true role model though would be, without a doubt, Angela White. I can't wrap my head around how amazing she is and how she succeeds in every single genre and pushes the boundaries of our industry more and more and more. Angela's level of professionalism and passion is something I strive to be.
I also love to not only get down and dirty with, but hang out with, Chloe Rydr, Daddy Daycare, Dahlia Luxxx and Gwen Adora. The creativity and hard work that fellow industry models bring to the table never ceases to amaze me.
XBIZ: Any major ambitions for the coming year?
Rogers: I would really like to upgrade my whole workspace, which will help me pump out more content in a more organized manner. Otherwise, I literally just want to stay relevant, healthy and positive and continue to be happy in this industry. Oh, and I want to start helping more dogs by fostering on a slightly larger scale but that means moving again (which I might). We will see, I guess the world is our oyster?