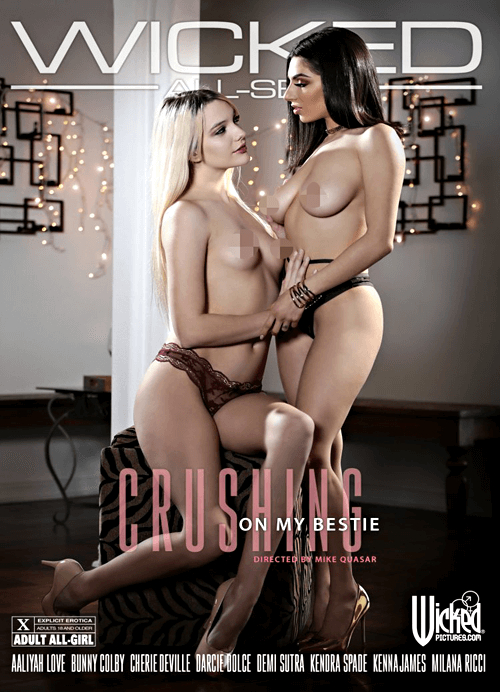 Mike Quasar brings his brand of visual excellence to the lesbian genre with a cast of fan favorite performers.
Over the past four years, he has evolved into one of Wicked Pictures' go-to writers and directors. His work for the studio has garnered consistent praise from fans, as well as industry recognition, with multiple XBIZ Award nominations. In light of these accolades, I was surprised to discover "Crushing on my Bestie" was Quasar's first all-girl movie for the studio.
He assembles a strong cast for this undertaking and the rest of the movie seems to simply fall into place under his expert tutelage, with a strong color palette and emphasis on mood lighting, fresh locations, as well as a slow-roving camera that fans have come to associate with his work.
Bunny Colby and Milana Ricci:
Colby enters a dimly lit room clad in a purple bra and panty set to a waiting Ricci who is draped sensually over the white, leather, divan dressed in lacy red underwear and matching stockings. There's a purple tint to the room that creates a warm sexual tension, and the crackling fireplace in the background adds to the aesthetic.
Both ladies seem excited to get their hands on each other, but there's a familiarity between them that gives the impression that not only is this not their first time together, but they've got nothing but time to enjoy each other. They both relish every lick of the tongue, every caress of the breast, every gentle rake of the nail across their skin. They're undeniably hungry for each other, but not in a rush to consume one another.
Bunny really gets into Milana's pussy with her tongue. Her entire face seems to fall into Ricci's fuck hole and when she finally comes up for air and offers her own pussy to Milana's tongue, you can just catch a few glimpses of Milana's wetness lingering on Bunny's lips and chin.
The highlight of the scene is easily Bunny sitting on Milana's face. It's awesome and watching Milana's body quiver orgasmically from Bunny rubbing her clit while she feasts on Bunny's cunt is going to send a lot of viewers right over the edge.
Kendra Spade and Demi Sutra:
Kendra is one of the prettiest performers in the business today, and it was a brilliant move by Quasar to pair her with the equally gorgeous Sutra. Both ladies look fantastic in their matching blue bra and panties, the color contrast against their skin presenting a fantastic visual. I love the fact that this scene features an Asian and a black performer, but doesn't fetishize either of their ethnicities. It's just two gorgeous women entwining themselves about each other passionately.
There's so much body worship here and it is great! Kendra especially seems absolutely fascinated with Demi's body and she can't stop touching and rubbing her all over. When she finally gets her mouth on Demi's pussy, she nearly devours her and Demi loves every moment of it. Then watch Kendra's face when Demi returns the favor, she alternates between a beaming smiles of joy and utterly satisfied grins as Demi licks her to the moon.
There's a real connection between these two ladies and a perfect example is the way they clasp hands as Kendra buries her face in Demi's ass. It's all quite erotic.
Aaliyah Love and Cherie DeVille:
These two ladies absolutely love to be with each other. If you follow either of them on social media, you know they relish every chance they get to work together, and there is an electricity between them that is incredibly natural and impossible to duplicate through manufacturing. From the word go, you can see and feel their lust for each other and the comfort and trust level that exists between them.
Everything is a lusty explosion just waiting to happen and the more they touch each other, the harder is it for them to hold back. Watch both their faces when Aaliyah is riding Cherie; you can't get two people more horny for each other than that, and at that point they've both still got all their underwear on! Aaliyah's desperation to submit to Cherie is so strong it fills the entire room and almost swallows Cherie completely even though she is clearly the one leading the entire encounter.
It's really a phenomenal effect and speaks not only to the strong chemistry between the two women, but to Cherie's incredible ability to pull Aaliyah's lust out of her body and into the world around her. Big kudos to Quasar for capturing plenty of DeVille's amazing body while she was sitting on Love's face, and holy fuck that sequence was also hot as hell. Yeesh!
Darcie Dolce and Kenna James:
I loved the white room here because (as Quasar is so adept at capturing) it created a great contrast between the skin tone of the performers. Your eye can't help but be drawn to them because they are the color in the room. It allows the audience to appreciate the lacy undergarments and the striking hair colors and the hints of color offered by the makeup both women are wearing. It's really beautiful scenery and the thing it does is prime the audience for the sex by stimulating the eye right away. It's a technique I think many directors ignore but I find it very effective. The colors in the room matter!
Darcie has such a wonderful rack and it is beautifully displayed when Kenna is lapping at her. She is a stunning woman and Kenna just oozes sex. The 69 here is awesome and watching Kenna literally bury her face in Darcie's ass is such a bonus on an already great scene. Again, a fantastic pairing.
Overall, every scene in this movie is great. The settings are pretty, they elevate the physical presence of the women involved and the ladies themselves are all gorgeous and so into each other. Cherie DeVille and Aaliyah Love steal this movie with the intensity of their scene, which is saying something because the other three scenes are very strong. This is a successful all-girl Wicked debut for Mike Quasar and fans of the genre should definitely find a way to add this one to their collection.