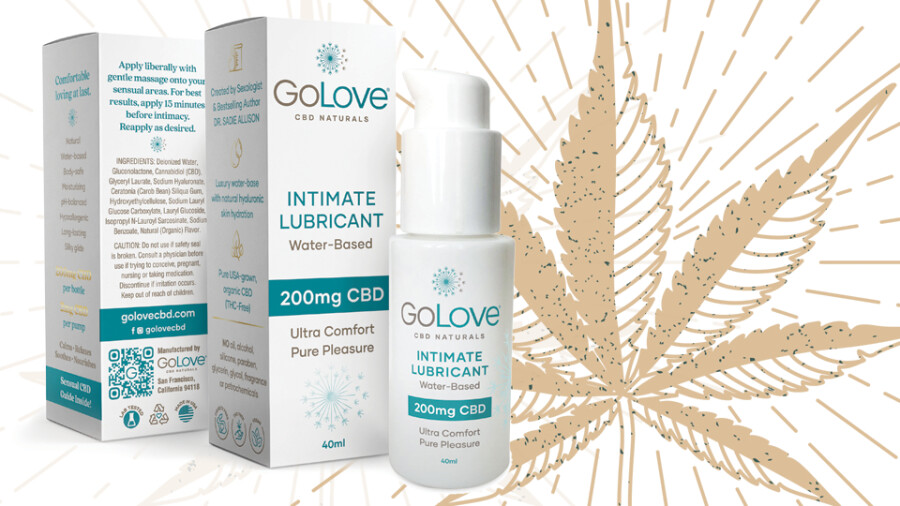 When was the last time the average woman initiated — and fully, truly enjoyed — sex without a few drinks in her system? America's pleasure coach, Dr. Sadie Allison, thinks it's been far too long.
GoLove CBD Naturals is a scientific-based sexual wellness brand focused on the niche specialty of CBD delivery through water-based sex lubricants.
Dr. Allison — a sought-after sexologist, best-selling author and CEO of e-tailer TickleKitty.com — and her CBD scientist partner in life and business, John Renko, birthed the company; and together, they're on a mission to help women reclaim comfort, pleasure and intimacy with quality CBD products that satisfy and build trust with consumers.
After finding success by writing several, top-tier sex tip books such as "Tickle His Pickle" and "The Secret of the Undercover Clitoris" — and championing Tickle Kitty, a sex toy retail brand focusing on women's sex education, Dr. Allison found her new calling in the cannabis space.
Dr. Allison decided to manufacture GoLove at its headquarters in San Francisco.
"Women's health is so important to us, we decided not to leave these most important steps in the hands of a third party," she said. "By bringing GoLove entirely in-house, we can vet and verify every ingredient before it goes into our products. And since our formulation process requires precise, multi-stage mixing to get it right — we ensure the absolute accuracy of every bottle. Our formula has passed the stringent HRIPT dermatologist test, and we send every batch out for testing by a third-party lab to assure its purity and potency."
According to Dr. Allison's web research, one in four women polled in a 3,000-person survey said they prefer to drink before sex to lower anxiety, with one in seven claiming they can't have sex with their significant other without drinking.
A separate survey cited by Dr. Allison showed that three in four women will experience dysapreunia — or painful sex — due to dozens of conditions such as endometriosis, vaganismus, post-partum issues and pelvic floor dysfunction.
Dr. Allison's extensive years of study in the sex-ed field led her to one striking conclusion: it was time to find a better, healthier solution to the world's sex hang-ups.
"Women have anxiety about body-image, inability to orgasm, and anticipation of pain," explains Dr. Allison. "Men worry about sexual performance, penis size, ability to make their partner climax, and premature ejaculation."
"Since CBD has natural anti-anxiety properties, it's very popular now for couples to use water-based lubes with CBD. It can help you calm the mind and get you out of your head and into your body — naturally," she elaborates. "It's no surprise that CBD is an increasingly popular option over alcohol."
Dr. Allison explains that CBD — short for cannabidiol — is an amazing and natural anti-inflammatory that can help reduce pain from inflammation and, for many, allow intimacy to occur with less discomfort.
GoLove is infused with 200mg of CBD — the most in any water-based lube. "To ensure every woman receives enough CBD to benefit from its therapeutic properties — every time," Dr. Allison said. "Each time you pump GoLove, it delivers precisely two milligrams of CBD blended into .4 milliliters of lube. Our suggested application is three or four pumps for adequate lubrication, which delivers six to eight milligrams of CBD. We recommend applying GoLove to both partners, and re-applying freely during sex. It's especially fun for mutual masturbation during foreplay, which allows time for its therapeutic benefits to settle in. And we recommend it for a body-relaxing sensual massage and for post-sex soreness."
Derived from the cannabis plant, the extract is vastly different from its controversial sister chemical, THC — or tetrahydrocannabinol. Ingesting or lubing up with CBD does not produce a "high" or noticeable psychoactive effect, as can be expected by smoking cannabis flower or using products with THC intended to dramatically alter how one perceives reality.
It's actually impossible to "get stoned" on CBD, though it can clear the mind, reduce overall anxiety and even assist in trauma recovery when dosed properly and used in conjunction with a healthy lifestyle.
GoLove seeks to harness the mental magic of CBD and deliver it where sex toy consumers really want to feel its effects — between the legs.
"While there's many CBD delivery methods such as tinctures, edibles and salves, when addressing sexual foreplay and intercourse, delivering CBD through a water-based lube offers the consumer a distinct advantage," explains Dr. Allison.
She points out that the water-based label wasn't so simple to acquire. Though aqua lubes are popular and common, adding CBD to the mix presents a unique challenge.
According to Renko and Dr. Allison's website, CBD is not water-soluble. The pair had to first overcome the near-impossible challenge of dissolving and stabilizing 200mg of CBD into a water-based — rather than oil-based — body-safe lubricant for women.
Oil-based CBD products already saturate the market, but Renko and Dr. Allison were determined to create something different. They spent 12 months testing dozens of formulas until they landed on a trial version that satisfied their mission.
"Oil-based lubricants pose risks for some women," Dr. Allison said. "They can destroy latex causing condom failure, stain fabrics and require post-sex cleanup. Oil can also upset the vagina's natural pH balance, making it harder for the body to clear out unwanted bacteria, which can cause issues like UTI's and bacterial vaginosis.
I recommend water-based lubes with superior ingredients, as they're made specifically for sexual intercourse and are safe to use with condoms and all sex toy materials. Water-based lubes naturally absorb into the skin, which can also offer higher CBD bioavailability than from oil bases."
Allison adds, "Water-based CBD lubes are designed specifically for sexual play and intercourse and offer quick absorption to the localized area through the vulvar and vaginal mucosa, penises and scrotums, maximizing CBD's therapeutic effects."
The result is a CBD lube with a nourishing water base that can be used anywhere on the body and is even safe to eat. Dr. Allison suggests trying GoLove as a daily vaginal moisturizer, a remedy for post-sex soreness or squirting out enough for a sensual body massage.
GoLove's anti-inflammatory benefits come from an infusion of 200mg of organic CBD for the highest efficacy. Dr. Allison says GoLove contains the highest amount of CBD you can find on the market in a water-based lube. The lube also includes natural wetting agents and hyaluronic serum, a deep skin moisturizing super-humectant.
"Our first priority was to make GoLove CBD lube in a high-quality water base so it's safe for everybody and is latex and silicone-toy safe," explains Dr. Allison. "We heavily scrutinized every ingredient for its safety and quality."
GoLove's body-safe, pH-balanced water base alleviates potential issues often caused by oil-based products, such as trapping unwanted bacteria and causing infections or disrupting the vagina's natural, acidic pH balance.
The CBD extract found in GoLove is of the highest-quality, domestically-grown and extensively lab tested product. Dr. Allison reveals her producer is a leading member of the Hemp Roundtable Organization, an advocacy group that sets standards for high quality hemp production.
Though many folks seek CBD to avoid feeling the cannabis plant's more widely known effects, Dr. Allison actually recommends lighting up a joint before slathering on GoLove (if that's your thing).
"If you are a THC user, you can enjoy a synergistic effect by combining GoLove CBD lube with THC, as research shows they work better together," she explains. "Simply consume some THC in your preferred delivery method before intimacy along with GoLove CBD lube and you may be in for a real treat of heightened effects."
You don't have to be a sexologist or a scientist to appreciate GoLove's hidden magic. The proof of CBD's powers lies in the thousands of dedicated users who become return customers for brands like GoLove CBD Naturals.
The benefits of CBD lube are, as told by Dr. Allison, actually rather simple.
"For most people, a reduction in anxiety leads to a more positive, less inhibited, more explorative and comfortable sexual experience," she concludes. "Less stress equals the ability to enjoy more pleasure."
"With increased sensitivity, reduced anxiety and less pain," — and a bottle of GoLove lube, we might add — "a new world of sexual pleasure, playfulness and connection can be at the tip of your fingers."