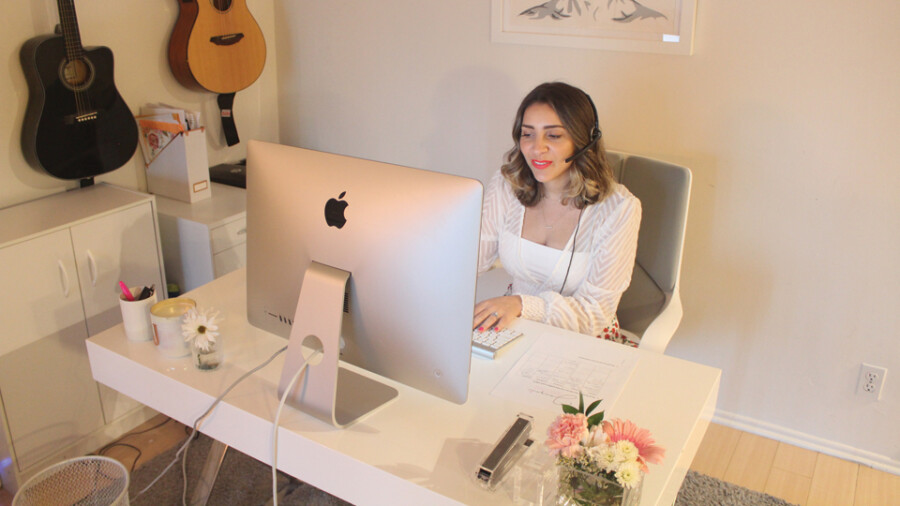 When the lights go out at Eye of Love headquarters in San Diego, California, the company VP heads somewhere you'd never expect: out to her second job.
Jacqui Rubinoff, the business brains and beauty behind Eye of Love pheromone products, isn't, however, desperate for side income. As it turns out, Rubinoff is dedicated to the cause of healthy sexuality for all as a certified loveologist and love coach, courtesy of sex and relationship expert Dr. Ava Cadell's Loveology University.
I love that I am able to combine my business brain with my desire to help people.
In her day job, Rubinoff is vice president of Eye of Love, a sensual accessory brand that combines pheromone perfumes with attractive lava rock jewelry designs. Users can wear the pheromone-enhanced scents alone, or spritz them on one of many absorbent and attractive lava rock necklaces or bracelets.
Rubinoff's job involves managing marketing, including social media and coordinating photography, graphics and online media. She also runs the company's product training programs and international sales network.
"One of my favorite parts is brainstorming and coming up with new product development and design," she says of her lifestyle career.
Rubinoff claims her interest in love coaching all started when she was dubbed the go-to friend for "anything having to do with relationship advice" in her youth. She earned a degree in family and consumer sciences, which further fueled her dreams of working with people and businesses.
"Upon graduating, I began working in the pleasure products industry and focused on products to enhance people's relationships," says Rubinoff. "I knew I wanted to further my education and be able to help people on a more personal level as well."
An endorser of Eye of Love herself, Dr. Cadell was naturally introduced into Rubinoff's circle of colleagues, leading Rubinoff to set her sights on the next step in her career.
"I met Dr. Ava Cadell through the industry and when I heard about her Loveology program, it felt like the perfect fit," recalls Rubinoff.
Loveology University is Dr. Cadell's proprietary take on the now ultra-popular love and relationship coaching certification. Founded in 2007, the program is described as an online love coach training school that has trained and certified thousands of aspiring coaches worldwide through Dr. Cadell's cutting-edge love and relationship coaching programs.
Participants can choose from several coursework options and professional certifications like certified loveologist and love coach, certified master sexpert, and certified relationship coach. Whichever paths students choose, they'll receive a tailored curriculum aimed at helping graduates become thriving relationship coaches as well as romance and intimacy experts.
"I was able to take the courses online which enabled me to balance my job while getting my certification on the side," says Rubinoff.
Dr. Cadell specifically created these online programs to be easily available to people like Rubinoff who are balancing a full life and busy career.
The Certified Love Coach program is Dr. Cadell's most complete curriculum. It includes over 300 hours of training, which breaks down to over 30 narrated multi-media presentations, live seminar training videos, erotic instructional videos, and audio documentaries conducted by leading professionals.
"Although it can feel like information overload, one of the best things about the course was how it was broken up into mini-modules such as flirting, dating and marriage," Rubinoff explains. "I was able to really dive in and learn how to help people with every aspect of their relationship."
Many students graduate with a wealth of knowledge on love, romance and relationships, intimacy and sexuality in as few as six months. Rubinoff has now been certified and running her coaching business for two years. The program costs just under $2,500, which is a steal considering the lucrative opportunities available in today's life coach market.
Now Rubinoff has set her sights on millennial coaching clients, where she sees a niche waiting to be filled for this eager consumer set. In keeping with the trends, she provides freely accessible relationship advice through her social media channels — where she's on Instagram as @Jaxrubinoff — in addition to more personal, one-on-one sessions with private clients.
"Most of my clients have been in my age group — in their 20s and 30s — and I think this is such an important category that is often not given enough attention when it comes to relationship coaching," she muses.
Rubinoff's knowledge also adds to her contributions at Eye of Love, leading to a better understanding of consumer needs in the sexual health sector.
"It's important to not only have the product, but to know how to use it and how it can benefit your relationship," she explains. "With Eye of Love I am always creating content for our customers to improve their love lives. My knowledge about relationships has also helped me to know what people need and are lacking so we can create products that will benefit them in their daily lives."
Rubinoff's certification has additionally opened doors to other new opportunities for both Eye of Love and her coaching business, such as being a guest on podcast channels and featured speaker at expert panels and interviews.
But a little dose of fame is simply the cherry on top for Rubinoff, who finds fulfillment through serving a passionate purpose.
"I want to help as many people as I can find love, enhance their current relationship, or support them through a break-up if they are in an unhealthy relationship," she gushes.
Most importantly, Rubinoff wants to create new attitudes towards coaching and relationship therapy. As she points out, there's often good reason to enhance what isn't yet broken before it requires fixing.
"I hope to break the stigma of relationship coaching, especially for the younger generations," says Rubinoff. "You can be a great person and not have any problems and still improve your relationship with a love coach."
"The same way CEOs go through executive coaching seminars," she elaborates, "everyone can benefit from extra tips and advice when it comes to relationships. My goal is to work with people on enhancing and preventative measures rather than waiting until it falls apart."
For the foreseeable future, which now includes a busy schedule offering Skype-based coaching due to the coronavirus lockdowns, Jacqui Rubinoff feels optimistic about indulging her moonlight career when she hangs up the VP hat.
"I hope to continue to grow my practice and help people on a larger scale," Rubinoff concludes. "I love that I am able to combine my business brain with my desire to help people."