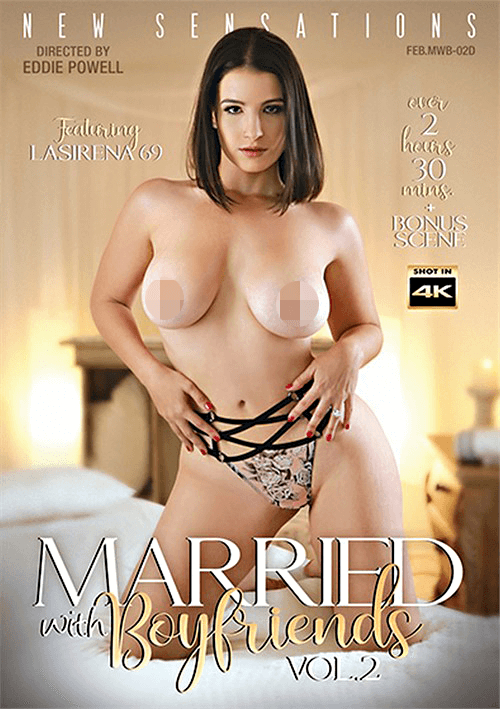 Three cougars (all, curiously enough, tastily aged at 29) and one MILF (at the "older-and-bolder" state of 39 years) show what marvelously randy sluts they are in these hotwife stories from New Sensations, where husbands happily let male friends or strangers hump their great-looking, sexually voracious wives.
29-year-old Alexis Zara gets the balling rolling with this killer quartet of "Married With Boyfriends" babes, here getting down and dirty with her hubby's bud, in the form of James Deen; the two horny gluttons starting without the husband being there (though he apparently is aware of their rendezvous and is all for it); with sexy-as-hell brunette Zara loving it when her face is furiously fucked; while that juicy ass look amazing in the doggie and cowgirl positions, as well as reverse-cowgirl, the latter filmed more from Deen's position, so you get plenty of that bodacious booty. And check out how her pussy has a web-like quality to it, really grabbing hold of Deeno-dick like a suction cup. I also like how she gives plenty of eye contact during doggie, while she gets it in the eye (her left one to be exact) when Deeno erupts man-juice (ker-pow!) all over her puss.
One of my favorite gals of this lot of hot slots, Ashley Lane (29, from Maryland), is a fair lass with one amazing body — and a pretty doggone fantastic face — here playing a wife (all magnificently decked out in black lingerie) giving it up to her "boyfriend"/husband's friend, played by Jason Moody, who takes "charge" of this submissive, horny specimen of pleasure in one scalding sequence, indeed. Ash is an outstanding cocksuckette, going balls-deep and really gagging (hands behind her back) on Moody-meat. I love her facial expressions of ecstasy during missionary, while her ass is out of this world during doggie, her butt mouthwateringly hanging from the edge of a chair, with our girl squirting all over Jason's dick as he savagely drills her (whew!); while cowgirl lets her be more in charge, grinding all over that raging hard-on, her eyes rolling into her head from being so damn turned on, while her ass cheeks cascade and, at one point, she even screams with passion. Ash also gets righteously doggied while standing, Jake eventually making her get on her knees to suck him to climax, his jizz blasting all over her hair, forehead and eyeballs. "Thank you, sir," she tells him. "Will you tell my husband I've been a good slut?" Yeah! We sure will, Ash!
Next, our marvy MILF in the house, New Jersey vixen Cory Chase (39), gets slammed silly by Euro vine-swinger Ramon Nomar while hubby is out — but far from unaware of the torrid tete-a-tete taking place — with the perverted pairing happening just before a Christmas party at Cory's place; Ramon even bearing gifts (and not just his blood-swollen pud). This sequence might, actually, have the most intense face-fucking session, with Cor really gagging deep on that Ram-rod ("I want you to shove my face on it," she begs him, and boy does he), with plenty of saliva outpourings ("It's delicious," she moans). I like how Ramon also takes charge of the submissive gal during cowgirl, while she really ride him during reverse-cowgirl, with Mr. Nom — and sometimes Chase herself — maniacally rubbing the slattern's clit to climax, just before that pulsing knob reaches the point of burst, squirting all over the seemingly insatiable woman's mouth, chin and tits. Good show, Mr. Nomar!
Lastly, we have another one of my faves in this fierce foursome of freaky foxes, 29-year-old LaSiren69, who graces the DVD boxcover for damn good reason, what with her unique-looking face, perfect tits and juicy ass; here getting heatedly humped for the first time in our hotwife story by lucky Zac Wild. To break the ice between he and Siren, Zac gives her an oily massage (yeowza!), with Siren looking oh so dreamy (as in fucking aroused!) as he explores her curves and crevasses with his probing hands, her tits eventually getting a load of oil, before the sucking begins with Siren really gaggin' oh so delightfully on that Zac-bone. She rocks! It's a movie highlight! Ditto for doggie with Sy, whose well-greased ass cheeks look awesome as Wild pounds away. Her great tits are in full display during missionary, as our Wildman chokes and hammers her. Then we have the best showing of Siren's choice cheeks during cowgirl; our girl screaming, "I'm gonna come! Don't stop!" Look at those butt cakes bounce! I also like Sy's squatting action during reverse-cowgirl, as she squeals with passion. She additionally has quite the succulent snatch, well shown off during missionary. And check out the wickedly smirking whore take a load o' liquid lust on her nose, forehead, and eyes, making her provocative mug look the face on a melting waxwork. Brilliant!
One babe after another shows what a true sex fiend she is in this well-directed super sequel/scrumptious smorgasbord of flesh from Eddie Powell and New Sensations, with especially high points going to luscious Ashley Lane and juicy-as-fuck LaSiren69. Definitely worth a looksee.