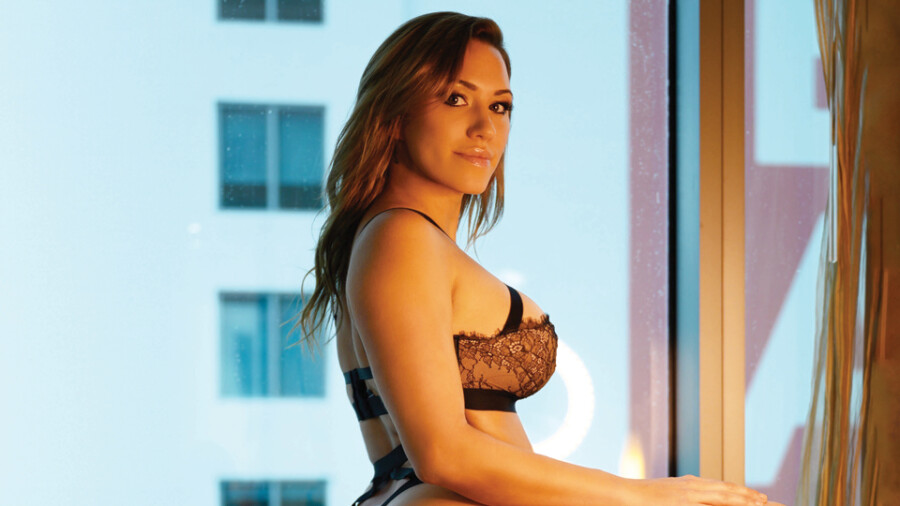 SureCakes is the tastiest slice of camming dessert you'll come across for days on end; and she has an end … with cake for days.
I mean, there are more candied delights baked into her five-star ass than a Michelin-starred chef's most exquisitely-made, buttercream-slathered works.
When she pours royal icing on your screen courtesy of that glazed Chaturbate sexiness, you'll be singing "Pour Some Sugar on Me" with greater rock-and-roll enthusiasm than a Def Leppard concert audience.
You'll be hot, sticky, sweet … from your head, to your feet.
And the cherry on top is just how very real, authentically warm, giddily gooey and feel-good fresh she is, be it in-person or while she's camming.
Her flirtatious smile, mischievous-as-hell gaze and rich velvety laughter will send a rush through your veins that's bound to last way longer than you will when she's twerking it to the thunderous rhythm of tokens piling up like a pirate's booty.
Take a big bite out of this XBIZ Award-winning, served on a platter with candles burning, Cam Star of the Month goodness, in this exclusive interview.
XBIZ: Tell us what inspired you to join the adult industry.
SC: I was working at an adult industry event as a promotional model and met several cam models who told me that they were making thousands of dollars from home and I just had to try it!
XBIZ: How have you evolved as a live-streamer over the years?
SC: I spent a lot of time worrying about how to cam "the right way" and wish I could have told myself to just be myself. The less I worry, the better my cam shows go and the more my audience grows!
XBIZ: What is your favorite platform to cam on and why?
SC: Chaturbate is my favorite platform to cam on. I have almost 500K followers and there are so many new people joining every day! They gave me my first opportunity, helped me grow and they will always be my home.
XBIZ: Describe your approach to juggling camming with other revenue streams like premium social media, clips, etc.
SC: I think that camming is a great base to grow all other platforms. Before cam, I had no followers on social media and camming has given me the opportunity to grow all of my following.
I have built my Instagram to over 200K followers and over 2,500 subscribers on OnlyFans, just from linking my social media to my cam profile.
XBIZ: Talk about your strategy for marketing via social media to keep fans engaged and tuned into your latest shows.
SC: I try to make sure that my social media is professional at all times.
Although it can be hard, I try not to engage in any cam drama or talk about politics. When I post, it's to promote my business or share things that most people are happy to hear about.
When they hear from me, there is something new coming out or I'm going live and people always come through for me!
XBIZ: How do you balance work with your personal life?
SC: That is a tough one! When we work online and always have the opportunity to grow, it's very difficult to take time to ourselves.
I like to make sure that I get most of my work done during the day so that I have some "me" time in the evenings.
If I ever feel like things are getting too overwhelming, I never hesitate to take a day off! You can't entertain people if you aren't happy with what you're doing.
XBIZ: What is the "SureCakes" brand, if your fans were to describe your overall vibe, personality and aesthetic?
SC: Lots of cake, aka booty! I tried to think of something original that would remind people that I have lots of booty and most people remember, she has cakes for sure.
XBIZ: As a longtime XBIZ Miami veteran and Cam Awards winner, what are a few of the strongest connections and lasting memories you've had becoming part of the indie community?
SC: XBIZ is my all-time favorite event! Each year, we get together with no pressure from outside companies and get to be ourselves and network as cam models. The entire focus of XBIZ is to grow ourselves.
When there are a lot of big companies around and events going on, it's hard to relax and at XBIZ, that is never a problem. We all get to focus on growing as cam models and individuals who have our own brand and don't need to worry about any outside industry standards that can make other events stressful.
We also get to talk to the people behind the scenes of the places we work for in a relaxed environment that allows us to make lasting memories and friendships.
XBIZ: How have you stayed strong and productive amidst the challenges and opportunities presented by the pandemic?
SC: The pandemic has been very challenging. There has been a massive increase in fans on all of my platforms and I have definitely felt the pressure! It used to be pretty simple to get a jog in and get back to work. These days, I feel like even with my best efforts, things can get overwhelming!
Where do I begin? Where do I stop? What has kept me sane is remembering that there will be a time when things return to normal and that I am only one person! I work until it is stressful and then make a to-do list for the next day. We're lucky to have business during these times and I never forget it.
XBIZ: What are your biggest ambitions and dreams for the coming year?
SC: Well, of course, winning another XBIZ Award is No. 1! To date, it has been the best feeling I have had (and I get a lot of good feelings on cam).
I also want to work more within my cam community as it continues to grow and become more complicated for new people in the industry.
Each year, we have more people moving in, and I want to make sure that we keep our independent status that has made us the cam models we are today.