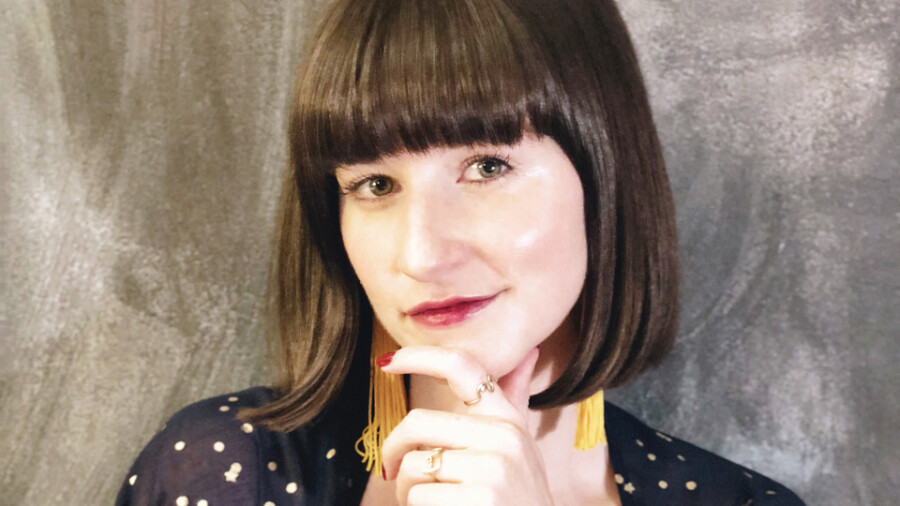 Gigi Engle wants you to f*cking love yourself. If this certified sexologist and ultra-popular sex writer's personal anthem of feminism and sexual enlightenment hasn't yet pounded down the doors of your insecurities, she's penned a whole 384 pages to make her empowering point clear.
"All the F*cking Mistakes" is Engle's first book; a part-memoir, part-life advice piece that packs a punch in the form of sexual exploration, self-awareness, and the utter destruction of stereotypes and taboos aimed keeping strong women down.
My hope is after reading the book, every single woman will go out and buy a vibrator (or 20).
A Chicago-area native, Engle earned her degree in journalism and English from Fordham University in New York City. She then went on to obtain certification in sex education, sexology and sex coaching with the World Association of Sex Coaches.
Over the course of her writing career and throughout her 20s, Engle has become best known for her witty, side-eyed and bluntly humorous take on everything sex and relationships. Her columns and articles are staples in mainstream publications like Cosmo, Glamour and Brides.
Despite her well-publicized skepticism toward the entirety of the male population — a viewpoint that even Engle herself often takes with a grain of salt — she moved from Chicago to London last March to join her husband and partner of two years.
In-between Engle's social media rants on what's wrong with today's men, her mushy, romantic odes to her hubby are a testament to Engle's ultimate mission: to convince women that if they know themselves, love themselves, and look for a partner who echoes their feelings, they'll live (mostly) happily ever after.
This lifestyle of self-awareness and owning one's overall awesomeness is essentially the entire premise behind Engle's debut book, "All the F*cking Mistakes."
Exclaims Engle of the 29 years leading up to now, "It's been a pretty wild journey!"
Billed as "Come As You Are" by Emily Nagoski meets "How to Date Men When You Hate Men" by Blythe Robertson, this sex handbook for the millennial feminist teaches readers how to own their bodies and sexuality, and use that confidence to take charge of their lives.
"It's a no-nonsense guide from everything to buying sex toys, to trying kink, to getting through a hung-over shame spiral. I'm like your agony aunt, there through it all because I've been through it," says Engle.
Through the book, Engle speaks frankly about her own past dating and sex life, calling herself out for thoughtless mistakes and self-titled "fuckgirl" behavior while reminding readers that it's ok to stumble. Just try not to take innocent people — like sexual or relationship partners — down with you while you learn.
"It's a manifesto on taking ownership of your sexuality and never, ever apologizing for it," she proclaims. And then, in true, salty Gigi fashion, she concludes with a smirk: "I don't ask for much, just the total and unequivocal downfall of the patriarchy."
Though "Mistakes" speaks of a woman wise beyond her party-girl 20s, Engle was still figuring things out herself while penning and pitching it.
"I actually started writing my book when I was 24. It's been a long, long process," she recalls. "I was in my first job when I started drafting, and a year later I got a book deal. I'm 29, so this book has been five years in the making."
Engle explains that the mature tone with which she writes — like an older sister or that one girl friend we all seek out for sex advice — is still very much a product of her younger self.
"It encapsulates a different version of me in a great way," she says. "I was writing all of these sex columns and giving advice to people and realized that I had so much to say. I decided a book would be a great way to put all of my thoughts and advice into one place."
As a sex toy guru and brand ambassador for both Womanizer pleasure products and Lifestyle Condoms, "Mistakes" leaves no orgasmic stone upturned, especially when it comes to leading readers through the vast array of modern sex toys.
"Sex toys are a tool for empowerment and orgasms," says Engle. "Every single woman should have a laundry list of sex toys she loves and should never be afraid to whip them out."
Besides Womanizer, the pressure-wave oral sex simulator that Engle says is a must-have for all clitorises; she touts brands like Unbound, b-Vibe, Dame Products, and Le Wand. Engle proudly recommends such companies and others like them, as they're founded and run by vulva-owners — in Engle's words — who actually know what vulva-owners want.
"They make high-quality sex toys from high-quality materials. I can't say enough good things about their products," she says.
For readers who may be newbies to the dauntingly huge world of sex toys, Engle takes them by the hand, metaphorically browsing the aisles and product niches of an imaginary adult boutique.
"The book walks you through everything from celebrating masturbation, to buying high-quality sex toys from good places, to using them, to having conversations with a partner about sex toys," Engle describes. "My hope is after reading the book, every single woman will go out and buy a vibrator (or 20)."
What's perhaps most comforting and inspiring about "Mistakes" is that Engle speaks not only from years of journalism and sex education training, but from personal experience. She is that girl who slept around and was subsequently shamed for it by her teen hood peers. She spent years having terrible sex that was boring at best and painful at worst, all to please boyfriends and partners who were never worthy of the worship she bestowed upon them. Engle knows how to speak to her audience because she is (or at least was) her audience.
As "All the F*cking Mistakes" makes clear in its description, Gigi Engle has done it all and is here to tell you all about it. This book is an ode to the women of the world who deserve to be empowered, sexually and otherwise, without guilt.
"I'm so excited to share this book with the world and I hope it helps young women because that is what all of my work is about," Engle concludes. "I want to empower women to revel in their sexuality and love themselves to the fullest extent. We are so powerful!"