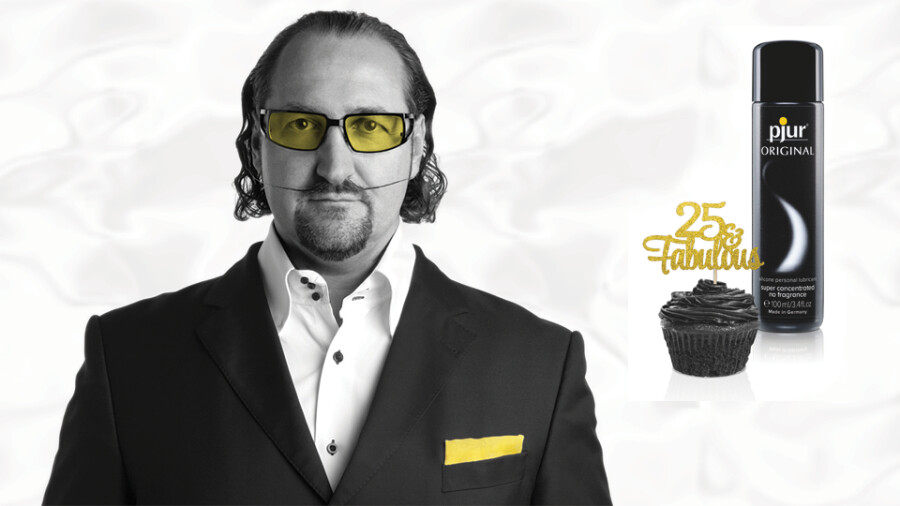 Since its establishment a quarter of a century ago, pjur has been a pillar of the sexual health and wellness community, expanding from its original formula to the empire that it is today. Under the leadership of founder Alexander Giebel, from the inkling of an idea, pjur has blossomed to be a mainstay of the pleasure industry, spreading its wings across the globe and captivating the market.
Looking at the facts, pjur operates at an impressive scale. From its headquarters in Wasserbillig, Luxembourg, the brand reaches customers and consumers in over 70 countries around the world. Family-run and German-made since 1995, pjur has grown from its "Original" formula to now include over 60 products, branching out from its already diverse collection of intimate cosmetics to include its Med line, Active and Spa ranges over the years.
We've always been guided by our customers' needs and we listen very carefully.
Now, as it celebrates a milestone anniversary, its founder sat down with XBIZ to discuss both its founding and legacy in the sexual health and wellness community.
XBIZ: What were you doing before pjur and what inspired you to eventually join the industry?
Alexander Giebel: I had a career in law prior to founding pjur, but I've always wanted to work independently. I've also always been driven by a desire to improve people's love lives, so founding my own company and launching products was a natural choice. Pjur for me is both a lifestyle and a passion, and to be able to share it and inspire millions of people to increase their pleasure and quality of their life — I can't think of a more satisfying calling.
XBIZ: Pjur Original was the first silicone-based lube to hit the market. What went into its development?
Giebel: The product idea originated from condoms being covered in silicone-based lube. Back when we first started, the industry as a whole suffered from a poor image of being "cheap" and "unregulated" — personal lubricants were something people only used as a means to solve a problem and they were often embarrassed to purchase them. I saw the potential to develop a high-quality product, make it more attractive, and from that point, reach a new kind of customer. The real innovation was the silicone base that gave the product a silky-smooth consistency, delivered long-lasting lubrication and wasn't sticky. It was something unique on the market.
XBIZ: How was pjur Original first received?
Giebel: Customers loved it! Silicone-based personal lubricants were a new thing back then, but customers were impressed by the quality. Now, while there may be many more options for personal lubricants now compared to when we first launched back in 1995, the same sentiment still rings true.
XBIZ: After the success of Original, what came next for pjur? How did you guide the brand's expansion moving forward?
Giebel: After pjur Original there came pjur Aqua and pjur Woman, with the Back Door range then being the first to offer a targeted product range solely for anal sex. We've always been guided by our customers' needs and we listen very carefully. It's why our portfolio has expanded to include lubricants tailored for a variety of needs and uses — for vaginal and anal use, for use with toys and latex condoms, for masturbation and personal massage and for sensitive skin, just to name a few.
XBIZ: In 2010 you introduced the Med collection, followed by pjur Active in 2015 and finally pjur Spa in 2017. What are the signatures of each group and what inspired you to create these particular lines?
Giebel: We pride ourselves on responding rapidly to consumer needs and harnessing market feedback to continually launch innovative products that specifically address the issues that we hear. The launch of the Med brand was in response to our health-conscious consumers who had communicated a need for sensitive skin products that could soothe, hydrate and delight all at once. Pjur Spa was a natural extension of our pjur Love collection and introduced a product that was lightly scented, non-greasy and perfect for creating a sensual massage experience. Pjur Active was an addition that allowed us not only to add more pleasure and comfort to our customers' love lives, but to their everyday lives as well.
XBIZ: In terms of how pjur has grown over the years, at what point did you begin to envision it as a global brand?
Giebel: International expansion has been part of the DNA of pjur right from the start; so expanding to the U.S. was a natural next step. We launched pjur in 1995, and by 1996 we had expanded to North America and then to Australia in 1998. The pjur group is constantly growing and aspires to be the first choice for consumers and business partners alike globally, so I don't see any sign of us slowing down!
XBIZ: Considering that, how did you settle on Wasserbillig as pjur's international headquarters?
Giebel: I was born and raised in Trier, Germany's oldest city: a fantastic place for tourists to visit ancient world heritage sites and drink great wine, but not the place I envisioned starting my international business. Luckily, Luxembourg is a hot spot of global trade and banking and was close by, so I decided to move across the border to have access to more international markets. However, manufacturing facilities were best and most efficient in Germany.
Outstanding quality has been a cornerstone of pjur since its inception, and that goes for every single product we develop. All pjur products are subject to strict quality and safety management, abiding by the highest German criteria.
XBIZ: To touch on some of pjur's positive contributions outside of the industry, you've worked with several different charitable organizations over the years.
Giebel: Pjur is so much more than just a business. As a family-owned and family-run company with a relatively small team, we put our hearts and souls into everything that we do and really understand the importance of community and giving back. Supporting social and environmental issues is of particular importance to us, which is why we've been long-time partners of the Healthy Mothers project, fighting high maternal and infant mortality rates in Laos. We've been donating money to this important aid project since 2012. We also currently donate goods to a variety of NGO's closer to home in Germany, including healthcare centers, information centers and AIDS counseling centers to name a few.
XBIZ: Since you mention that you're family-run, who else from your family is part of the pjur team?
Giebel: Being family-owned and operated is one of my proudest achievements. My wife Andrea and brother Patrick are also on the executive team, and together with all pjur employees, help make the vision behind pjur a reality.
XBIZ: Also in 2016 you did a collaboration with the McGrath Foundation. What was that like?
Giebel: This was a wonderful opportunity to give back to our Australian market. The McGrath Foundation is one of Australia's most respected charities, raising breast cancer awareness and money to fund care nurses for individuals and families affected by breast cancer across the country. Pjur Med is developed especially for people of all ages who experience vaginal dryness, which is also a side effect of various cancer treatments. We donated a portion of every bottle of pjur Med personal lubricants sold in Australia to the foundation, as well as included their logo on all pjur Med personal lubricants to try and help make a difference in the lives of those affected by breast cancer. We were very proud to support this wonderful organization.
XBIZ: Tracking some of pjur's big changes, in 2017 you launched the "pjur gives you more" campaign. How did you land on that message for the brand?
Giebel: This slogan is exactly what makes our brand unique. We offer more variety, more choice, more quality and more peace of mind, among many other things. We wanted to reflect this in a campaign that would introduce pjur to new customers that would ultimately also benefit our B2B partners and retailers. The slogan reflects on our diverse portfolio, offering products for everybody.
XBIZ: Most recently in December of 2018, pjur announced its partnership with WOW Tech. How did that conversation begin and how has that been working since?
Giebel: Pjur and We-Vibe first partnered in 2015, and after they collaborated with WOW Tech, a partnership on a greater scale with us was the natural next step. WOW Tech embodies the same values as we do and is similarly committed to providing outstanding quality, innovation and reliability. The partnership offered huge potential, with more investment in marketing the pjur brand in the U.S., Canada and Mexico, more product training sessions and more media collaboration, all of which means more service for our customers. Our goals have aligned perfectly and the partnership remains very special.
XBIZ: Twenty-five years is a huge milestone. How do you plan to celebrate this special anniversary? We hear a limited edition pjur Mini Collection is involved…
Giebel: We certainly planned on celebrating in style! We've been very fortunate to have wonderful relationships with our partners and retailers since the beginning and they've continued to be very supportive of our products over the years. I am grateful for these last 25 years and I want to thank our customers, employees and partners for being on this journey with us. However, in the light of recent events and the challenges COVID-19 poses on most of our customers, we have to make the health and safety of our employees and partners a priority over celebrating our anniversary.
With that in mind, we have decided to delay the pjur Mini Collection in light of these difficult times but look forward to introducing the collection in the fall.
XBIZ: With so many fantastic brands and options on the market today, what would you say sets pjur apart?
Giebel: One of my favorite questions! As the saying goes, "What's the difference between a bottle of wine and a good bottle of wine? We'd all rather drink the good bottle!" I like to think pjur is the very best bottle. We continually receive awards and seals of approval for our products' properties, including their outstanding skin compatibility, and all products are dermatologically tested and meet the stringent requirements set down by international organizations such as the FDA in the U.S. Not only are our products synonymous with uncompromising premium quality, but we've also invested in growing a brand that partners and consumers alike know that they can trust. The passion the pjur team puts into everything we do is second to none, and we are so grateful to our partners and consumers who recognize that.