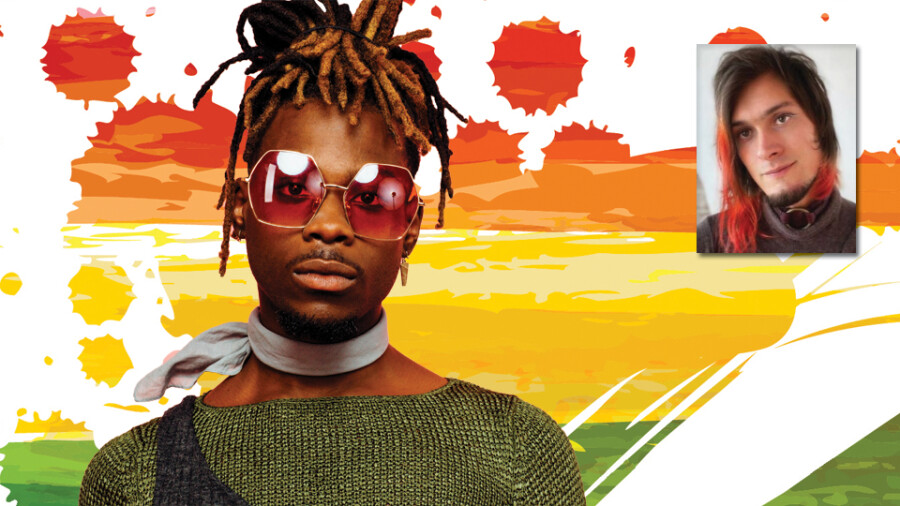 A "Straight Forward" approach to your sex toy store is no longer going to cut it.
According to a recent study by the J Walter Thompson innovation group, only 48 percent of Gen Z identify as purely heterosexual. Bisexuality, queerness, trans and gender nonconforming identities are becoming the new normal for a major — potentially even the majority — demographic of the generation that's only just beginning to enter legal age to engage in the adult toy industry.
What was once safe (and straight) is quickly becoming stale.
If you don't think that's going to affect the longevity of your business, you may just go the way of the dinosaurs.
The future is queer! Or at least loud and proud and not quite straight. It's not the shy heterosexual white couple that's been on the front page of your toy site for 20 years. The magnitude of the Black Lives Matter movement mixed with the unabashed queerness of the upcoming generation is demanding something different. It demands things as loud and inclusive as they are.
These facts are especially critical for storefronts in urban areas and online stores that want to see huge growth into new markets over the next decade, and not just dwindle with their aging audience. But it isn't just the storefronts themselves, it's also the products you carry, the people you employ, and the education you arm them with. Some of the most celebrated retailers in the industry are lauded not just because of the variety and inclusivity of the inventory, but rather, the education and inclusivity of their employees. Folks rely on staff to ask questions, listen to their needs, and make smart recommendations to that unique individual.
Before the COVID-19 pandemic, adult toy stores were losing ground to their online counterparts at a slower rate than many other industries. As said in an interview with a Cute Little Fuckers customer about their preference for online or in-store sex toy purchasing, "Sex toys are just so personal. There are so many factors and the quality varies widely. I always buy in-store if I can, or I risk being disappointed."
But once lockdown took place, even the most dedicated brick-and-mortar buyers were forced to go online for purchases. And undoubtedly a percentage of them found it more painless than expected.
As we head towards the exit of the global COVID-19 lockdown, what's going to bring customers off their Amazon Wishlist and back into your store?
Getting online customers back into your store will require having your store be a fun place to visit and bring their friends to. You want your store to be full of products that make people curious and excited to look around, that spark conversation between them and the romantic or platonic (or in-between) person(s) they came there with. Because to Gen Z, trips to the sex store are not something you save for that special someone, it's a fun activity with almost any friend. It's a place where conversations happen and exploration can begin.
Stores in rural or more conservative areas may feel this trend less acutely, but they too may be surprised. People want to feel good about the products they purchase, even if those products are at odds with the community surrounding them. The archetype of the penitent sinner has been on the decline, while the image of the proud sexual rebel is in full flight. A change in tactic might raise more eyebrows along with more dollars.
Big online resellers and major distributors may be hesitant to heed these warnings. When appealing to the mass market, it's better to play it safe, right? Maybe not. What was once safe (and straight) is quickly becoming stale. The future is queer, and you don't have to look very hard for the data supporting it: one in five Tinder swipes is LGBTQ+. Vice reported that only 48 percent of Gen Z identifies as straight, and the Advocate said it's two-thirds. The Pew Research Center reports that 35 percent of Gen Z-ers know someone who uses gender-neutral pronouns.
As this new wave of diverse, identity-secure and sexually liberated consumers are entering the market with buying power; they are shifting the scales of what mass-market means. To stay relevant to the masses, retailers will need to follow this shifting needle and not talk to their new biggest customers like they would their parents or try selling them "tried-and-true" toys from the sexual Stone Age.
Gen Z-ers do not want the subtle and starkly gendered toys that their parents have been secretly using in the other room. To them, those speak to a culture of sexual shame and gender division that they are so ready to leave behind.
This new generation wants curiosity, inclusivity, cuteness, and just honest fun in their sex life. To them, sex is not a vice — it's an expression, so you should carry expressive toys. Carry toys with personality. Carry toys that are gender-inclusive, racially inclusive, sexuality inclusive. Carry toys from brands that are helping shape this new sex-positive narrative, because Gen Z is noticing.
In a world that is becoming increasingly divisive, there's no more neutral territory anymore. You're either on the side of the future or the side of the past.
And the future is queer. You've been warned.
Step Tranovich (they/them) is a disabled entrepreneur, artist, activist and hardware hacker. Their work has been featured in publications across the world, including TechCrunch and Out Magazine. When not building revolutionary adult toys with their company Cute Little Fuckers, Step is making music with their robot heavy metal band and taking care of their loving partners.