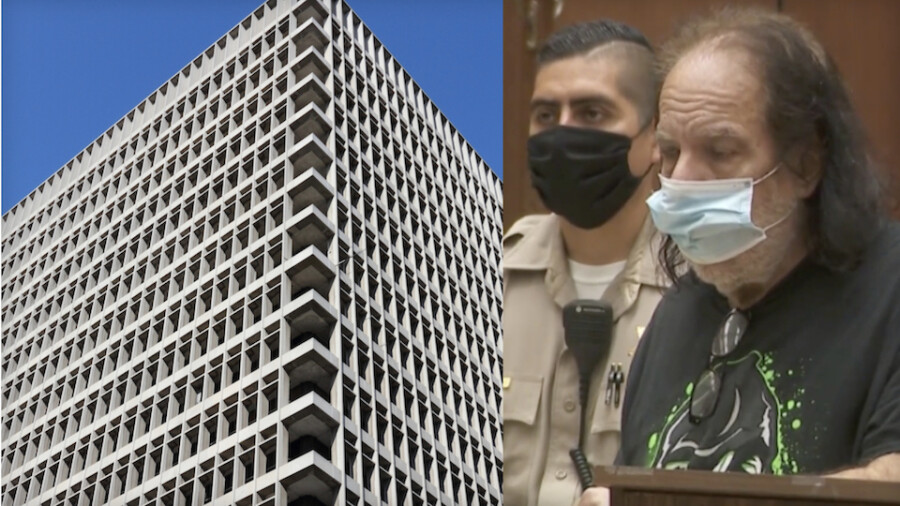 LOS ANGELES — Before the beginning of today's hearing to set the preliminary date in the case against Ron Jeremy, the District Attorney in charge of the case told Jeremy's attorney that he was filing an amended complaint adding 20 extra charges to the eight existing cases of sexual assault against the adult performer.
Before D.A. Paul Thompson, from D.A. Jackie Lacey's office, told the clerk about the filing, Stuart Goldfarb, representing Jeremy, had tried to engage him outside the courtroom claiming that "none of these [i.e., the eight previous charges] could stand on their own."
Thompson cut him off, asking him to wait until he saw the discovery.
The hearing was scheduled for 8:30 a.m. at the Clara Shortridge Foltz Criminal Justice Center in Downtown Los Angeles. Currently Thompson and Goldfarb are meeting to go over the new charges to be filed today.
Jeremy is due to appear in court this morning. His last hearing was June 26, when his bail was set to $6.6 million, and he has been in custody since.
Sexual Violence
At the June 26 arraignment hearing, Jeremy pled "not guilty" to forcible rape and sexual assault charges filed by the DA. Judge Miguel Espinosa denied the motion to lower bail.
Speaking to XBIZ immediately after the hearing, Jeremy's attorney, Stuart Goldfarb, would only comment that "the judge was wrong."
Deputy District Attorney Paul Thompson of the Sex Crimes Division based his rationale for the unusually high requested bail on the number of allegations of what he termed "sexual violence" that have been made about Jeremy, some of them going back 30 years.
Thompson cited 38 allegations his office was investigating to justify his claim that Jeremy's freedom represents "a risk" and "a danger to society."
Goldfarb countered that Jeremy, 67, does not represent a risk to society, offering as his argument that "not one of" those 38 allegations, most of which he said only came recently to the attention of the DA after charges were filed in late June, had "resulted in a criminal trial" before then.
The Original Charges
Before this morning the Los Angeles District Attorney's office was accusing Jeremy of eight counts of sexual assault: "forcible oral copulation" and "forcible rape" (two separate charges) on or about May 21, 2014 against a Jane Doe No. 1; "forcible rape" and "sexual battery by restraint" (two separate charges) on or about March 11, 2017 against a Jane Doe No. 2; two charges of "sexual penetration by use of force" and one of "sexual penetration by intoxicating substance" (three separate charges) on September 10, 2017 against a Jane Doe No. 3; and one charge of "forcible rape" on July 15, 2019 against a Jane Doe No. 4.
The 2014 incident reportedly took place in "a West Hollywood home." Both the 2017 incidents and the 2019 incident are all alleged to have taken place "at a West Hollywood bar," which some sources have claimed is one of Jeremy's usual haunts, the Rainbow Bar & Grill on the Sunset Strip. Jeremy's attorney Stuart Goldfarb confirmed on Wednesday that the location of the 2019 allegation is indeed the Rainbow Bar & Grill.
All of the charges stem from investigations by the Los Angeles County Sheriff Department, which has jurisdiction over West Hollywood.
The Entertainment Industry Sex Crimes Task Force
Jeremy is only the third man to be charged after being subject of a probe by the Entertainment Industry Sex Crimes Task Force. That task force was formed by Los Angeles District Attorney Jackie Lacey in 2017 to investigate sexual misconduct allegations in the entertainment industry, after receiving criticism concerning her office's handling of the Harvey Weinstein allegations.
Although at some point news sources referred to at least 40 investigations being handled by the task force, from 2017 until late June, Lacey's task force had only pursued charges against one defendant — Harvey Weinstein.
The Weinstein charges were announced by Lacey on January 6, 2020, in a press conference that coincided with renewed public appearances for her current re-election campaign.
In June, a second case connected to a Task Force investigation, that of mainstream producer and agent David Guillod, was filed by the Santa Barbara District Attorney.
"That was presented to us," Risling told XBIZ, "but was ultimately pursued by the Santa Barbara DA. But it was technically Case No. 2," connected to Lacey's task force.
The Ron Jeremy case is only the third Entertainment Industry Sex Crimes Task Force case that has resulted in charges since 2017, and the second filed on the same week in June.
This is an ongoing story and XBIZ will continue updating this story as it develops.
Main Image: The Clara Shortridge Foltz Criminal Justice Center and Ron Jeremy during his first arraignment hearing in June (XBIZ/Photo Pool).