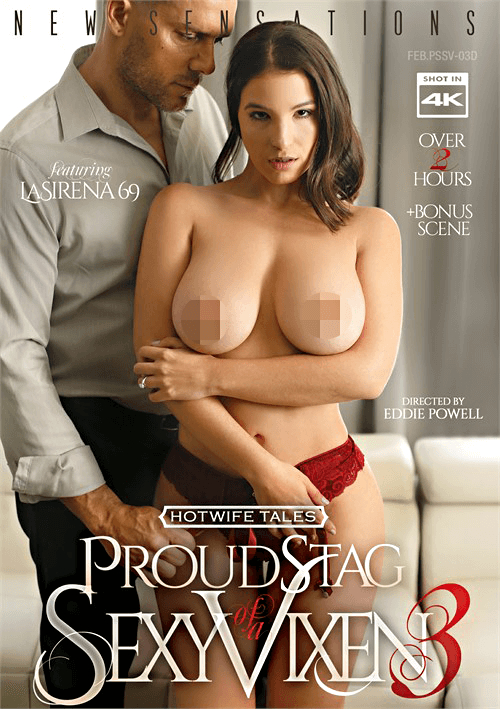 New Sensations and director Eddie Powell present four sexy tales of hotwifing featuring some of today's most beautiful talent. Hotwifing is when a wife has sex with men outside her husband with his consent. It differs from cuckolding in that the hot wife doesn't typically emasculate (cuck), her husband in the process, which is a key component to cuckolding.
Kamryn Jade and Logan Pierce:
This story opens with some expositional narration about Kamryn and her relationship with her husband. He sometimes sets her up with his friend Logan, just so she can tell him all the nasty things they do together when he gets home. The narrator explains just how good a sexual fit Kamryn and Logan are, and primes us for a highly erotic experience.
I really loved the editing as we watch Kamryn prepare for her encounter; the soft lighting and strategic close-up of her slipping into her clothes and donning her jewelry really heightens the anticipation and perfectly sets the mood for us to relish seeing her melt into Logan's arms. The pacing here is so sensual and romantic. Logan doesn't rush to get to Kamryn's goods right away, instead choosing to take his time worshiping every inch of her body, nipping at her with his lips and running his hands across her flesh. Great stuff. I love the shot of Kamryn's face right after Logan slides into her slowly for the first time; she holds his gaze with a look of utter satisfaction and simmering expectation and the camera catches the moment perfectly.
We also get an amazing shot of Kamryn rocking her ass back onto Logan's cock slowly that is pretty magical. Again, spectacular editing. Also really loved the double entendre visual of the pearl necklace finish on the literal diamond necklace she wore.
Alexis Zara and Jason Moody:
Again, the story opens with narration to bring the viewer up to speed. Long time hotwifers Alexis and her husband Kyle have always lived their fantasies with people they know. Today, however, Kyle, who can tell his wife is attracted to the plumber, suggests she fuck him and tell her all about it when he gets home. Alexis jumps at the idea and pounces on the poor, unsuspecting Moody, who is completely stunned as his entire focus was on trying to solve the plumbing problem. There's some very sexy rimming here (I love Alexis' reaction), and Moody's thick dick really stretches her mouth and pussy to the brim. She totally kills him in both cowgirl positions with a deadly hip swivel, and he finishes all over her perky, taught, nipples.
Kay Karter and Zac Wild:
The scene opens with Kay sauntering up to a beautiful house with an equally beautiful door. Oooh my goodness does Kay look amazing in those jeans! She meets a sharply dressed Zac Wild who compliments her looks, and instructs her to put on the prepared outfit before meeting him in the bedroom. The narrator takes over and tells the audience that Kate's husband has set her up with this anonymous gentleman, and she couldn't be more excited at the idea of a complete stranger touching her.
Upon donning the sheer black bustier with matching panties, stockings and black stiletto heels, Kay floats into the bedroom like an elegant siren, to the complete wonderment of Wild. As he caresses her body, the audience can feel (and share) his amazement at how gorgeous Kay is, and his desire to consume her sexually is palpable.
Katy takes a softly aggressive mouth-fucking as Zac spanks her randily, and the more she opens herself to his lust, the harder he fucks her. I love the fact that Kay gets more naked as the scene goes on, because it coincides with the growing intensity of the sex; almost like she's stripping away her inhibitions as they go.
LaSirena 69 and Ramon Nomar:
This story opens with Ramon talking on the phone to LaSirena's husband Michael. He thanks him for this particular opportunity, assuring him that he'll call him with all the details once they're done. On that note, he walks into the den to find a patient yet expectant LaSirena waiting for him, dressed in striking maroon lingerie. The narrator tells the audience LaSirena's husband has purposely set her up with Ramon because he's exactly the kind of man who turns her on, and it becomes clear from the moment he enters the room that the narrator is telling the truth.
LaSirena is almost trembling with excitement when Ramon slides his arms around her from behind to caress her supple breasts and nibble at the curve of her neck. He lets her lead herself to ecstasy during the sex, allowing her to set the pace and intensity while he exposes her to hints of new sexual pleasures (like fingering her while fucking her), that expand her reality into the realm of lasciviousness.
Holy cow this woman is beautiful. A blossoming bosom that won't quit, an amazingly rotund ass that compels the hands to grab it and not let go, and a face that expresses every physical emotion plainly. This is a fantastic entrant into this series (my first), and anyone who is intrigued or turned on by the idea of hotwifing will definitely want to pick this up.
The production value is quite high; Eddie Powell really does a great job in the editing bay, and the cast is filled with stunning ladies and studly swordsmen. Couples will certainly find plenty to like here, but the material and presentation offer a lot for solo fappers to get off to as well. There's also a bonus scene featuring Dana Vespoli for an added cherry to top off this delectable title.