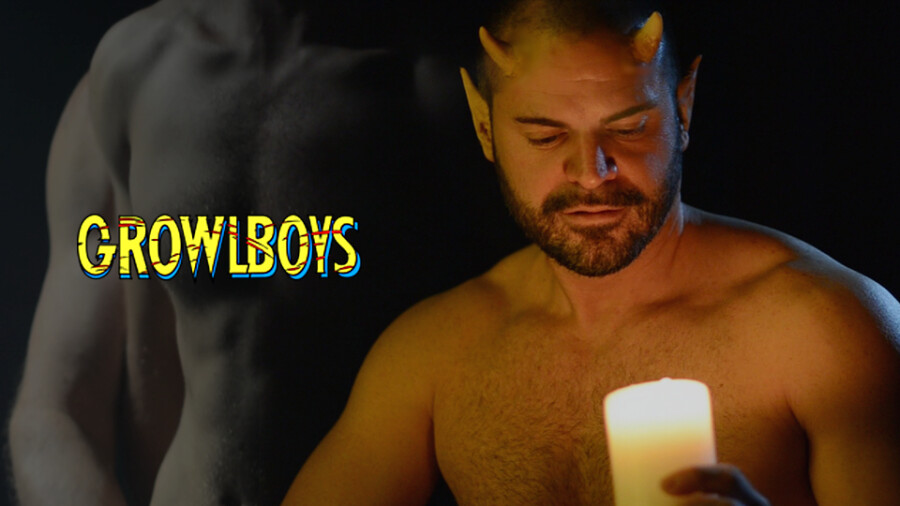 Make way for Growlboys.com. The all-male premium paysite debuted earlier this year with a focus on intergenerational transformation erotica and furry porn through an innovative combination of live-action videos — incorporating prosthetic creature makeup — character-driven written erotica and artwork.
The site is the creation of Legrand Wolf and Jay Wolf, the original founders of MormonBoyz and its related sites. In 2018, the pair moved on greener pastures and formed a new company, Carnal Media, and populated it with a select handful of gay fetish role-play sites. Among them, Growlboys immediately drew attention for its mixed-media approach.
Growlboys is furry porn. While there's plenty of illustrated furry porn, and even furry erotica, there isn't any furry video porn that we know of in the gay adult space.
"After years of passion and planning, GrowlBoys offers 'daddy' and 'son' fantasy — and we mean that literally — with a sexy, mythological twist," a company rep told XBIZ when the site launched. "Never before has a website brought such a creative and diverse offering."
The handsome young men ravished by the demons and beasts in this fictional universe subsequently transform into creatures known as "growlboys," introduced to magical world of heightened sexual pleasure. "'Breeding' plays a critical part of the GrowlBoys narratives, not only providing fans with the hottest in furry porn, but also furthering the personal journey of each character," noted the rep.
GrowlBoys produces graphic fantasies based on original concepts and storylines that transform illustrations into real-life fantasies featuring satyrs, demons, halfbreeds and other out-of-this-world sensuous creatures. The live-action performers "morph into the sexual creatures portrayed within the illustrations for live-action homoerotic scenes."
"My husband Jay and I love furry porn," Legrand Wolf told XBIZ. "But there was a limit to what you could get before Growlboys. Jay and I create the stories and come up with the characters before shooting and then work with our writer to flesh out the details of the stories within the Growlboys universe we created."
"Growlboys is furry porn," he explained. "While there's plenty of illustrated furry porn, and even furry erotica, there isn't any furry video porn that we know of in the gay adult space. Certainly not an entire website. Furry content is a fantasy subgenre. Werewolves, satyrs, magic and myth have all been the stuff of fantasy storytelling forever. Same is true for art and erotica. It's where we cross over into a fully developed fantasy porn site that we are so unique."
Among the available stories, "Mid-semester Night's Dream" explores the adventures of Matthew, a handsome, shy college freshmen anxious to lose his virginity. A crush on his sexy, athletic roommate leads him to a world of mystery hiding in plain sight — and new shocks as his own body begins to transform.
The dramatic story "Big Cat" centers on Steve, an amoral bully who takes advantage of his clients' craving for a mysterious new drug that comes from man-beast creatures derisively known as "Growlers." Steve finds himself drawn into a dangerously erotic mystery involving powerful, mysterious beings.
Tragic romance "Stray" involves lovelorn Alex, who crosses paths with alluring, vulnerable Eddie and finds himself instantly smitten. Eddie's mysterious past, and his true nature, set Alex on a dangerous journey of self-discovery.
Wolf described the prep period for each Growlboys storyline as "intense," with his husband Jay taking on the adding task of designing and executing the prosthetic makeup effects.
"Suffice it to say it's a ton of work for our little team," he noted. "Lots of fun, but lots of work."
A recent storyline toplines Carnal Media exclusive Austin Young in "The Faunlet," a chapter of ongoing storyline "The Kid," which imagines "half-animal/half-man gods — were-creatures known as 'Prometheans' and 'Thebans' — coming to life in videos and erotic illustrations from a variety of illustrators," including most recently the noted artist Joe Phillips.
Young enters this mythical world as "Nathan, the 'Faunlet.' As a human boy, Nathan was ritualistically bred by Thebans and left in a pool of their cum," enthused the Growlboys rep. "Chapter Five of 'The Kid' opens with the newly transformed Nathan waking up in this pool of cum, having transformed into a smaller, hyper sexual half-fawn/half-boy creature — and there are three of him. Triplets. Carnal Media's talented directors, videographers and editors make the leap from stunning graphic visuals and turn the medium into pure live action adult gay cinematography."
Wolf described the new release as "the genesis story of the gods."
"Growlboys tells fantastical stories of Thebans (the gods) as they interact with man. This latest update is a big reveal because it's the creation story. 'Chapter Five: The Faunlet' tells the creation story of the gods."
Wolf also expressed excitement about the participation of Joe Phillips. The illustrator has created artwork for such varied brands as Bud Light, DC Comics and Marvel Comics and rose to prominence in adult with 1999's "The House of Morecock" and 2006's "Stonewall and Riot: The Ultimate Orgasm," both explicit, CG-animated gay adult titles.
"For those who have had the pleasure of working with him, you'll know what I mean when I say that working with Joe is an absolute treat," Wolf exclaimed. "Carnal Media and GrowlBoys are thrilled to have such a talented artist pen iconic art for our domains. We hope to have Joe [as a] regular contributor and hope this opens the door to even more gay erotic illustrators to join our team in creating gorgeous compositions for all to enjoy."
Phillips echoed Wolf's enthusiasm. "This has been so much fun working with Carnal Media. I can't wait for our next collaboration. Carnal is making some very sexy content," he said.
When Wolf and his husband first conceived Growlboys in 2012, they found that popular culture had been "walking right up to the line of doing porn but not actually doing porn, telling stories in comic books but not really actually allowing there to be an intersection of art, writing and pornographic video," he said.
The idea for Growlboys dovetailed with his desire to create content that fans can't find for free anywhere else, immersive fantasies where "people can actually lose themselves," he said.
"The site has been growing among furry fans who say they can't believe it's taken so long for something like this to come into existence," he continued. "They love it. It sorta exploded and fans have come to us without much advertising effort on our part. The feedback has been overwhelmingly positive. We are selling the opportunity to lose yourself in that fantasy in the privacy of your bedroom, safely away from homophobic people or people who want to criminalize what you find fantastically sexy. And you can have an STD-free orgasm in the safety and privacy of your own home. That's our product — really believable and exciting fantasies."