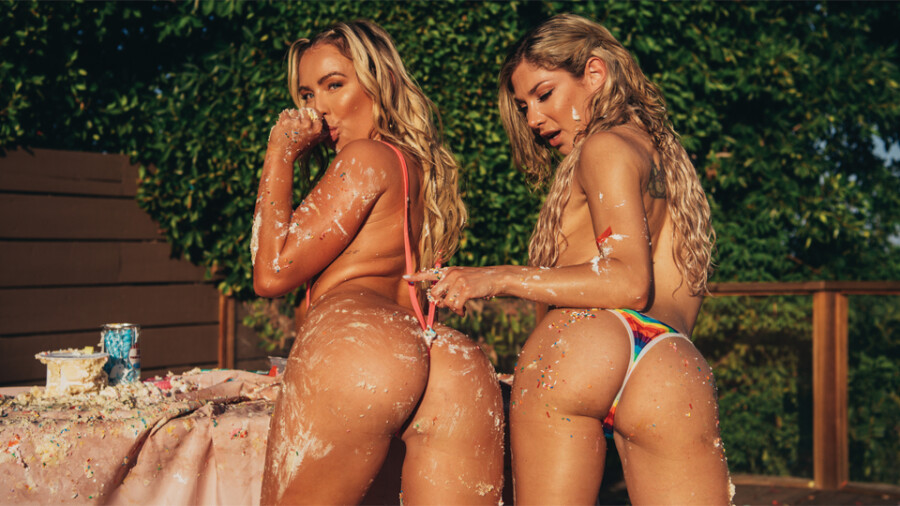 While several porn stars and upper echelon cam models have attained mainstream fame, the stories of mainstream personalities successfully transitioning into adult entertainment (and not just dipping their toes in the shallow end), are far rarer.
But for those who are daring, seductively beautiful and ready to keep viewers tantalized with wild hijinks, especially in the age of social media notoriety, lucrative opportunities await.
With the expansion of the adult industry in the digital landscape, more and more people are going online to sell some version of 'sex.' But we're raising the bar, using crazy content ideas and sky-high production value to create something that's never been done before!
Sometimes, getting tackled in scantily-clad attire at the Super Bowl after running onto the field in 2020 is all it takes to truly take your fan base to the next level, as Kelly Kay can attest.
With more than half a million followers and counting, this self-professed "Southern hellraiser" seizes attention with every scorching spectacle, lingerie-clad photo, bubble bath booze-a-thon and free-loving beach trip she posts. Folks tune in like mad, with maximum engagement.
Now, she is tapping into her lifelong appetite for sexual, spiritual and financial gratification with ambitious plans to become an adult biz sensation, as she partners up with the wily marketing wizards at Mr. Skin to launch her Teezy Magazine business venture.
To learn more about her dreams, XBIZ chatted with the spellbinding Kay in this exclusive interview.
XBIZ: Tell us how you masterminded your rise to fame on Instagram over the past couple years.
Kay: I have been lucky enough to be surrounded by some amazing influencers and creative content creators who have found huge success on Instagram, YouTube and other social media platforms. I was inspired and decided to be a sponge and learn as much from them as I could. My biggest takeaway was that I needed to find my own niche, create unique content and stay true to myself. I also realized that I needed to go after my dreams without any fear. I'm willing to take huge risks to reach my goals and I always strive to create viral content that speaks for itself.
XBIZ: Discuss the impact your notorious Super Bowl streaking stunt had on your personal and professional life.
Kay: So, the Super Bowl is the "viral content" I was talking about … haha. It honestly sky-rocketed my career. It gave me more exposure than any girl could ask for. A ton of huge mainstream news sites ran articles about the stunt and my follower count exploded. Honestly, it opened the door to amazing opportunities which ultimately led to me deciding to launch Teezy Magazine. It's also been great for my personal life. I'm able to live a healthy and happy lifestyle and pursue the business ventures that I'm passionate about! No more not being able to pay my rent or going hungry at night.
XBIZ: What inspired you to pursue a career in adult entertainment?
Kay: I've always been a fan of and had an interest in adult entertainment! Even when I was young, I realized that my body, mannerisms and personality had a sex appeal that was undeniable. Being sexual was natural to me and I've never been bashful about it! It's just how I am, and it has really come in handy in terms of being successful in this industry.
XBIZ: How do you balance producing content and engaging fans across a variety of platforms like TikTok, YouTube and beyond?
Kay: Well, first and foremost, I'm a content creator. That's how I define myself. The platforms are different, so I take a different approach to my updates on each but I always focus on creating unique and high quality content. Posting to multiple platforms has become second nature to me, and I just love sharing my life with all of my amazing fans! Everyone has their daily routine, and sharing my life on social has become mine, if that makes sense.
XBIZ: What kind of SFW videos seem to be most popular among your followers?
Kay: The videos that always seem to go viral are ones in which I'm doing something wild in a bikini! My fans have good taste, haha. You can catch me riding a dirtbike, kicking the lid off of a tequila bottle or walking down the Vegas Strip on a leash. Just things to get people's' attention … but also make them go "WTF!" But in a good way!
XBIZ: Describe your partnership with the Mr. Skin team and what that will entail in the coming year.
Kay: The team at Mr. Skin and I have the most amazing partnership! They have an incredibly talented group of people that are able to take my creative visions and turn them into reality. We started working together on Teezy Magazine a few months ago and recently launched the site. It's an awesome feeling being able to rely on the Mr. Skin team to evolve the website and handle the marketing so that I can focus on creating some of my sexiest content yet. I seriously can't wait to share what we have in the works!
XBIZ: Speaking of TeezyMagazine.com (powered by SKinfluential Media)… tell us a little more about this project. What do you hope to accomplish?
Kay: Teezy Magazine has been a dream of mine for years now. It's a website that allows me to finally release my most creative ideas, and to show the world that there's more to nude modeling than meets the eye! Teezy isn't just a website. It's a lifestyle… a good time… something to look forward to! We're taking the normal nudie site and adding a shit ton of hot sauce to it, haha. With the expansion of the adult industry in the digital landscape, more and more people are going online to sell some version of "sex." But we're raising the bar, using crazy content ideas and sky-high production value to create something that's never been done before!
XBIZ: As a self-professed "Southern hellraiser" and "professional nudist," how would you describe the "Kelly Kay" brand overall, as far as your vibe, style and personality?
Kay: I would say Kelly Kay is an example of somebody who just simply doesn't give a fuck! I'm always ready to take risks, always down to do something crazy and always eager to do things other people would never do. "Southern hellraiser" is an expression of who I am deep down. I'm from the South and will always be proud of that. I believe in being free and living the most eventful, exciting life fucking possible without fear of what might go wrong.
XBIZ: What are your biggest ambitions for the rest of 2020 and beyond?
Kay: My biggest goal right now is definitely getting Teezy Magazine into the mainstream media. Look for us get this shit on some billboards! We have some big things in the works… including everything from apparel to toys to even CBD products. This is just the beginning for Teezy, so stay tuned. Some crazy shit is coming your way!