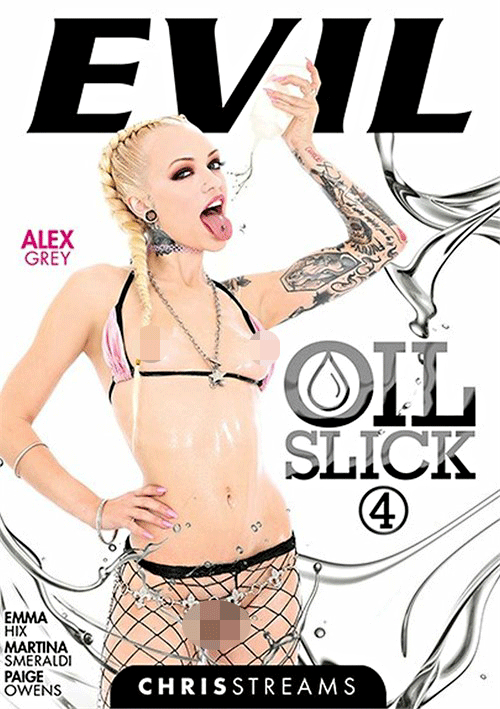 Oil's well that ends well! — especially with a well-oiled female end! And you get a quartet of dipped and delicious derrieres in this fantastic gonzo from skilled director/videographer Chris Streams, featuring two of my personal favorites in the biz, Emma Hix and Paige Owens, positively shining with greased-up/ass-fucked charisma; while Martina Smeraldi is also a meaty slicked-up delight worth catching.
We start with a doozie, as doused-in-oil queen of spinners Emma Hix is boisterously butthole-banged by Mick Blue in one volcanic tryst of decadence. I adore, by the way, the black fishnet outfit Em's wearing when she oils up her tight body, after which Mick takes over, face-fucking her big time; so hard, that Em's bent-over ass cheeks jiggle. Damn! We get more ass-undulating during cowgirl-anal, along with choice ATMs, then reverse-cowgirl-vadge ("Fuck my pussy," Em demands, "then fuck my tiny little ass — and fuck me like a dirty whore!"), followed by reverse-cowgirl-anal during which Em simultaneously, insanely fingers her cunt. Doggie-anal is X-traordinary, with Em spewing out oil during ass-gapes, her intensely succulent butt cheeks hornily quivering. Amazing stuff — before Hix's unique face is fully frosted with Blue batter. Superb!
Gorgeous, even-juicier Paige Owens (I even dig her special, uncommon, un-porn-like name) is a compact babe with small tits and juicy ass (all of the girls here, in fact, have those same stunning qualities — love it!), slicking herself down, then getting majorly mouth/pussy/ass fucked by Chris Diamond. Watch how she forever sucks that dick, soon getting her pretty mouth maniacally face-fucked. Diamond missionary bangs Owens on a big white sofa, with pussy gapes galore for our whacking pleasure. Doggie vadge is followed by doggie-anal ("Yes, slide it in nice and slow," Paige coos), and for a good long time; definitely a true movie highlight. In fact, Paige fucks Diamond himself with her priceless ass, rocking it forwards and back, after which he takes over and furiously hammers her (and I don't blame him); Owens' eyes disappearing into her stunning little head due to her own multiple orgasms; then we get some choice reverse-cowgirl-anal ("Look at that fucking ass gaping open for you" she chimes), with Paige in the pretzel position ("I can feel that asshole wide open," she dreamily murmurs. "I want all of these holes fucked!" followed by "Oh! — that asshole is so open!"); then some magnificent ATMs. Cowgirl-anal presents stupend-ass squatting action a la Owens, with Paige's perfectly pear-shaped butt wiggling all over the fucking place; while jackhammer-missionary-buttfucking is filled with moments of anal glory ("Fucking gape my asshole!" she implores Diamond), with Chris going back and forth 'tween twat and tukus. "Use my fucking holes. Just fucking use them," Owens begs her invader; rough Diamond soon bustin' nut all over that spectacular Paige mug. "There we go," she trampishly purrs, Owens' still-attractive face cocooned in cum, afterward going back to suck more Diamond dick. Love her!
Blonde, big-lipped (and oiled up!) pixie Alex Grey gets destroyed — and that includes her anus — by Ramon Nomar, with cowgirl-anal being extraordinary with such a luscious rump on Grey; ditto for doggie-anal, with plenty of gape-a-roos, and other nasty happenings, before Ram's rod erupts jizz all over Alex-honey's lips, cheek and tongue. Stunningly sloppy!
And we end with a scorcher, as brunette bombshell Martina Smeraldi gets her own pert-titted/big-assed bod (definitely the biggest ass in the movie) all oiled up and cock-probed; immediately delivering Zac Wild a crazy deepthroating; followed by phenomenal doggie-vadge (look at those patty cakes fly); while reverse-cowgirl-anal, shot from Zac's view, shows how Martina knows how to squat and bounce that choice meaty butt; Martina's beaut of a booty wobbling during doggie-anal, however, like it might bring down the whole fucking house; Smeraldi's cute face soon bathed in Zac shellac, with our delectable darling devouring a deluge of dick sauce.
This sex-soaked gonzo is what porn's all about — fucking filthy! Each young anal babe is totally slutting-out (bless 'em!), though Emma Hix and Paige Owens tie in terms of beauty and bawdiness; Martina Smeraldi, however, being pretty damn incredible in her own raunchy right.