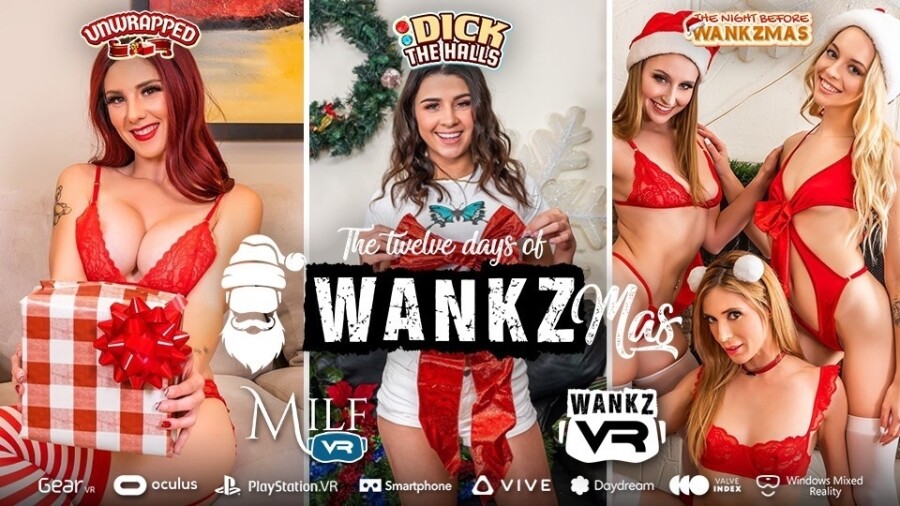 LOS ANGELES — WankzVR and MILF VR have unwrapped three holiday-themed titles as part of the "12 Days of Wankzmas" promotion.
Two Christmas VR scenes were released by WankzVR, with a third festive title produced for MILF VR. Over three consecutive days, members could experience a new full-length VR title each day.
"To kick off this sexy seasonal triad of titles," a rep explained, "Kylie Rocket was up first on Tuesday with her 46-minute one-on-one scene, 'Dick The Halls.' This was the third time Kylie was featured at the site, coming off her successful performance from the WankzVR Halloween Special."
The following day, Lilian Stone returned to MILF VR with "Unwrapped."
"For her second appearance for the brand, Lilian kept the festive fun going in style," the rep added.
The very next day, on December 24, the final Wankzmas holiday scene, "The Night Before Wankzmas," was available, showcasing the talents of Aiden Ashley, Laney Grey and Lily Larimar.
According to the rep, each scene was designed to celebrate a different aspect of the classic holiday tradition.
He described "Dick The Halls" as a playful attempt at yuletide decorating that quickly turns into an opportunity for fun. On the other hand, Lilian Stone's "Unwrapped" scene sees her running a neighborhood gift-wrapping service.
"But this domestic goddess and total 'Christmas Queen' has more than bows and paper on her mind," the rep added. "And in an epic gift exchange with Laney Grey, a foursome encounter is on the menu as Lily and Aiden are unwrapped to enjoy."
WankzVR and MILF VR's Darrell Rosebush explained that "featuring a different holiday scene for three consecutive days across our brands made for an exciting week. Wankzmas is always a busy time of year with giveaways and more but the performances this year were absolutely unreal."
As for the talent, Rosebush added that "Kylie has been a fantastic addition to our roster in 2020, Lilian always shines and our group special with Lily, Laney and Aiden was one of our most anticipated titles of the year — a timeless holiday classic in VR."
As part of the annual "12 Days of Wankzmas" event, eligible members participated in games, draws and more. In addition, a series of fan-favorite VR scenes were unlocked to the public, and are still available in the WankzVR Advent Calendar to view until December 31.
Wankzmas sales also offer a 50% or more discount on monthly access and yearly subscriptions.
Winners from the "12 Days of Wankzmas" member draws are set to be announced in January 2021. Prizes include a custom solo VR scene, Oculus Quest 2 headsets and more.
For more information, follow WankzVR on Twitter.