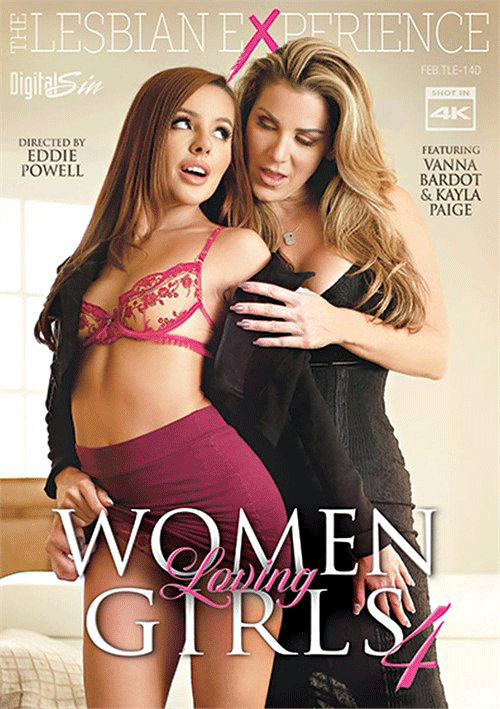 The lesbian MILF fantasy is the order of the day as director Eddie Powell presents four scintillating scenarios featuring some of the industry's hottest matrons seducing some of the industry's hottest girls that are younger than them.
Aiden Ashley and Paige Owens:
Fresh off a bad breakup with an unfaithful girlfriend, Paige is shopping for her own place as she tries to put the pieces of her life back together. A nice apartment with manageable rent offers a good start, and a sympathetic landlord who has been through exactly what Paige is experiencing is the icing on the cake. Taken by the young woman's youthful beauty, the landlord (Aiden Ashley) gives Paige a suggestion on how to get over an ex; have sex with someone else. Aiden puts the offer on the table plainly, and Paige happily accepts. Aiden looks pretty fantastic here. She is such a virile performer who exudes sex from every pore in her body and that carnal zeal creates a palpable intensity in the room. For her part, Paige is an equally voracious sexual being so this pairing is pure dynamite. The scene wins on the strength of watching Paige smother Aiden's with her pussy alone, as Aiden writhes with unmitigated pleasure at the opportunity to bury her face in Paige's sex. It's the strongest moment in a scene full of them and the sexual sensory stimulation from these two is almost impossible to handle.
London River and Jane Wilde:
Jane comes in for a relaxing birthday massage but is taken aback when London comes in to perform her service because she reminds her of her ex-girlfriend. After awkwardly asking London if she could get a different therapist, London coaxes the truth from her. The relationship ended simply because Jane's girlfriend moved away for a job and they decided not to try the long-distance thing. London empathizes with Jane's situation because she understands that losing a relationship when the only problem is distance is so much harder. When Jane admits that she'd be thinking of nothing but the amazing sex she used to have with her ex if London is touching her, London admits that she'd be okay with it. This is a good setup because it's not something audiences are accustomed to seeing in massage porn, and it creates a strong emotional connection between London and Jane's characters. The sex enhances this connection by presenting Jane as a complete submissive to a gentle and patient London. You can see Jane start as a woman reveling in nostalgic sex and melt into a woman embracing the sexual bliss of the moment she's in. It's wonderful to watch.
Kayla Paige and Vanna Bardot:
This story opens with a different technique. Vanna narrates her situation to the audience. She asks us if we've ever been in a situation where we had it bad for someone and didn't know how to tell them or how to handle it. Her story is one of admiration for a confident, capable, seemingly unflappable boss that grows into a powerful lust. When Vanna admits her crush to her boss, Kayla admits a reciprocal crush on Vanna and the two co-workers decide to explore their feelings in a physical way. This creates a scenario where the audience can immediately connect with the story being told. It's a fast track to the sex, but the personal nature of the setup makes the sex relatable. It's more than the fantasy of fucking a boss or fucking someone much older/younger than you, the fantasy is about fucking someone you admire and that's a very powerful fantasy. Not only is Vanna enamored with the idea of laying with her crush, she's ecstatic at Kayla's expertise as a lover because of course she's good at sex, she's good at everything! This sentiment comes through Vanna's performance as clear as the sun. The way she rolls her head back as Kayla licks her pussy, the way she sighs quietly with pleasure as Kayla rubs her clit, the way she worships Kayla's body, it all speaks to her absolute awe of this woman. The crowning moment of the scene occurs when Kayla is slurping Vanna's asshole from behind. Kayla's face tells the whole story.
Ryan Keely and Khloe Kapri:
In therapy with Dr. Keely for poor behavior, Khloe is predictably defiant. However, when her therapist (Ryan Keely) calls her out as young woman acting out because she hasn't accepted herself as the lesbian she is, Khloe is shocked. Still, everything Keely says makes sense to her, and she decides to take a chance and kisses the older woman. Keely surprises Khloe by kissing her back, and the experienced therapist decides to show Khloe the path the sexual liberation. The fun of this scene is watching Khole almost instinctively bring Keely to heights of sexual pleasure despite the fact that she's never been with a woman. Keely's invitation for sex unlocks a deeply repressed sexual being in Khloe that once unleashed, cannot be contained. She damn near sends Keely to the moon multiple times as she finally embraces her true sexual nature. Such a good scene.
This movie has some narrative elements that are stronger than one might expect from such a light feature. That's a credit to director Eddie Powell, he understands how to add depth to scenes that could easily be nothing more than shallow sex scenes.