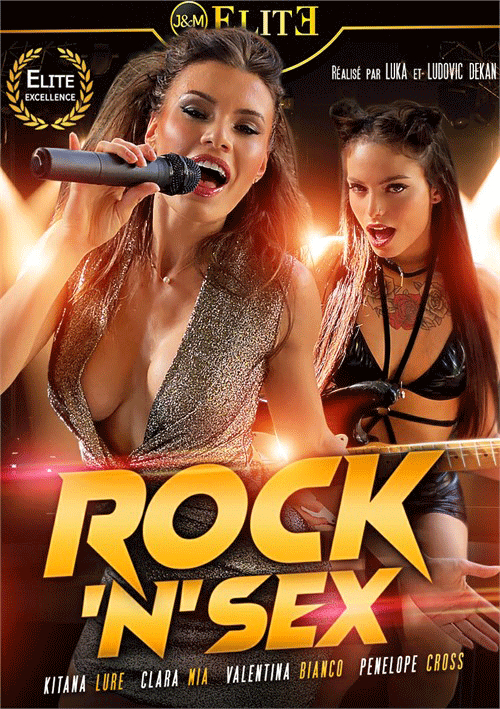 Up-and-coming all-girl band The Kittens find themselves rising up the popularity charts behind the insane fame and talent of their lead singer Kitana. However, their ascension to music superstardom comes with a price. Manipulation by powerful managers and professional jealousy threaten to destroy everything Kitana has worked to build. Just how far did these ladies have to go to make it to the top, and what future sacrifices will they have to make to stay there?
Luka and Ludovic Dekan are back with another feature for the high-end French porn studio Jacquie et Michel. This time, their story falls into the sex and rock and roll trope and it's a good one. The video quality is high, the settings are nicely varied, and the cast does a really good job of staying in character which helps keep the story on track. The tale of betrayal and sacrifice is relatable to anyone who's ever been in the entertainment business, and the characters are robust enough to keep the audience invested in their individual stories.
The story starts with Kitana practicing alone when her manager (David Perry) walks in. After a short conversation where he reminds Kitana how much she and her fledgling band need him and his connections, she begrudgingly decides to fuck him. This scene is hot because it's nasty, but there's definitely an air of unease surrounding it as well. Kitana does a really good job staying in character and reminding the audience that this sex is not something she really wants, while Perry does an equally fantastic job of staying smarmy and unlikable throughout. The anal is awesome and Kitana really opens herself to it, while Perry stuffs her (butt) good. Katana's performance makes the scene pretty intense and from both a sexual and emotional standpoint. A great way to open the festivities.
Later, international music star Vince Karter, one of Perry's old friends, stops in town to see what all the buzz surrounding The Kittens is about. After a rousing performance at a small, outdoor venue, Karter is impressed. Perry, always on the lookout to take advantage of a potential business situation, invites Karter to a private dinner with the band with the intent of offering him a recording contract. Phil Hollyday (boyfriend of the band's co-lead singer Clara Mia), sees his own opportunity to advance Clara's career, and he locks Kitana in the dressing room preventing her from attending the meeting with Karter, his intent being to place the shine squarely on Clara instead of Kitana. Meanwhile, Perry enlists band members Penelope Cum and Valentina Bianco to sweeten his proposition. The action here is super naughty and raunchy just as one would expect from a dirty three-way. Karter ends up mounting both women and pounding them fervently, and there are a ton of spectacular ass shots from start to finish. Watching Valentina lick Penelope's pussy while Karter slammed her in spoon was highly arousing, and seemed to spur Karter into a fuck frenzy as he damn near rocked Penelope off the couch.
Frustrated with missing her chance to impress Karter at dinner, and disgusted with the constant manipulation from Perry, Kitana abruptly quits the band, paving the way for Clara to take her place as the face of The Kittens. Unfazed, Karter simply turns his attention to the band's new front woman Clara Mia, just as Phil had hoped he would. But Karter takes things a step further than Phil expected, leaving Clara with a career-altering decision to make. Meanwhile, Karter and Perry turn their attention to the remaining band members and their holes. After making his offer to Clara, Karter and Perry use drummer Valentina right on the equipment under the guise of congratulating her for a good drum solo during rehearsal. They ravage the salacious vixen mercilessly, slamming her mouth, pussy and ass with abandon like the slimy, entitled manipulators they are. Unsurprisingly, Valentina loves every minute of it. Wow does Karter give Valentina's ass a workout! He and Perry pump her like pistons and she quivers like jello under their vigor.
The story concludes with Phil making a shocking discovery that sends him into the waiting arms of Penelope. As is the case with nearly everyone in this movie, the opportunity to get close to someone with connections in the industry is too tempting to pass up. Penelope steps into the void in Phil's life, and offers him a revenge fuck at her expense to secure his devotion. This is a good scene because it speaks to Phil's anger and Penelope's desperation. Neither of these two is being a good friend to each other, they're just using each other for their own selfish purposes. That's exactly how the sex comes across. You can almost see Phil trying to fuck the betrayal out of his aura through Penelope, while she oversells everything Phil does to make sure she owns him moving forward. It makes for some really great sex while also advancing the story of both their characters. The doggie was particularly good, but Penelope also looks fantastic in reverse cowgirl.
As usual, Jacquie et Michele delivers a quality adult feature. Even though their films are presented in French, the language barrier hasn't once stopped me from enjoying what they're selling. This was a good story from Luka and Ludovic Dekan with lots of focus on character development interwoven with realistic sexual situations. This studio knows what good smut is and domestic fans would do well to add this studio's projects to their watch lists.