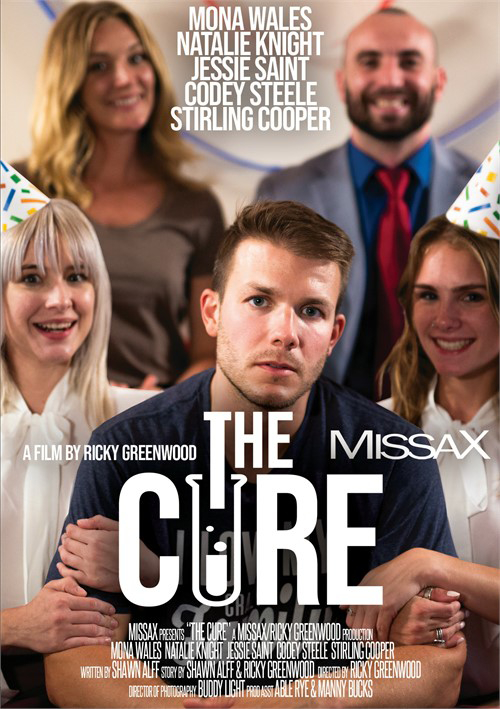 When Josh (Codey Steele) wakes up tied to a chair in a strange home with people he doesn't know, he's confused and disoriented. Tommy (Stirling Cooper), his wife Mona Wales and his two daughters Jessie Saint and Natalie Knight seem to know Josh and have apparently been waiting for him to return to them, but Josh has no idea who any of them are. The more time he spends with the eccentric family, the more questions he has about their strange attitude towards him and the sequence of events that led him to their home. But nothing Tommy or his family says to him makes any sense, and Josh can feel his chance to return to the life he knew slipping away.
This is the most intriguing, brain-scrambling movie I've ever seen from writer Shawn Alff. It's weird and unnerving at times and I absolutely loved it. Mona Wales is fantastically cringeworthy, while Jessie Saint and Natalie Knight are incredibly creepy. Meanwhile, Stirling Cooper comes across as some kind of smooth, condescending evil genius who is manipulating everything and everyone around him. And poor Codey Steele is just like the audience: no idea what's happening and very uncomfortable with the behavior of these weird-ass folks. It's a great story that Ricky Greenwood brings to life in expert fashion.
The film opens with Tommy pulling up to a luxurious home in the middle of the night. He drags an unconscious Josh from his vehicle to the porch while his loving family stands obediently in the entryway and right away the creep factor is dialed to 10. The sight of Mona, Natalie and Jessie waving lifelessly with plastic smiles on their faces is straight out a "Stepford Wives" story and the audience knows immediately that they are not to be trusted. The setting shifts to a darkened hallway and Josh is strapped into a wheelchair just outside of Tommy and Mona's bedroom. When he starts to come to, an overly bubbly (and nearly naked) Mona bounds over to him and starts talking to him like he's some kind of puppy. Tommy tells him the restraints are temporary and assures him that his strength will return soon.
He suggests Josh get some rest and welcomes him to watch if he wants. And with that, we are into our very first creepy sex scene! The lighting here is dark, but I think it really works with the tone of the story. As Josh sits in a dim haze of consciousness, the darkness surrounding Tommy and Mona matches his state. I loved the opening sequence with Mona sitting on Stirling's face so he could eat her pussy and asshole. Talk about setting the bar high right away! The doggiestyle is also fabulous, especially when Stirling was choking Mona while pumping her from behind. The silhouette sequence is also incredible mainly because of the way the moonlight illuminates Mona's tits. Everything about this scene is awesome.
Tommy finally starts to put the story into focus a little bit when he mentions that Josh's actions in "that" world made it clear he was done with that world because "nobody takes a bottle of sleeping pills because they want to get some rest." It's a great tease for the story's progression. Enter Tommy's daughters to help Josh in his recovery and these two lovely ladies are as crazy as the one that flew over the cuckoo's nest. There's a disturbing scene where they sloppily feed Josh some pudding that really drives home the idea that everyone in this house is incredibly disturbed, and it leads to the nubile women pouncing on Josh as he rests in bed. The ass action here is really great, particularly with way Natalie Knight rumbles hers all over Codey's cock and Jessie's face. It's really spectacular. The double creampie finish is also wonderfully dirty and fits the taboo nature of the story.
Josh's indoctrination into the family reaches its zenith with a family photo and a bombshell confession from Mona. I won't spoil her revelation, but I will say that, coupled with her admission to Josh that she'll do anything to keep him there, it is satisfyingly shocking. Josh, still unsure about his place in this wacky home and missing the family he remembers, expresses his desire to leave, causing Mona to do the only thing she can to secure his loyalty: she fucks him. And boy oh boy does she fuck him! The standing doggie is incredible with some amazing close-up shots of the action. The way this sex is shot is absolutely mesmerizing. When Josh learns the truth about his situation with Tommy's family, he reacts as the audience would expect: with horror and anger. The final confrontation is tense and ends on a helluva cliffhanger, which I won't spoil here.
This is such an intriguing movie. I think Shawn Alff did a great job penning the story, and Ricky Greenwood showed great skill bringing Alff's story to life. I also thought the camera work was phenomenal, with some really unique captures that I can honestly say I've never seen before. MissaX has a hit on its hands with this one.