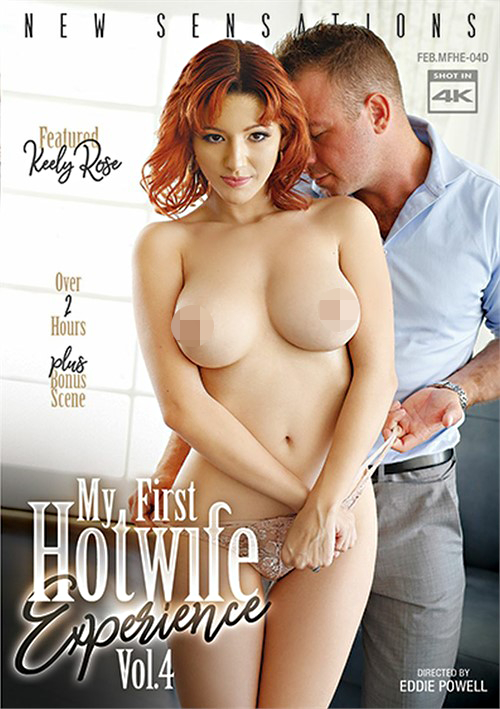 New Sensations director Eddie Powell has a penchant for capturing the thrill of the hotwifing kink. This is his fourth entrant into this particular series and he's done other films for New Sensations that explore the same genre. Not only is he comfortable creating this fantasy, but he also has a knack for assembling lusty casts.
Charlotte Sins and Jake Adams:
The scene opens with a play on the pre-sex tease by showing close-ups of Charlotte getting dressed while she offers some exposition for the scene by telling her husband how nervous yet excited she is over the phone. She arrives at Jake's home much to his delight, and the two waste little time getting down to business. Jake sets Charlotte's voice trembling and eyes rolling as he works her pussy over with his fingers, tongue and cock. Holy moly the cowgirl is great! Charlotte puts on a serious show here and it's the highlight of the scene.
Sahara Skye and Will Pounder:
This scene is a fast starter. Sahara walks up to Will's door and he invites her in graciously. They head straight to the bedroom and Will remarks that she seems nervous, then immediately suggests she shed her (impeccably fitting) dress. Sahara complies and just like that, the hotwife experience is afoot! Sahara throats Will in impressive fashion before he slides into her. Sahara looks downright fabulous in spoon. She's got such a supple body and what a great set of tits! Seriously, the lines on this woman's frame are elegant and tantalizing and Will fucks her into a frenzy as the scene progresses. Plus, those tits!
Misty Quinn and Ramon Nomar:
Misty has no idea what to expect from her pending encounter with her husband's friend Ramon. She's nervous, but ready. Ramon reassures her that everything will be fine because her husband trusts them both, and she melts into the moment. Misty has impressive tits and a delicious ass that Ramon spends an ample amount of time burying his face in. His signature vigor is on display as he puts Misty through the paces of sexual pleasure and her facial expression tells the tale of her delight as she simply submits to the lust of the moment.
Keely Rose and Chade White:
Keely's husband enlists Chad to fulfill her fantasy of being with another man because of his abundant confidence. Keely is conflicted, but the lust during inside her was too delicious to ignore and she surrendered to it, confident that Chad would take care of her. My God the incredible tits in this movie! Keely is another woman whose rack mesmerizes and every positions puts her luscious fun bags front and center for the audience's pleasure. Keely is certainly easy on the eyes and Chad is gentle with her as she experiences the fantasy of fucking someone who isn't her husband for the first time. You can almost see Chad allowing Keely to embrace the fantasy bit by bit until she's fully immersed in the wantonness of it all.
The strength of this film is without a doubt the stunning cast. Every woman in this movie is blessed with an impossibly perfect figure including amazing tits. That alone is worth your time, but the fantasy of passing your wife around to different men, (or being passed around to different men by your husband) is also served quite effectively here. Sahara Skye needs to be in more mainstream projects and Keely Rose possesses the tools to have a long and fruitful career. Charlotte Sins is already one of my favorite performers and Misty Quinn is going to be a nice cup of fantasy for a lot of viewers out there.