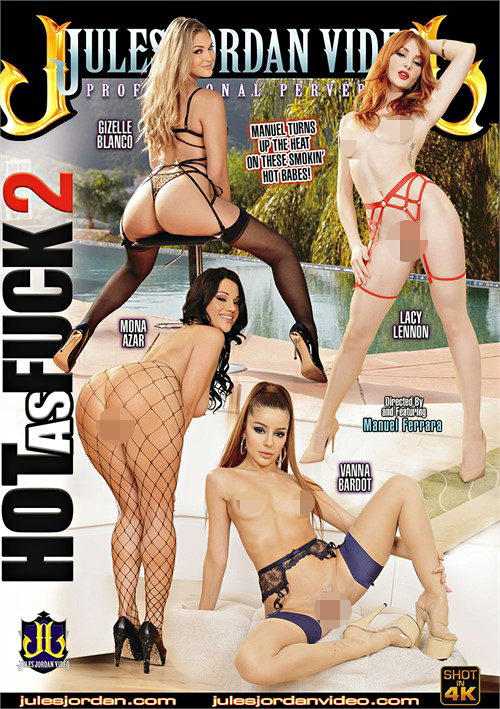 We get a pair of animated spinners — Vanna Bardot and Lacy Lennon — and a brace of luscious lassies — Gizelle Blanco and Mona Azar — in this heated gonzo sequel from performer/director Manuel Ferrara, with all the young ladies putting in superb scenes, but, to me, "Hot as Fuck 2" (HAF2) is particularly special because of the all-around juiciness and passion of the crazily delicious Ms. Azar, who brings the movie to full figurative and literal climax in the final volcanic sequence. All the other three vixens are totally worth catching, too.
Vanna Bardot has a thin, pliable figure with a well-shaped butt; Vanna energetically working that Manuel meat throughout her scene. I like the fact, too, that Manny has all the ladies wear garter belts, thus successfully accentuating the delightfulness of their delectable derrieres. Lacy Lennon is a redheaded firecracker who, like Bardot, is in just as much control of her erotic frolic as is Manuel, with Lace and Manny getting intensely sweaty as they wildly tear up the scenery. And Gizelle Blanco is one magnificently meaty morsel who reminds me very much of a blonde version of voluptuous Kissa Sins — and Gizelle is just as happily submissive, too, letting Ferrara hornily throw and bang her tall, bountiful body all over a soon deeply soaked sofa.
But the highlight of HAF2 in my view is most definitely Ms. Azar. A petite brunette with big, all-natural boobs (an incredible pair of headlights which you'd wanna suck/worship all night) and a hypnotically cushy butt to match (which you'd similarly wanna suck/fuck from dusk till dawn!), Mona also has a pretty, highly provocative (as in dick-hardening) face, with large, head-giving lips and sleepy, sweet, charitable eyes. And there just isn't a bad position with this made-for-porn treasure. She goes balls-deep with Ferrara's rod during several memorable oral segments; and excels at doggie and cowgirl (love the black fishnet stockings, which also cover her bodacious booty, till Manny can't hold back any longer — don't blame him! — and rips out a hole for that killer ass to just flop out). I love it when Manny is banging her doggie style with a thumb rubbing up and down her anus and she breathlessly gasps, "Yeah, finger that asshole!" and "Treat me like a little slut." Whoa. It's terrific, too, when she's riding Ferrara cowgirl style (shot from Manny's angle and, thus, looking like reverse-cowgirl) and Ferrara tells her, "Yeah! Show me what a good fucking whore you are!" Hey, Mona doesn't need any prompting. She's a natural! Her mouthwatering tits gyrate everywhere as she swirls her curvy hips and puffy, succulent snatch all over that raging Manny hard-on; our girl ultimately, voraciously swallowing a copious load of Manny paste without even being asked to. This woman rocks!
Vanna Bardot, Gizelle Blanco and Lacy Lennon are all marvelously scrumptious reasons to get this sizzling gonzo, but you're truly in for a grand treat with the absurdly-delicious-in-all-ways Mona Azar. Hell, I wanna marry the downright divine piece of perfection!