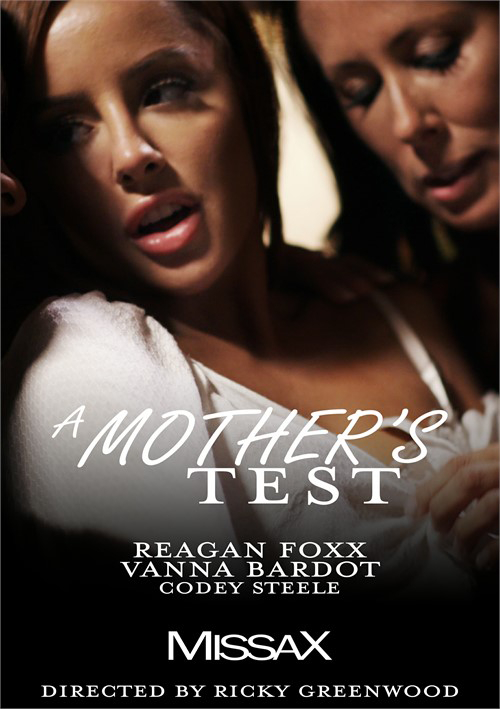 Sally (Vanna Bardot) is apprehensive about introducing her boyfriend Darren (Codey Steele) to her stepmother (Reagan Foxx) because of the matron's racy and indiscriminate past. Despite Sally's reservations, Darren is intent on gaining Reagan's approval to ensure his relationship with Sally can go to the next level. But when Reagan puts the moves on Darren while Sally is away, the young man must figure out whether his potential step mother-in-law is truly interested in him of if something more nefarious is afoot.
Ricky Greenwood returns to the director's chair to helm this short feature from longtime collaborative writers Maddy Barton and studio head MissaX. The story drips with drama and keeps the viewer guessing right up until the end. I've been watching Vanna Bardot grow as a performer for about a year now, and this is another step forward in her evolution as a feature performer. She carries a lot of the tension in this story even though she's not onscreen that often. Reagan Foxx is perfectly believable as the scheming stepmother and this is a role that feels very natural for her. Codey Steele has settled firmly into his position as the innocent guy in porn features as he just feels made for stories with characters like this.
The story stars with Sally and Darren arriving at Reagan's house and from the jump it's clear that Sally isn't thrilled about the situation. When Reagan hits the screen, the tension between she and Sally is thick as a spider's web and poor Darren is literally trapped in the middle playing peacemaker. The expositional dinner scene further establishes the divide between Sally and Reagan, drawing clear sides for the audience to support. Darren finds himself faced with a test of morality when Reagan comes on to him behind Sally's back, and his choice shapes the path of the story. The final twist of the film is a well-executed surprise and has one of the stronger conclusions I've seen in a Barton/X script.
Speaking of the script, it's full of great sex. Codey Steele has a very passionate scene with Vanna Bardot that is quite couples-friendly. He takes his time eating Vanna's pussy and her breathy moans of pleasure create a big time couples fare tone. The sense of innocence surrounding Vanna is visualized by her white, lacy bra and panties and when she's sucking Codey's cock (nice POV moment) she isn't too nasty. The roving camera following the curves of her body as she sucks him passionately is a nice touch as well. When Vanna finally lets Codey inside her, there's a lot of eye contact and she often rolls her head back in ecstasy as he pumps her hungrily. It's all very passionate.
In contrast, when Reagan seduces Codey, things are much more aggressive. She descends on him like a dog on a bone allowing him little chance to breathe. She inhales his cock hungrily, overwhelming his senses with pleasure. The more randy Reagan gets, the more aggressive Codey gets. Where he was slow and passionate with Vanna, he is full on spanking Reagan's ass, pinching her nipples and slamming her pussy with abandon. She grinds herself to a guttural orgasm in cowgirl before letting Codey pound himself to a messy finish all over her pussy.
The threesome that closes the sexual action is a nice mix of naughty and nice. Vanna carries her earlier sexual innocence into this scene, but Reagan's influence slowly turns her towards the naughty minx. Note the way she desperately buries her face in her stepmother's pussy as Codey pumps her vigorously from behind. You can see her descending into her lust while Reagan looks on with an almost maniacal joy. The highlight is Vanna settling her pussy onto Reagan's mouth lustfully while Codey hammers the older woman.
This is another good film from the team of Ricky Greenwood, Maddy Barton and MissaX. The sex in this movie looks great as the lighting creates some wonderfully sexy shadows and skin illuminations. Everything in this package works and fans of feature porn should find themselves satisfied.