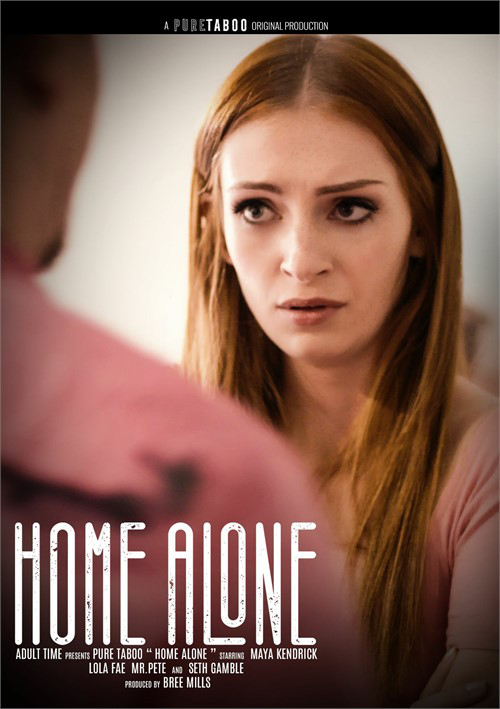 From Pure Taboo, both "Home Alone" and "Wrong Way" are two bent tales involving anal sex, with terrific performances from the featured ladies (Maya Kendrick and Lola Fae, respectively), as well as the supporting male cast members.
In the title story, Mr. Pete plays a supposedly helpful, innocent, older neighbor to Maya Kendrick, who's home from college; with Petey soon showing his true colors as a perverted peeping tom who has video footage of Maya boinking her boyfriend, that Pete's slimy character uses to blackmail her (if her dad sees the film, she whines, he won't pay for her college tuition), leading to a nasty butt fucking a la Maya. Yes, Maya's "home alone," her folks are away, so there's no fear that someone will bust in on the sucking/fucking couple in her cozy boudoir. Pete, by the way, plays the consummate creep, displaying some really excellent acting, rising to the occasion with Maya, who's a very good actress. Sure, she's damn angry and begrudging at first, but our girl gets into the salacious spirit of things soon enough; her deepthroat/facefucking taking a good long time; a highlight being Pete's ass-fucking of her doggie style; her groans of pleasure/pain are superlative in that they're so realistic. And you get to really enjoy her tight, fair-skinned body during reverse-cowgirl-anal, during which she breathlessly begs, "I want you to come in my asshole!" He does, indeed, with our girl pushing out the jizz as best she can. We're also treated with a satisfying twist ending. Yeah!
Next, in "Wrong Way," redheaded spinner Lola Fae plays a lost, mixed-up, slutty-as-hell young woman who hornily hooks up with Seth Gamble twice, the second time around leading to an apocalyptic anal reaming of lusty Lola. The first spontaneous tryst between Lola and Seth is in the bathroom of a fairly vacant bar; with Fae choking on his cock and squirting all over the floor before she wildly rides him cowgirl-vadge, with a (surprise!) buttplug up her anus. Standing missionary is also grand with this little babe, allowing us to really enjoy her choice cheeks; then there's ramrodding missionary on a small love seat, with Lola putting herself in the pretzel position for maximum penetration. Standing doggie vadge against the toilet is primo (she has such a tight little butt), with Gamble blowing his load in her mouth, followed by our over-excited young damsel squirting more fluid while she squats. Whew!
Back at Gamble's home, Fae confesses to him about her stepbrothers paying a lot of "attention" to poor Lola when her stepmother died, the dudes making her blow 'em (the specifics of which we don't see during her flashbacks); consequently, she doesn't want to go back home; after which Seth promises to protect her; and after which we get that promised anus ravaging. Lola really sucks him to the balls this time 'round; followed by a major jackhammer via missionary, with Seth slowly pulling out her butt plug, then very gradually sticking his dick into that well-prepped backdoor, during which she likes being choked and ass-slapped. It's soon cowgirl-anal that's hard and fast, followed by doggie-anal, that's a movie highlight with Lola's fine fanny all bent over and shiny from sweat. "Put it back in my fuckin' pussy," she moans. "Go back and forth and treat me like a dirty slut!" Just a filthy fox! Seth honors her wanton wishes, also going back and forth 'tween vadge and anus during spoon, followed by hammering missionary-anal. "Come inside my ass," she begs him during pretzel-anal-missionary, which he happily does; Lola also squirts while the cum oozes outta her ass. But who's really in control here? Hmmmm…
While the eponymous story is stronger on plot than "Wrong Way" in my view, both episodes feature powerful sexual performances by both Maya Kendrick and Lola Fae — and strong dramatic portrayals from the entire cast — with each lady seeming to sincerely love her deep-root-suck-offs and hearting anal poundings. Definitely worth checking out.