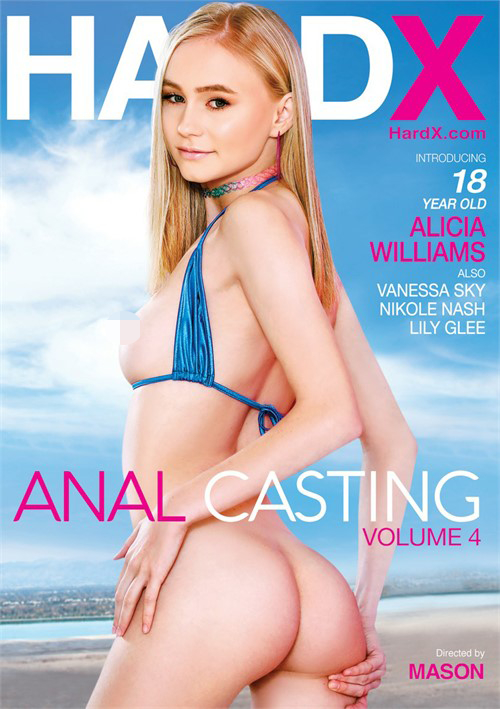 HardX presents four casting couch scenes featuring some the industry's newest young talent taking the anal plunge.
Nikole Nash and Ramon Nomar:
Cute porn newbie Nikole Nash is a self-proclaimed lover of anal — a fact she professes to during the interview portion of the scene. In my opinion, this is the main appeal of reality-based, casting couch-style movies: those moments where the audience gets to learn more about the performers. Nash is cute, and her anal enthusiasm creates a strong sense of excitement within the audience to see how she's going to respond to getting ass-fucked on camera. I'm happy to report that Nash responds like an absolute slut dragon. Nomar (known for his vigor) puts the young harlot through the ropes, and Nash loves every minute of it. You can tell she loves having her asshole filled, and no matter how hard Nomar slams her, she keeps begging for more. Watch her face and body as she's riding him in reverse cowgirl, and you'll see a woman totally consumed by orgasms.
Lily Glee and Stirling Cooper:
This scene opens with Lily Glee spread eagle on her back, heart-shaped butt plug in her ass, fondling her pussy. She talks candidly about how she's spent the last few months in quarantine before grabbing a glass dildo to pleasure her pussy. For viewers who like to get thrown right into the action, this scene will be exactly their cup of tea. When Stirling Cooper enters the scene, he gets right to work on Glee's ass, sliding into her rump from behind easily before vigorously humping the young fox. There's lots of ass-to-mouth here as well; every time the couple switches positions, Glee gobbles Cooper's meat for a few moments. Glee's pleasure is clear to the audience based not only on her moans of delight, but also, the incredibly engorged state of her nipples as Cooper plunges his cock into her ass over and over. He finishes all over her face in messy fashion.
Alicia Williams and Ramon Nomar:
It's easy to see why Mason chose Alicia Williams to grace the cover of this movie. She's very cute. The freshly 18-year-old fuck bunny talks about her personal experience growing up in a small town, then shares the intimate details of her first anal experience. Again, the strength of these kinds of movies is the emphasis on BTS-type material that allows the audience to get to know the stars. It's the kind of information that used to only be available in the special features section of DVDs or from exclusive live interviews (before social media and direct content) and provides a powerful nostalgic experience. The young anal enthusiast takes on the virile Nomar, and the results are predictably explosive. Nomar's shaft looks huge inside Williams' tiny ass (seriously, how did she handle that thing?), enhancing the fantasy big time. The spoon is especially fantastic and, in my opinion, is the best part of the scene. There's an intimacy between Nomar and Williams as he cradles her close while pumping her ass that is truly a chef's kiss moment.
Vanessa Sky and Michael Stefano:
The opening here is a lot more traditional, foregoing the get-to-know-you interview and instead, presenting the scrumptious Vanessa Sky in a familiar tease with musical overlay. She rocks slowly back and forth on the casting couch with a jeweled butt plug buried deep into her ass, stripper heels loud and proud in the air. Sky toys her ass with a lollipop-inspired dildo, slowly building the audience anticipation before Stefano enters the fray with his hungry mouth. He isn't shy about slurping up both of Sky's holes before folding her into a sexy side spoon and plunging his pulsing shaft into her ass. Sky takes just as much pleasure from Stefano pounding her sweet booty as she does from him eating it, proving her to be a true anal-loving angel.
Anal connoisseurs should be plenty satisfied with this lewd offering from HardX director Mason. Each scene features some downright raunchy bum fun, and audiences will get to know these stars on a more intimate level to boot.