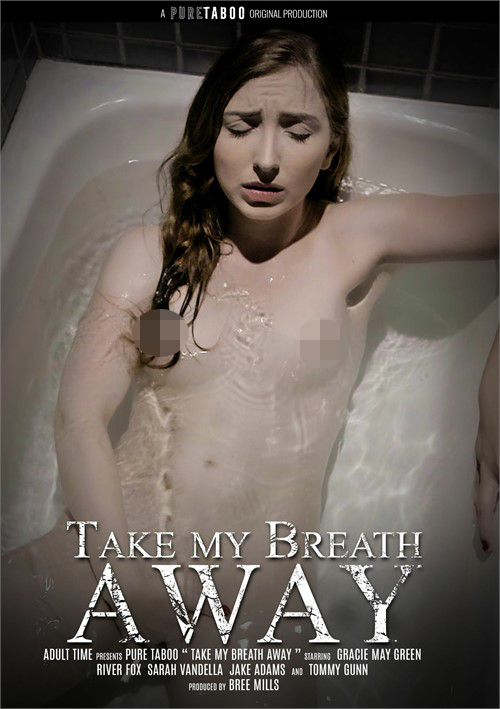 Here's an excellent in-and-out entry from the marvelously bent folks at Pure Taboo, with two stories, "Take My Breath Away" and "Birthday Surprise," dealing with such kinky storylines as sexual asphyxiation and stepfamily "affairs," respectively, with Gracie May Green (in "Breath") and, my favorite, River Fox (in "Birthday") looking absolutely fabulous and putting in truly intense erotic scenes.
In "Take My Breath Away," Green and Jake Adams portray novice members of a choking and breath play website named Breathless, hooking up at Adams' place and ultimately having a gagging good time — with Adams "taking the lead" with the submissive Green upon a sofa. "I'll let you do whatever you want," the somewhat demure Green tells Adams from the start, "but if it gets too intense, I'll tap the couch three times." So, yes, there is choking throughout, including Green's excellent gagging on cock during her superb deepthroating of Jake-meat. But there's plenty of vaginal penetration, too. Green's a cutie with a meaty little body that works well in bed (or, again, on a sofa).
I love her choice thighs during missionary and how she passionately pants while being hammered and choked and slapped in the face (all of which she quite obviously loves). Doggie is fun with a little spinner like Green, who's way upbeat and even giggling at points. The girl's just totally into it all. In fact, she's almost crying with pleasure during sweaty, slamming spoon, as Adams yanks her hair or rattles her throat. The kink only stops when Green gets on all fours upon the floor to take Adams' hefty load of sperm upon her glowing face. There's a curious, downbeat ending to this provocative storyline, too.
"Birthday Surprise," the shorter of the two twisted tales, features an older couple, Tommy Gunn and Sarah Vandella, telling their daughter, played by River Fox (whom they stole from the hospital, since Vandella's character couldn't have children), that she's their stepdaughter, with Fox deciding to get it on with her stepparents in one scalding threesome. While it's a pleasure witnessing Vandella's big ass getting pounded during doggie, the real treat for me here is juicy Fox, who's also quite pretty, as she gets filthy with older porn veteran Tommy Gunn, who always puts in a strong performance. Just check out Fox's hangin' tits swinging as she sucks Tommy-meat, while Vandella sucks on Fox's pussy below. Fox is an amazing cocksucker, putting in the movie's best DJ, with lots of hacking noises and saliva. There just isn't a bad position with this tasty starlet, what with that striking face, those all-natural hooters, and that killer butt.
I like it when Vandella sucks on Fox's boobs as Fox is penetrated during missionary. "Go taste Mommy's cum," Vandella tells Fox, who happily sucks Gunn's dick after he pulls it out of Vandella's vadge during missionary. Doggie with that perfectly cushy Fox fanny is a movie highlight, for sure. I don't know how Gunn manages to maintain without prematurely popping. But, after a nasty double suck from Fox and Vandella, Gunn gives Fox more missionary, eventually coming inside her pussy per Fox's request ("Yes, daddy, give me all of your cum inside me," she begs) — and with Vandella licking it up as it slowly drips out. Nasty.
These two kinky anecdotes, involving breath deprivation and stepfamily "matters," are both intriguing and arousing, with my own favorite being the second story due to the delicious, compliant, horny Fox — though the petite, shy, equally compliant (frequently giddy from sex, actually) Green is enjoyable to watch as well. All of the characters in both sequences put in believable performances as bent and/or damaged individuals who just wanna forget the troubles of the world and get it on. Recommended for couples and hardcore viewers alike.