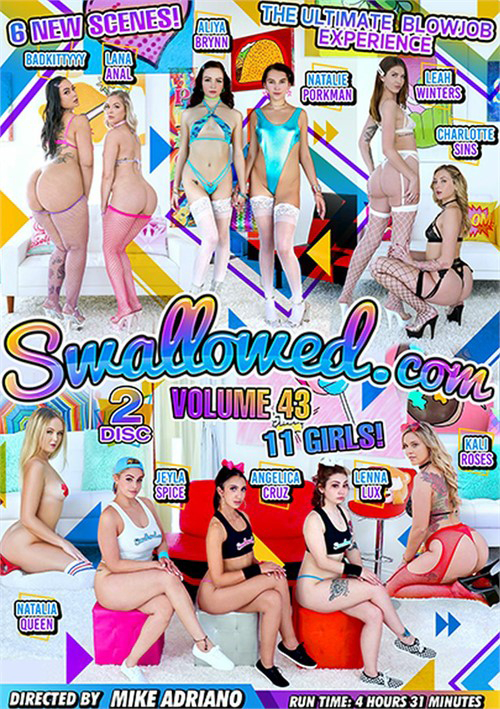 "Swallowed.com, Volume 43" boasts six nuclear dick-sucking scenes — sometimes with multiple babes in each sequence — and features Natalia Queen, Kali Roses, Lenna Lux, Jeyla Spice, Bad Kittyyy, and (va-va-voom!) Natalie Porkman, who really soars in the deepthroat department.
Cute, luscious blonde Queen admits to Long how much she adores giving sloppy blowjobs — and she's not joking, fully practicing what she preaches. Long throat-fucks her like mad, and it's marvelous seeing all of that saliva cascade down onto Queen's delectable, all-natural breasts. And wait until you see how Long destroys her tonsils when Queen is upside-down as he mercilessly face-fucks her; Long eventually totally whitewashes her pretty face with sperm.
The incredible Roses is one all-around juicy/cute specimen, almost looking as if she's related to Alina Lopez (her face is that similar to Lopez's), with director Mike Adriano being shrewd and saving this treasure for himself, as Roses gags and chokes so creatively on his cock. Check out those stringers all over her tits, as she greedily yet happily sucks shaft and balls. She has a fantastic rhythm, too; Roses swallows all of that Adriano cum immediately after she receives it.
Charlotte Sins (who has the lighter hair) and Leah Winters (with darker hair) double-team lucky Logan's log, with the girls starting off by sucking each other's ass and pussy; the action soon shifts to shaft, as one girl sucks Long's balls while the other blows his rod. The girls seem to really enjoy each other, too; so, there's some upbeat, sincere chemistry between 'em. And check out how one babe eats man-ass while the other sucks dick balls-deep. Both ladies are amazing, but Winters really takes the cake for me, inhaling cock and ass like a madwoman.
Next, we have three girls on one dick; namely, Spice (the curvy blonde with huge all-natural tits and baseball cap), Angelica Cruz (sporting the red bow in her hair), and Lux (with the white bow and one devastatingly intoxicating smile), in yet another barnburner of a suck-off. It's grand seeing Cruz and Lux each suck on one of Spice's incredible tits, after which Long has 'em all bend over in tandem on a sofa so he can suck their individual asses and pussies. Then, the ladies feast upon one another. Choice! All three babes are phenomenal dick suckers and ass lickers, though I have a real hard spot for Spice and Lux. And wait until the three babes get throat-plunged while they're upside-down. Check out how Cruz's eyes bug out while she's getting throat-plunged upside-down. Amazing. Speaking of eyes, I love Lux's eyes as she's getting cock-throttled; they're just so amazing to watch. These ladies are true troopers. The best!
Next, it's two-girls-on-one dick, with Bad Kittyyy (an Amazonian brunette) and Lana Anal (I wonder if she does anal?) going to the base of Long's bone and really producing amazing amounts of spit, with each worshipping that Long butthole as the other sucks his spit-lathered dick to the balls — and we're also treated to some awesome views from underneath Long's log of the girls hacking on hose and getting tons of spit everywhere.
We end with a scorcher, featuring one of my all-time favorite babes, Porkman (she has the shorter hair), and Aliya Brynn, with the ever-clever Adriano saving these true treats for himself — and with the girls first eating each other's nether regions (love the tongue rimming action from Porkman), then both girls going balls-deep on Mike meat (Porkman has the better rhythm, but Brynn can really deepthroat it, too!), while they each enjoy eating man-ass as the other gags on Adriano's over-worked pole. I don't know how Adriano maintains with Porkman frequently going to the base of his bat; Adriano inevitably cums into her mouth as she continues sucking, while Brynn simultaneously rims Adriano. Killer!
It's incredible oral madness from start to finish, with each suck-cessive episode managing to out-do the previous one in terms of these delicious females' nastiness and energy. Get it!