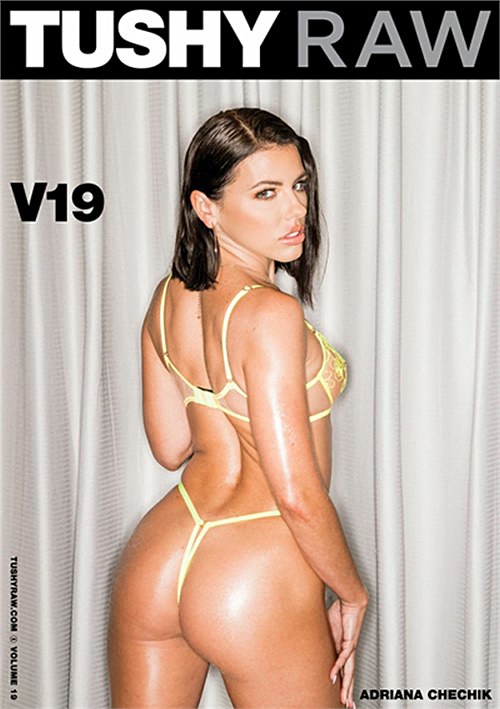 Faceless studs stick dildos way up the asses of tasty porn starlets, getting those buttholes loosened up and gapin' before stuffing 'em (deep!) with the real thing, leading to plenty of passionate ass-fuckery and ATMin' — all care of the fine fornicators at Tushy.com.
Adriana Chechik has been making porn films for some time and still looks fresh and foxy, here getting majorly butt blasted by Jessy Jones in an arousing, moodily lit scene directed by KGB. And boy, does Chechik suck prick to the bone! Phenomenal stuff! See her eyeballs bulge, turn red, and nearly pop outta her skull like the Man With the X-Ray Eyes. I like it, too, when Jones goes back and forth 'tween her anus and vadge during a repeat of doggie, though the first round o' doggie is way rad, as Chechik forcefully rocks her butthole forwards and backwards into Jones' joint.
In a more brightly lit scene directed by Jakoby King — and one of my faves in this gonzo — Chloe Amour graces us with her beauty and nastiness, getting her backside thoroughly destroyed by Mick Blue, who doesn't (thankfully) grab ass too much during doggie, allowing us to enjoy Amour's killer butt, which is made all the more scrumptious when it's greased up, with some gapes making their welcomed appearances. "I wanna taste my ass juices," Amour purrs at one point during doggie, turning around and giving one gnarly deepthroat ATM. Good girl! Cowgirl-anal — with superb squatting action a l'Amour — is just as fantastic, with that round and jelloey rump on Amour hornily quivering. So is reverse-cowgirl-anal, which is shot in a similar way to cowgirl and, in turn, highlights that delectable derriere on Amour. Missionary-anal is damn incredible, too, with gape after gape after gape. And all o' this crazed Chloe carnality concludes with Monsieur Blue-balls blowin' bazooka batter all over this gorgeous specimen's tongue. Excellent!
Redheaded cutie Mary Rock presents her own ass-splitting scene, also directed by Alex Eikster, with stud Oliver Trunk (there's a name for ya) sticking his 'trunk' way up (or is it down?) inside Rock's anus (after some anal dildo play to get things more elastic and flexible). Doggie-anal is a truly memorable segment here, leading to some breathless missionary-anal — and then, some yelping reverse-cowgirl-anal (complete with supreme gape-a-roos), and (the best position here!) animated cowgirl-anal, which has our girl squatting and delivering some excellent distended butthole moments, followed by a sweet ATM, leading to a copious eruption of sperm. Such a pretty face on Rock, too — even when her chin is cocooned with cum.
In a second scene directed by Eikster, little Gina Gerson gets her own tight anus slammed silly by none other than Leo Casanova (there's another name for ya!); much of the scene is graced with the heavily breathing Gerson getting off as she, more or less, directs her backside break-in during this intensely intimate sequence, while Gerson frequently manipulates her twat as her butt is boner-blitzed. I like, too, how she, not Casanova, puts that Casanova cock in and out of her anus during cowgirl, letting her asshole gape occasionally, while missionary-anal lets us totally get into Gerson's sex-intoxicated face, before she lovingly, methodically, almost mesmerizingly tongues Casanova's prick to explosion — our girl happily getting face-lathered with liquid Leo love.
All four of these booty-bang-loving babes are worth checking out, with my own personal fave being the visually striking, marvelously salacious Amour, though you also can't go wrong with Rock, Gerson and, of course, the always reliable Chechik. These butt-fuck vixens kick ass!